The Cadbury Bunny Lives in My Living Room
While it seems crazy to say, the Cadbury Bunny does in fact live in my living room, and she's in the form of my pet frog, Betty. Betty won this year's Cadbury Bunny tryouts, a contest with thousands of applicants all hoping to make their pet the 2021 Cadbury Bunny. So, in hopes of answering all the questions of "How does someone get in this unique position?" I'll share our story from the start. 
Towards the beginning of 2020, my roommate, Kaitlyn, and I started becoming obsessed with cute frogs that we saw on Instagram. We would send each other pictures and videos back and forth of so many adorable amphibian friends. After some time, we began to look into owning frogs and what kind of frogs would be best for us. In the end, we decided that White's Tree Frogs would be our perfect fit since they are energetic, relatively low maintenance, and are able to be handled. While we had not fully confirmed our desires to own frogs, we visited Repticon in hopes of seeing some amphibian friends. There we found our first two frogs, Charlie and Gilbert, who we fell instantly in love with. We took them home and got them all set up in a new tank, and after some trial and error, we finally got their living situation just right. A few months passed and we found three more frogs at local pet stores and so Betty, Stevie, and Monk came to live with us.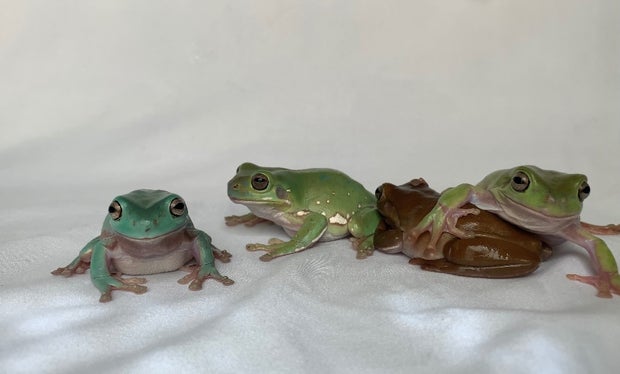 Original photo by Alee Judge
Our frogs instantly became a joy in our lives and we found the amphibian community to be incredibly welcoming. Throughout our first year owning frogs, we had many exciting things happen from starting a frog Instagram (@betty.the.frog), from 3D printed hats for the frogs made by Kaitlyn and her boyfriend to just learning to love all of our frogs and their unique features.
When spring of 2021 rolled around, Kaitlyn was accepted into the University of Central Florida's speech-language pathology graduate program. Due to the expense of graduate school, she started applying for scholarships and grants. Around this time her mom found the Cadbury Bunny Contest, which provided $5,000 to the winning pet, and urged her to enter. At the time we just thought this would be a fun thing to do, but considering our frog's lack of furry cuteness we doubted they would go far.
For the first round of the contest, you had to enter a picture of your animal with bunny ears on, so Kaitlyn set up mini photoshoots with each of our frogs and used a 3D printed top hat with bunny ears attached. The pictures turned out wonderful and four of our frogs got entered into the contest. A few weeks later we found out that Betty earned a spot as a semi-finalist. In the semi-finalist portion of the contest, you had to enter a video of your animal which would then be reviewed by a panel of judges; the top ten would be sent to the final round. Kaitlyn used this opportunity to show a video of Betty's daily activities with a voiceover explaining her fun-loving personality. The judges loved the video and Betty was sent to the final round which was based on a public vote. After a social media campaign, fliers and posters around UCF's campus, and the support of so many family and friends, Betty was named the 2021 Cadbury Bunny.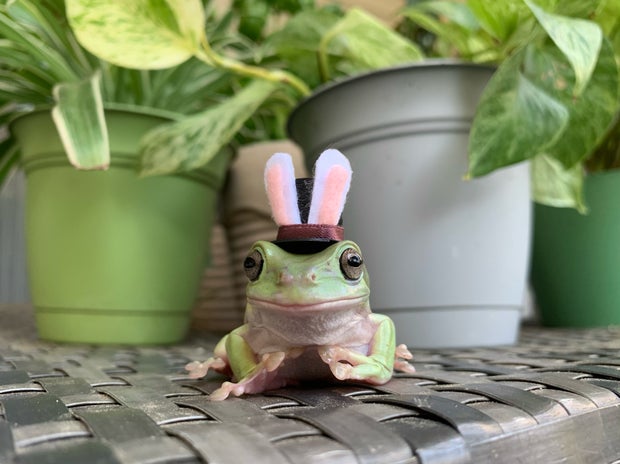 Original photo by Alee Judge
It turns out that the life of the Cadbury Bunny is very busy and exciting. Since Betty has been named the Cadbury Bunny, she has filmed a commercial for Cadbury, has had several photoshoots, been on countless interviews, attended a meet-and-greet, made merchandise, and gave Kaitlyn and me the ability to share our story with so many people. This also gives Kaitlyn the opportunity to further her education and chase her dream of becoming a speech-language pathologist. At the end of the day, this experience has brought so much joy and positivity to not only our own lives but to the people who have followed Betty's story. I'm so thankful for my best friend, our supportive community, and my semi-famous frog.