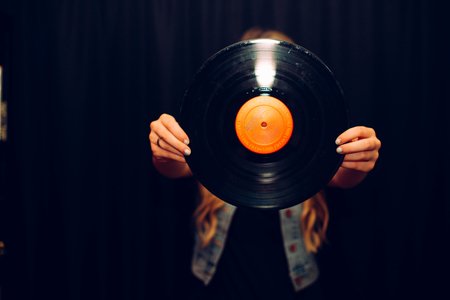 Breanna Coon / Her Campus
3 Albums You Can Add to Any Playlist
As someone who can always be found with headphones in, I am always searching for new music. Whenever I find a new band or artist, I feel the need to share their works of art with the world. So, if you are also searching for new music, don't worry! I got you.
1.

"Retrospect" by Los Retros 

For several years, Los Retros, also known as Mauri Tapia, has been making music in his hometown of Oxnard, CA. The talented 19-year-old has played every instrument in his recordings, which adds to his unique music style. In 2019, Tapia released an EP labeled Retrospect. The EP includes six songs that reflect on Tapia's own experiences using ear-catching melodies and atmospheric sounds. As of right now, my favorite song is "Never Have Enough." This song, in particular, has an extremely beautiful beat that I can't get enough of. Overall, this EP is definitely worth listening to and I would highly recommend giving it a shot.

2.

"Just a Girl Band" by Chalk Talk

With four girls as its members, Chalk Talk is definitely an underrated band! With their 2019 release album Just a Girl Band, the members, Nina, Katie, Sophia and Stella musically capture their experiences, such as teenage hopes and bedroom poetry. My favorite song in this album is "Bug Song Song." Every time this song comes on my playlist, I can't help but dance by myself in my room. It is just that good. With only 1,877 monthly listeners on Spotify, I feel that number should increase, especially since you don't really see any girl bands anymore. Together, the impact of this album is truly a masterpiece that shouldn't get overlooked. You go girls!

3.

"Headspace" by Levitation Room

With the band members' mutual love of 1960s garage rock, the band Levitation Room was created in Los Angeles, CA in 2012. The band is comprised of five members which include Julian Porte, Gabriel Fernandez, Johnathan Martin, Glenn Brigman and Christopher Mercado. With a psychedelic twist, the band incorporates modern music styles to heavier guitar sounds and mellower melodies, as shown in the '60s. Recently, the band released an album called Headspace. The album pays a tribute to 1960s rock-n-roll while adding in thought-provoking lyrics. One of my personal favorites is "Mr. Polydactyl Cat," which tells a story about a six-toed feline with references to writer Ernest Hemingway. I love the music style this band has created since you don't really see anything like it today.
I truly hope you take my advice in listening to these bands, as well as their albums. I love how they do a twist on today's popular genre of indie-pop. I have been listening to these bands often and I hope you do too. If you ever catch me walking to class, you will probably find me listening to one of these albums or artists! So, what are you waiting for? Go give them a listen!