10 Reasons We All Have a Little Bit of Rory Gilmore Within Us
THE COUNTDOWN BEGINS! The Gilmore Girls revival is coming back in less than two months. Get your comfy sweaters, hot chocolate, and girl friends ready for the greatest fall premiere of the year. If you saw the show when it was airing or followed it on Netflix, your favorite characters arise and you fall in love. One specific fictional character sticks with us like butter on popcorn, an empowering and curious one- Rory Gilmore. Somehow someway it seems inevitable that you don't see at least one aspect of your personality or who you are within Rory Gilmore- although her name is truly Lorelai and was once called "Mary" in the first season of the show, Rory makes an impact. If you are not sure if you truly have a little bit of that Gilmore vibe somewhere in you, no fear! Here are the 10 reasons why:
1.Junk food, Luke's Diner, and pizza.
Rory's pallet of food definitely varied, just like ours when mother nature has come or really just when you feel like eating. We all love food, it's amazing, it's tasty and there should be no limit to combinations that make your taste buds dance.
2.She made sure as young aspiring college woman, reaching goals is important.
You work hard and reach your goals with poise and craziness simultaneously. Rory worked hard in grade school, hard enough to get into Harvard, Yale, AND Princeton (yes it's a TV show but with hard work, your dreams can happen).
3.Stand up for what you believe in.
She doesn't take no for an answer. On a paper that you feel that you didn't righteously think you deserved or when you want to prove your point or even wanting to make something great happen, persistency is key- sometimes. Not only that, she makes sure she speaks her mind and nothing flys by her. (the tree)
4.We make decisions based off of our own intuitions.
Women are strong and life and careers stop for no one. Although we had heartbreak with Rory leaving Logan, the man of everyone's dreams, the man that proposed to her after graduation, she without a doubt had to pursue her life as a strong woman "independent woman who don't need no man".
5. The yearn to travel the world!
Deep down inside we all have wanderlust and dream of the days where will be able to see the world and show them what we are made of.
6. Reserved parking in the unemployment line.
    Rory tried getting some jobs, like us all. How does one obtain a work experience without being hired for a job?! Even if so, we need money, loving food and buying books is stressful! Whether its working at the schools local resteruants or cafeterias work is money and money is what we need. 
7.Mom TLC
As freshman and as a senior and as a grown woman…we all need some love. When something goes wrong or when you're feeling sick all you want is some warm mommy cuddles and chicken noodle soup (even if we're cautious to admit it).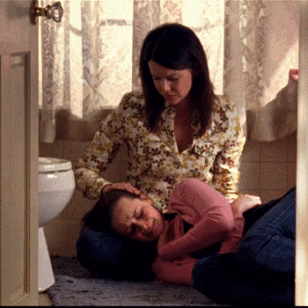 8.Beauty and brains comes from within!
Rory was beautiful without even trying, like everyone. She made notice that she should be loved and accepted for who she is, and shell make it thus far just the way she believes she will. Balancing life is hard, especially when you're working hard to obtain great grades in classes and trying to maintain a social life! But appreances aren't always important, being comfortable in your own skin and knowing your brilliant is key!
9. Plan my entire life? Never.
We plan we set dates, maybe try going with the flow, but being in college you see yourself somewhere. Rory was definitely one to plan (I mean come on… both her and her mom were dreaming of her to go to Harvard since birth) but plans change and that's okay! Switching majors or changing your mind just like Rory, it happens.
10. Coffee, coffee, COFFEE!
Need I say more? Early morning or late Knights * bad um tiss * coffee seems almost crucial in the morning or at 12 at night when your drowning in homework and study sessions.
Although there may be many more reasons Rory can be a part of you, these 10 ice the cake. Always remember that being a woman is something so important and beautiful and precious!! Whether it's eating all the food you want, having your mom as your best friend, or watching a movie in your hotel room on spring break, being you is fabulous! Rory is an inspirational fictional character who proved that being a young woman is something to be. 
Photo Credits: 1 , 2 , 3 , 4 , 5 , 6 , 8 , 9 ,0
Gif Credit: 7