Zero Waste Holiday Gift Wrapping Guide
Gift giving and gift exchange is a central part of many celebrations and customs throughout the year. Unfortunately, this makes the holiday season the most wasteful time of the year. Gifts are decorated with an excess of paper, packaging, and other plastic decorations, only to sit under the tree for a few weeks until they are opened and the wrapping is discarded, creating a huge amount of waste. According to the Environmental Protection Agency, American household waste increases by more than 25% between Thanksgiving and New Year's Day. During this time, an additional 1 million tons of trash enter the landfill per week, mostly consisting of packaging: wrapping paper, bows and ribbons, and shopping bags in addition to food waste. With this in mind, it becomes abundantly clear how important it is to find alternative ways to give presents so that while you're giving to others, you're also simultaneously giving back to the Earth. While it may be tempting to splurge on new wrapping materials, there are plenty of eco-conscious options that often make a present more thoughtful, personal, and creative. To quote the EPA, "it pays to be mindful of sustainable consumption and materials management practices."
General Gift-Giving:
As a rule of thumb, experience gifts are often considered the failsafe zero waste present that involves little to no wrapping at all. Giving an experience focuses on the memory over the material, and could include concert or event tickets, museum memberships, gift cards for activities, or simply, purposeful quality time spent together. Given the COVID-19 pandemic, however, giving experiences is not as easy or straightforward and comes with a higher risk. This being said, if you do choose to give a material gift, less is more in the sense that selecting presents with value, use, and meaning are more likely to stick around for a long time. DIY or self-made gifts like art or baked goods are also always appreciated for the special effort involved on your part.
Wrapping Paper: 
When it comes to gifting material presents, most of us already have a stash of wrapping paper and bows/ribbons sitting somewhere in a box at home. These collections of wrapping supplies tend to accumulate over the years, and continuing to wrap gifts with these is a great way to make use of the supplies you have already consumed. Your stash can grow if, when receiving presents from others, you can fight the urge to rip off the wrapping and instead carefully remove the paper, fold over the tape, and save the wrapping to reuse next year. You can also reuse gift bags and tissue paper! It's a win-win, as you're adding new wrapping paper, bows, ribbons, and other decorations to your collection without purchasing anything new. Another great option is to use newspaper or old grocery bags as wrapping. 
Jars and Boxes:
When ordering something online, make sure to keep some of the nicer boxes your orders come in to re-purpose as containers for presents! In addition, cleaning out glass jars and removing the label leaves you with a beautiful container that can also be decorated or wrapped – and is especially great for giving baked goods like homemade cookies, caramels, or peppermints.
Fabric and Cloth:
You can always skip the wrapping entirely and instead opt to give your gift in a reusable cloth bag. These are great because you can reuse them for grocery shopping or other activities throughout the year. Another important point is to think twice before throwing away an item of clothing that has been somehow stained or damaged. If an article of clothing is still in decent shape, save for a small stain that renders it unwearable, just separate that part from the item and keep the rest of the fabric for wrapping gifts. This type of wrapping looks beautiful, personal, and creative, and there are tons of tutorials online demonstrating ways to wrap presents in cloth, like the Japanese Furoshiki method. Also, using a vintage scarf to wrap a present gives the receiver two gifts in one!
Decoration:
Dried orange slices, cinnamon sticks, dried flowers, pine cones, winter berries, twigs, small evergreen branches, or any other non-spoilable plant material can be used to decorate the tops of packages and later be kept and reused or composted. Alternatively, you can use up any old stickers or beads from jewelry that is no longer worn, which can be stuck or glued to presents as small embellishments. To hold it all together, twine, hemp, and strips of scrap fabric are all sustainable alternatives to tape.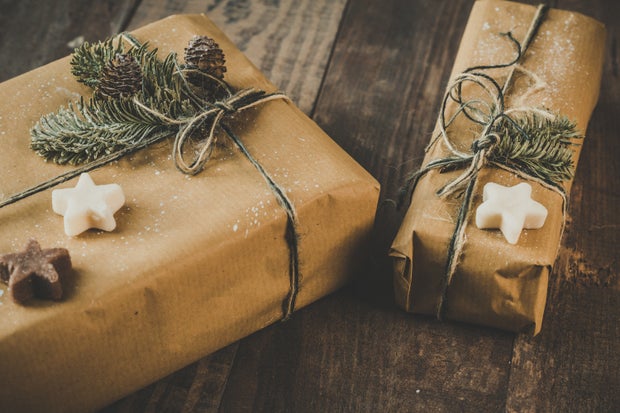 Photo by Ylanite Koppens from Pexels