What I Have Been Through as an International Student
It is already week 6 this quarter and it's so surprising to realize that it has been a decent amount of time since I first touched down in Davis. I was only 17 years old (yes, post-2000 kid) last year when I was just a high school graduate in China and was not ready to become a college student at UC Davis at all. But now here I am, thriving and surviving in a foreign country across the Pacific. For the past 7 months, I've experienced many things distinctly related to my completely brand-new life in America. Here I am to unveil the secret of us, international students.
Language Barrier
Undoubtedly, it would be one of the biggest and most obvious problems of all international students. When you have been speaking your native tongue for your whole life and now are required to immerse yourself in an English-speaking environment, how soon would you expect yourself to shift and fit in? Even though people are willing to express themselves and interact, we might fail to do so for not understanding local accents, vocabulary, and slangs. Admittedly, achieving a high score on the SAT exam and TOEFL doesn't make us sound like native speakers. So when it comes to oral communications such as presentations in class, we become stuck and find no way to lay out all our ideas accurately. To avoid the embarrassment and social pressure, some of us would walk away and stay in our comfort zones. Because we are  not confident in our English, we are afraid to take the initiative to start a conversation, not to mention joining in any fraternities or sororities — and if we do (bravely), we do mumble sometimes and might not have a good social time in clubs. 
Culture shock
I know it sounds so basic and it has been mentioned a couple times whenever you see a guide or an article on global travel, but we know it's real. American culture, in general, contains a large portion of westernized notions which are so different from the social values, for example, in collectivist countries. I was such a mama's girl in my Chinese family before I studied abroad. God knows how I was kind of overwhelmed by hearing about hookups on Tinder, drugs, and partying culture when I added these words to my dictionary. If it still seems confusing, let's reduce the term a little bit to daily details: I didn't know that we needed to pull the cord before getting off the bus or you will miss your stop and get off in the middle of nowhere. I didn't know that we greet each other by saying "How's it going" and "Have a good one," we say "Bless you" for courtesy when people sneeze, and yes, I didn't know people are supposed to tip to servers whenever they dine in restaurants. Homesickness for food is also painful. For me, when I miss dim sum so much and want it so bad, the most comforting place to go would be the not-that-authentic Cantonese bistro in Sacramento. However, seeing difference doesn't mean bad and there is always a way out to the problem. We need to adjust ourselves and get used to the lifestyle in local culture. If it is tough for you, just be yourself and allow your friends to learn more about you and the culture when you gather around. 
Struggling with finances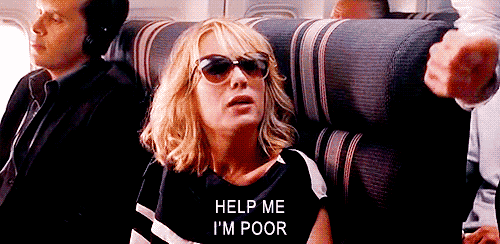 Oh, this sounds like a lie. :D But for international students, it hurts too. Without getting financial aid from university grants, the FAFSA, and the government, international students usually pay $15,000-ish each quarter, which adds up to around $45,000 to $50,000 per year. Don't get me wrong, and don't hurry to judge me as a hypocrite. I'm not saying international students can't afford anything, but I believe many of us are trying to save money from unnecessary use. Bearing with a great burden on tuition fees, students turn to minimize life expenses like used textbooks, home-cooked meals, and part-time jobs on-campus. For example, I work as a mentor at a program affiliated with Global Affairs to get a stipend that I use to treat maself sometimes. I also know some of my peers are offered some positions at the Dining Commons or as TAs, RAs, and tutors to manage their budgets better. 
Academic success
Compared to China, the educational system in the States is much more unconstrained and carefree. It was happening even before I entered university. In China, seeking higher education mostly depends upon test results, which consists of literature, mathematics, and English. When I applied to UC Davis, they wanted a thorough profile of students, including extracurricular activities, awards, GPA, SAT score, etc. After we settled down and started taking classes in university, I was surprised to be able to declare "undeclared" as a major and finished the prerequisites before I discovered one I am passionate about. But I know there must be some of us who were not familiar to the studying patterns. For instance, some of my friends have told me they failed their classes in college but used to excel as top students in high school. 
Yet…
To my international friends out there, don't ever get too stressed out for your life abroad. We are making efforts to get rid of bad times. I have seen a bunch of international students go to some clubs like Japanese-American Student Society (JASS), Chinese Students and Scholars Association (CSSA), VSA (Vietnamese Student Association), Thai American Student Association (TASA), etc. There are also other services provided by the university especially for international students, like Services for International Students and Scholars (SISS). Take some time to adapt to the new place, try calling your family and old friends to talk about something here and there, and always remember to refer to some significant others and resources. Don't hesitate to ask for help. 🤗