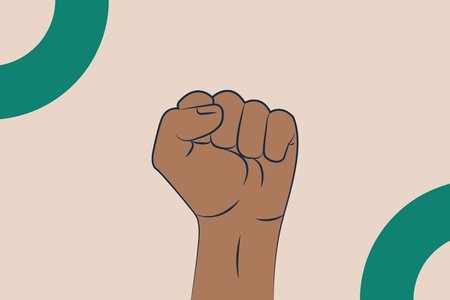 Original Illustration by Gina Escandon for Her Campus Media
COVID-19 is Becoming a Human Rights Issue
"Of all the forms of inequality, injustice in health care is the most shocking and inhumane." - Dr. Martin Luther King, Jr.
As COVID-19 continues to sweep through the nation, it is clear that people of color are becoming victims at a disproportionate rate compared to their counterparts. This global pandemic has only expanded the long-running racial divide between Americans and has been particularly brutal in black communities according to data. In ​Chicago​, black people are six times more likely to die of COVID-19 than white residents, even though they only make up 30% of Chicago's total population. These disheartening statistics makes one think this is due to people of color contracting the disease because of a combination of socioeconomic reasons, pre-existing health conditions, and systematic racism.
Socioeconomic factors alongside systematic racism play a significant role in the likelihood of contracting COVID-19. Though this has been prevalent in history, this is being displayed in a larger spotlight due to the cumulative failure of social and political institutions to provide people of color with the services they need to stay healthy. Instead of sheltering in place while maintaining social distancing, many people of color are forced to continue going to work to perform jobs that cannot be done from home. According to ​The New York Times​, "A study from Scott M. Stringer, the city comptroller, found that 75 percent of front-line workers in the city — grocery clerks, bus and train operators, janitors and child care staff — are minorities. More than 60 percent of people who work as cleaners are Latino, and more than 40 percent of transit employees are black." Many minority groups work in jobs that disproportionately expose them to the virus. Instead of having the privilege to work from home, those living paycheck to paycheck may rely on public transportation to get to work, unintentionally exposing themselves. Not only this, but when it comes to housing, many communities of color are not able to socially isolate if they are infected as there is often no guest room to isolate in. While the most ideal situation would be to create a distance from older relatives, in multigenerational homes it is just not possible.
Even though COVID-19 does not discriminate directly, it is clear that there are racial disparities through health care that have directly impacted minority groups. According to Dr. Anthony Fauci, the nation's top expert on infectious diseases, pre-existing "diseases like diabetes, hypertension, obesity and asthma are disproportionately afflicting the minority populations, particularly the African-Americans." These groups are also the ​highest uninsured​. Even when people of color are attempting to be safe and slow down the spread of COVID-19 by wearing masks, there is a distressing fear that this will only encourage ​racial profiling​. With this, it is essential to monitor and focus on health inequities that have transpired especially now due to the global pandemic of COVID-19.
Understanding the consequences that have come from health inequities is the only way to create fundamental change within the system that is affecting minority groups the most. Alexandria Ocasio-Cortez, an American politician serving as the U.S. Representative for New York's 14th congressional district stated, rightfully so, that, "This crisis is happening in the context of racial and income inequality ... our lowest income and our blackest and brownest communities are the hardest hit and experiencing the largest amount of casualties due to COVID-19." Failing to assess the harmful impact that structural racism has had towards COVID-19 will lead to overlooking the catastrophic legacy that institutionalized racism has had on people of color. In order to better the system, one needs to comprehend the unequal impact that the pandemic has had due to harmful effects in our society.