9 Winter TV Comebacks For the New Year
I'd been patiently awaiting the arrival of the New Year, and it wasn't for the fireworks or salutations.  Check out this list of the some of my favorite shows that are back for new seasons or just picking up where they left off. Let me know which ones you like best, and what shows you're excited to see back this month! Happy Viewing!
1. Shameless
The Gallaghers are finally back for Season 5! Though, Lip leaving for college, Frank's liver failing, and Fiona facing jail time was plenty of drama to hold me over until the New Year. Find out how my favorite big sister is handling life after a rollercoaster of a Season 4 on Showtime, Sunday nights at 9pm ET/PT.
2. Sleepy Hollow
Katrina, Ichabod and Lt. Mills defeated Moloch in a big way before the show's winter break, or so they thought?! I have to say, I'm not a super huge fan of the supernatural storylines. The fact that Sleepy Hollow has become a regular in my TV rotation proves it's an awesome show! Keep up with Sleepy Hollow on Fox, Mondays at 9pm/8pm central.
3. Girls
Oh Girls, how we've missed you. If you have that pressing need to find out what's become of Adam and Hannah's relationship (or lack thereof), check out Girls on HBO Sunday nights at 9pm!
4. Jane the Virgin
As a fantastic new staple in my TV rotation, Jane the Virgin is so much fun to watch. Gina Rodriguez earned every inch of that trophy at this year's Golden Globes!
This hilarious telenovela styled-sitcom will have you hooked at your first viewing. Catch up with Jane the Virgin on the CW Monday nights at 9pm/8pm Central!
5. Downton Abbey
I can't get enough of this crazy British drama! It's my guilty pleasure. Find out how the Lords and Ladies of Downton are holding up on PBS, Sundays at 9pm/8pm Central.
6. Suits
Out of all the shows on my very short and incomplete list, I am most excited about the return of Suits!  It's about time we all got Litt the Hell Up again. Tune into USA on Jan. 28th at 10pm/9pm Central to see what's happening in the office after Lewis and Jessica's epic season finale. I cannot deal.
7. How to Get Away with Murder
How to Get Away with Murder embodies everything I love in a show. It's dramatic, smart, and so much fun. See how your favorite law students are dealing with the drama on ABC, Jan. 29th, 10pm/9pm Central!
8. Broad City
Broad City is my new go-to comedy series. The show captures the hilarious friendship of two besties in New York. It's corky and grown up and I love every minute of it. Catch up with Abbi and Ilana on Comedy Cenral Wednesdays at 10:30pm/9:30pm Central!
9. Parks and Recreation
*sobbing* It's the beginning of the end, and I have so many feels.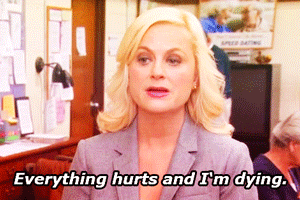 The final season of Parks and Recreation started this month, and I'm holding in the tears. Catch Parks and Rec on NBC Tuesdays at 8pm/7pm Central! Don't worry, we'll get through this together. 
Let me know what you guys are excited to watch this month! Tell me about your favorite shows, I love trying out new series!