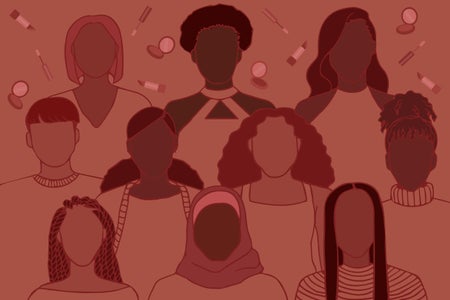 Adebusola Abujade / Her Campus Media
Women who shaped the future – who are they?
International Women's Day is around the corner and here at Her Campus UCL we are proud of our female staff, who helped to make this university famous worldwide for its academic excellence and who shaped the future of their fields. 
This week we introduce some of them: 
Dame Kathleen Lonsdale
Dame Kathleen Lonsdale was an Irish leading experimental scientist in the field of Crystallography. In 1949 she was appointed professor of chemistry and head of the Department of Crystallography, at University College London. Throughout her life, she actively encouraged young students to study science and even has a rare form of Diamond found only in meteorites named after her, Lonsdaleite!
During her life Lonsdale received many amazing accolades, she was elected an Honorary Member of the Women's Engineering Society in 1946. By 1966, she was elected as the first woman president of the International Union of Crystallography, and in 1967 she was elected as the first woman president of the British Association for the Advancement of Science. 
Christine Ijeoma Ohuruogu, MBE
Christine Ohuruogu studied at University College London, where she graduated in Linguistics in 2005. Since then she has gone to become a British track and field athlete and a former Olympic, World and Commonwealth champion. Ohuruogu is the first British female to win two World Championship titles, and the first British female to win three global titles. To mark the amazing accomplishments she received an MBE in 2009. 
Dame Rachel Whiteread DBE
Rachel studied sculpture in 1985 at UCL's Slade School of Art, and then went on to become the first woman to win the annual Turner Prize in 1993. Her most famous works include 'cabin' a reverse cast of a wooden shed which has been displayed on Governors Island in New York Harbour since 2016, and The Gran Boathouse located on the water's edge in Gran, Norway.
Whiteread was appointed Commander of the Order of the British Empire (CBE) in 2006 and Dame Commander of the Order of the British Empire (DBE) in the 2019 Birthday Honours, for her significant contribution to art. 
Elizabeth Garrett Anderson
Elizabeth Garrett Anderson has a long list of significant accomplishments. She was the first woman to qualify in Britain as a physician and surgeon, the co-founder of the first hospital staffed by women, the first dean of a British medical school, the first woman in Britain to be elected to a school board and, as Mayor of Aldeburgh, the first female mayor in Britain. 
In 1874 she co-founded London School of Medicine for Women with Sophia Jex-Blake and became a lecturer in the only teaching hospital in Britain to offer courses to women. This school was later called the Royal Free Hospital of Medicine, which later became part of what is now the medical school of University College London.
Ann Oakley
Ann is a distinguished British sociologist, feminist, and writer who was a professor and Founder-Director of the Social Science Research Unit, at the UCL Institute of Education. Oakley has written numerous academic works, many focusing on the lives and roles of women in society as well as several best-selling novels.
In 2011 the British Sociological Association gave her one of their first Lifetime Achievement Awards for her extraordinary contribution to the history of the development of sociology in Britain
Ebony Rainford-Brent
Ebony graduated with a Masters in Chemistry at UCL before becoming the first black woman to play for the England team. Rainford-Brent has an impressive skillset she is a fully qualified cricket coach, tutor trainer and a Master Practitioner of neuro-linguistic programming.
Her sporting career let to her being named the UCL Sportswoman of the Year in March 2007. Beyond this, she has gone onto doing much charity work including being appointed as a trustee of the England and Wales Cricket Trust and working as a cricket executive for the charity Lord's Taverners.
Clare Hollingworth, OBE
Clare was a distinguished English journalist and author who studied at the UCL School of Slavonic and East European Studies. Later in her career, Hollingworth went on to be the first war correspondent to report the outbreak of World War II. During the post-war decades, Hollingworth reported on conflicts in Palestine, Algeria, China, Aden and Vietnam. 
Clare's career earnt her significant accolades during her lifetime including the 1962 Woman Journalist of the Year award. In 1982, she was made an Officer of the Order of the British Empire for services to journalism and she won the James Cameron Award for Journalism in 1994.
These are just some of the incredible women that make UCL and universities around the world inspiring place - Stay tuned for more!