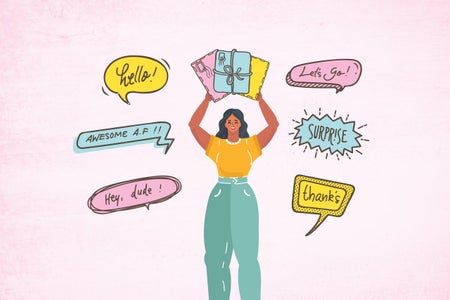 New Me with the @trieditpodcast ladies!
This is a sponsored feature. All opinions are 100% our own.
Hello readers,
This week your senior editor and HC London executive and gorgeous team take you virtually to sit down and talk with 3 amazing girls (please follow them @trieditpodcast), who are going to talk about their experience during the lockdown and 'New month New me'
Enjoy!
I tried it podcast on how to make the most of lockdown 'New month New me'
I know that for most of us working people, at one time or another you have pondered the many amazing things you would do with some time off. Read a book you've had on your bedside table for the last 6 months, try that recipe you've wanted to make, learn how to play that dusty old instrument you last played when you were 6, work out and become that fit alter ego that 'loves a run'… ok maybe too far, no one loves a run surely… right?
Well anyway, if that's your sick kink I'm not here to judge but now is the time to do it all!
Yes, you might still be working from home but it's bound to be a bit quieter given the circumstances and even cutting out the commute time for many gains you plenty of extra time to create the new and improved You2.0.
Here are some suggestions on how you can make the most of this time you'll be wishing you wish you could get back when everything is back to business as usual.
According to Harvard Health, the best things we can do right now is strengthening our immune system so the next two are a double whammy.
You're welcome.
Exercise
So many of us could have been the world's fittest if it wasn't for that knee injury 10 years ago that we've been milking a little too long. Throw those excuses to yesterdays you because now is the time to make the most out of all the free workout sessions available online if only in a bid to keep us sane. On Instagram, fitness accounts like @krissycela and @bodyfitbalance and our very own @mayasaffronhan have taken to posting no equipment home workouts on their page and live videos you can follow along with. Alternatively, do some yoga with @maryochsner or even follow free online dance lessons by accounts like @AaliyahJanell. Or dare I say see the light of day and get outside for a cycle or a run. Trust us, fresh air will do you a world of good when you've laughed at the walls jokes one too many times.
Bake and Cook
If you're always working, cooking can become a burden and ultimately your health gets put on the back burner… (pun intended). But now is the time if you're a man to learn how to cook (joking ofc men can cook… kinda) and if you're anyone else, learn how to make something a bit fancier that takes some more time and attention. Maybe that's making a pie or Chinese dumplings, learning to make some vegan dishes or maybe a nice chocolate cake to apologise to your loved ones for strangling them because they told you to wash your hands for the 15th time today and your hands just can't take any more! Some recommendations on Instagram pages include @veganrecipescom or follow #recipes to find something you like.  
Films, Podcasts and Books
Remember that book you read 10 pages of never to open it again? We're all guilty, now show your books some love and escape from this crazy corona filled world or listen to it with the audible app. Alternatively..welcome to 2020, the year of podcasts and speaking of, maybe I'll even shamelessly plug ours: Tried it podcast where we discuss all things from millennial struggles to relationships and love and everything in-between. Our episodes are informative, fun and interesting and important and you're bound to find a few episodes that interest you. Available on Spotify, Soundcloud, the Apple podcast app Youtube…. And the best part is you can listen whilst 'working' ;) we've got your back x.  Recommendations on Netflix include Blind Date, How to get away with murder, Sex education, The Witcher, Mindhunter, or noughts and crosses on BBC Iplayer, the list goes on
Skills
Instruments: So many of us started off so well… being all musical and creative.. but life got in the way (and by the life we mean work). What better time than the present to pick back up where you left off and hone into your inner Mozart. If social media is taking a toll on your mental health, (because if you're anything like us, COVID-19 has even found its way into our dreams!) a great alternative is Youtube! There are so many tutorials available on Youtube from beginners to advanced and even courses on apps like skillshare.  If you don't have an instrument, grab a ukulele from amazon for £10-£20. Or, if you really want to transform yourself, pick up a new language with lessons from Youtube. (Top tip: Its best to find a channel that has lessons that lead you from beginner to advanced as opposed to just random lessons on things with no real clear weekly based progression.)
Nonetheless, whether it be gardening, board games, online gaming, knitting, embroidery, jewellery making, making Tick Tock videos, starting that blog you've always wanted to, anything at all that brings you joy, now is the time to embrace all of that and come out of this a better you have done all the things you always wished you could if you had more time.
Hope you enjoyed this article as much as we enjoyed talking with these 3 amazing girls!
If you want to know more and you have not had enough, follow these ladies @trieditpodcast
Stay safe and healthy,
- HC London Team