Valentine's Day is the special time of year to cherish the people that you love the most. Many of us can celebrate this holiday in many different ways. For example, you can have a romantic evening with your special someone, but you can also have endless heart-to-heart conversations with your closest friends. You can pick out roses for your mom or give handmade cards to your closest friends. You can cook your favorite dishes. Afterwards, you can indulge in delicious treats such as candy hearts, cookies, cupcakes and as much chocolate as you can, especially on the day after Feb. 14 when it's half-priced. Before munching away, it's essential to binge-watch your favorite romantic comedies, but how do you know which one to choose? There are too many classic ones to choose from that are filled with romance, a little confrontation and endless laughter. This list down below is going to tell you which is the best romantic comedy for you to watch based on your sign. 
Aries: 10 Things I Hate About You (1999)
Aries have the reputation of being very passionate and ambitious and embracing their independence. Due to them being a fire sign, they are also known for their brave hearts and sparks of high energy. They love to break their daily routine to do something new, different, daring and exciting. They just really know how to have a fun time all the time, but just don't get them mad. Similar to Kat Stratford (Julia Stiles), they may have a tough exterior but a true heart of gold. Throughout the film, Kat Stratford always knows how to speak her mind and never hold back from her true self. She is not afraid to shoot a paintball gun on a date, dance on top of a table or express her feelings in a poem. These qualities of being fearless highlight everything an Aries represents.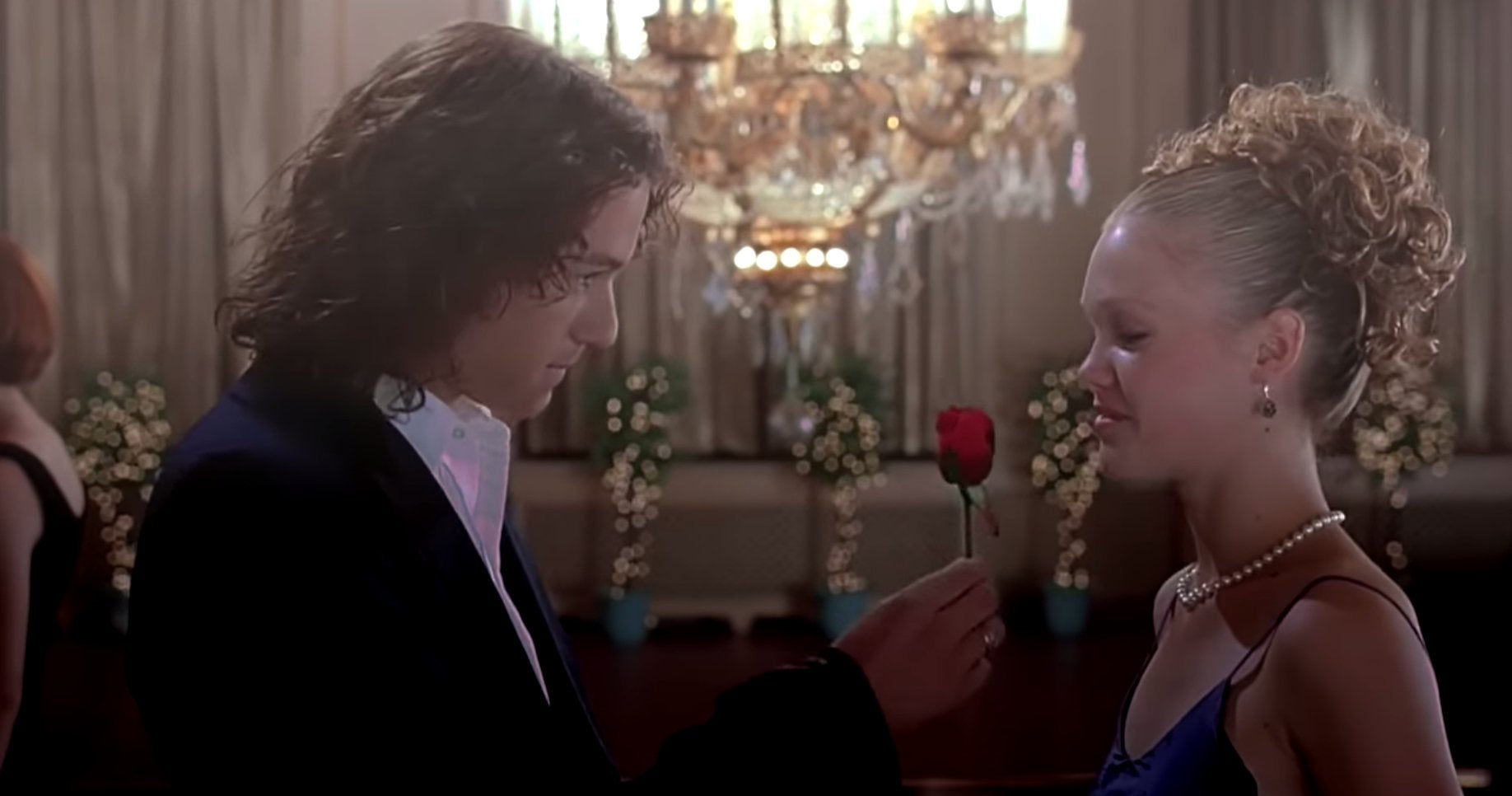 Most Leos radiate confidence, independence and compassion, but they can also be fiercely protective. They are usually honorable for their loyalty in friendships. They also love to feel appreciated by others and need to be complimented, similar to Regina George (Rachel McAdams), because you guys are the queen bee of the signs. The Leos represent undeniable royalty and need to be accordingly treated as such. Despite spreading the Burn Book school-wide, Regina George was never an actual mean-spirited person but was simply misunderstood. She was just a queen bee on a mission to feel popular and cherished again. This display of dominance and faith in oneself reflects the entire reputation of a true Leo.
Sagittarius: 13 Going on 30 (2004)
Many people who are a Sagittarius are notorious for being genuine, bluntly honest, creative, spontaneous and intellectual. Sagittarians are also hilarious because of their storytelling skills, so be ready to laugh. They embrace their qualities of being a straight shooter and saying exactly what's on their minds—almost too much for their own good. This is similar to none other than Jenna Rink (played by Jennifer Garner), who is colorful, goal-oriented and carefree. She says poetically, "Love is a battlefield." She is diligent, sociable, fun-loving and determined to live her life to the fullest. She is also not afraid to express herself through fashion or dance to the song "Thriller" in front of a large crowd. Independence and excitement are everything a Sagittarius aspires to have.  
Taurus: Girls Trip (2017)
Many people who are a Taurus are usually the most adventurous people that you will ever meet in life. Due to being an Earth sign, they might be a little stubborn but mostly down to earth. They are the definition of a fun time. They are headstrong, naturally competitive, youthful and genuinely love to create new memories with their closest friends. So, there's no better movie to watch than of a group of best friends who know how to laugh, party and have a good time. This film has almost too many hilarious moments to count, just like the humor of a Taurus. For example, the women swung over Bourbon street, had a dance-off in multi-colored wings in the club and had a funny conversation about "grapefruit." These iconic fun moments represent the true brave nature of a Taurus. 
Virgo: Legally Blond (2001)
Virgos often have a reputation of being thoughtful, artistic, hard-working and well-grounded. They can also be overthinkers, too intellectual for their own good and sometimes self-critical. Due to their talents of critical thinking, they often have some sleepless nights. As a reminder to all Virgos, we all love you, so don't always be so hard on yourself. Someone who was also often hard on herself is Elle Woods (played by Reese Witherspoon). She consistently had to prove herself to Warner (Matthew Davis) and even got herself into Harvard Law School. Unfortunately, no matter how hard she tried, she still never felt good enough. She always felt defeated. However, once she regained her strength and belief in herself, she became better than ever. We praise Virgos for always being upfront or giving us that reality check whenever we need it most. So yes, Virgos, you are good enough so be ready to conquer the world the same way Elle Woods dominated the court of justice.      
Capricorn: How to Lose a Guy in 10 Days (2003)
Most Capricorns are the most ambitious people you will ever meet in your life. They are great leaders, self-motivated, productive, mature, practical and dependable, but best of all, the future millionaires. However, sometimes Capricorns can get so focused on their work that they forget to treat themselves. These qualities radiate from Andie Anderson (Kate Hudson), who is a clever and workaholic journalist. She is willing to do whatever it takes to take her career to the next level. However, she is so focused on her career that she could possibly lose a great guy like Benjamin Barry (Matthew McConaughey). So, Capricorns, keep shooting for the stars and making your dreams come true, but never lose sight of the pursuit of your own happiness first.   
Gemini: She's The Man (2006)
Geminis are intellectual, playful, enthusiastic, conversationalists and social beings. They genuinely care about deep conversations and can talk about anything with you. They almost have  too many talents to count, which makes them relatable to everyone. However, their moods often tend to switch and will always keep others on their toes. Their quick-witted sense of humor and versatility are similar to those of Viola Hastings (Amanda Bynes). She is not your ordinary debutante; she is also a talented soccer player, a born-to-be fighter and someone you'll never get bored of. Throughout the film, her craziest experiences include pretending to be a guy to get into a male-dominating soccer team and causing a little mayhem wherever she goes, which is everything a Gemini represents.     
Aquarius: Clueless (1995)
Aquarians are fun-spirited, carefree and usually march to the beat of their own drum, similar to Cher Horowitz (Alicia Silverstone). Cher might not always say the right answers, but her heart is always in the right place. They all embrace their individuality, the finer things in life and their freedom of expression. Cher also has a passion for fashion and a unique sense of humor, such as when she delivers the line, "It does not say 'RSVP' on the Statue of Liberty" and especially when she says, "Ugh, as if." These are creative phrases that only an Aquarius would be able to think of because they always know how to be original and to think outside of the box.   
Libras are social butterflies, diplomatic peacemakers, optimists and absolute perfectionists. They love all things that are beautiful and wonderful in the world that surrounds them. They are similar to Giselle (Amy Adams), who is always singing, dancing and smiling to the world and the world always smiles back. This shows the weakness of Libras because they will do whatever it takes to make everyone like them or try to please everyone except themselves. She also idealistically believes in true love's kiss, magic and a happily ever after, which illuminates Libras' romantic side. They are also hopeful, bright and can find the solution to any problem. These magical moments of finding the beauty in all the little things that life has to offer screams Libra energy.     
Cancer: 500 Days Of Summer (2009)
Cancers, you are affectionate, loving, loyal, protective, caring and at times a hopeless romantic like Tom Hansen (Joseph Gordon-Levitt.) You guys are also highly imaginative, artistic, gentle, sentimental and appreciative of being surrounded by loved ones in the comfort of your own home. You will always go out of your way to help a friend in need. You are great listeners even if people do not always reciprocate. You guys always go above and beyond for the people who you love the most. However, when it comes to break-ups, they often hurt you a lot, just like they do to Hansen. Do not let people like Summer (Zooey Deschanel) take advantage of your kindness. All in all,  just like Tom Hansen, you will know how to piece everything together because your happiness and your own peace will always matter the most to you.      
Scorpio: John Tucker Must Die (2006)
Scorpios are imaginative, passionate, persistent, loyal and fearlessly curious. Many people believe that Scorpios are the most passionate people that you will ever meet in life because when they love, they love with their whole heart. However, the worst thing that one can do to a Scorpio is lie to them because if that happens, they'll be ready to annihilate you. This film is about a group of friends who show their undevoted love, attention and affection to the same cheating man named John Tucker (Jesse Metcalfe). So, their acts of revenge to him often expresses how Scorpios deal with their own heartache. In other words, loyalty means everything to Scorpios, so don't break their trust. They might not always be vengeful, but would secretly want to be. Their big hearts have a consequence of overflowing with emotions. So, do not be afraid to let your guard down, Scorpios, and open yourself up to the world. Similar to Kate (Brittany Snow), you have the courage and will to fight for what you believe in. 
Pisces: A Cinderella Story (2004)
Pisces are the most compassionate people that you will ever meet in your life. They are generous, creative, dreamers and empathetic, but sometimes put others' needs before their own. You love everything and everybody. The beauty of your undevoted compassion for others is similar to that of Sam Montgomery (Hilary Duff). She is a diner waitress who is hard-working, loving, sympathetic and believes in the magic of romance (even if it's meeting her prince charming via text). This shows that you are true romantics at heart, Pisces. So never let others ruin your hopes, your aspirations or idealistic visions of love, because it's out there for you. But first, hit pause and accomplish your dreams the way Sam accomplishes hers by attending Princeton University.