Anime To Watch For First Timers (Part 2)
As I promised from a previous article I wrote in the Fall 2020 Quarter, here is part 2 of anime to watch for first-timers! 
Side Note: a majority of these are on Netflix so if you have it, you're in luck! I will mark with a * next to the name if they are :)
僕のヒーローアカデミア (My Hero Academia) (2016 - present)
Boku no Hero Academia, which you can see in the header photo above, takes place in a world where about 80% of society is born with a quirk; a superpower, to be exact. Many people go on to use their quirks to take on the role of a Hero to fight crime and save lives. However, the remaining 20% are those born quirkless. That is the case for Izuku Midoriya. He has always wanted to be a hero thanks to All Might, the #1 Hero. However, since he didn't develop a quirk his dream was then crushed. Later on, he just so happens to meet All Might. All Might observes his dedicating qualities of a hero and allows Midoriya to inherit his quirk, One for All. Now that his dream is becoming a possibility, Midoriya trains his newly received quirk when he enrolls into U.A. High School. 
If you've watched the film Sky High, My Hero Academia is perfect for you! It's more intense as the characters also face many challenges with outside sources such as internships, students from other hero high schools, and their constant involvement with the League of Villains. Each character has their own unique backstory for why they enrolled themselves into U.A. It's admirable to see them fully develop their quirks and learn what it means to be a hero. If you like the dynamics of heroes, you'll definitely enjoy My Hero Academia!
鬼滅の刃 (Demon Slayer) (2019)*
Demon Slayer is excellent to start if you want to get into anime. I actually used a wallpaper of this anime as the header for part 1! After watching it for myself, it seems like anyone can enjoy it no matter if they are a veteran or a first timer of anime. Tanjiro Kamado faces a traumatic tragedy of finding his family slaughtered to death by demons. Only his little sister, Nezuko, survived but was turned into a demon. Tanjiro then sets out on a journey with her to become a demon slayer and find out how to turn Nezuko human again. 
The animation style is so impressive and absolutely gorgeous to look at. Not to mention how it does have its comedic moments as well as its more serious moments. Also the opening, Gurenge by LiSA, is an amazing bop to listen to. I always watch the opening and ending of any anime I watch; this opening became an instant favorite! 
Netflix recently added Demon Slayer to their streaming service so you can go ahead and start watching! Once it comes out internationally, please watch the Demon Slayer: Mugen Train movie since it starts from where Season 1 left off.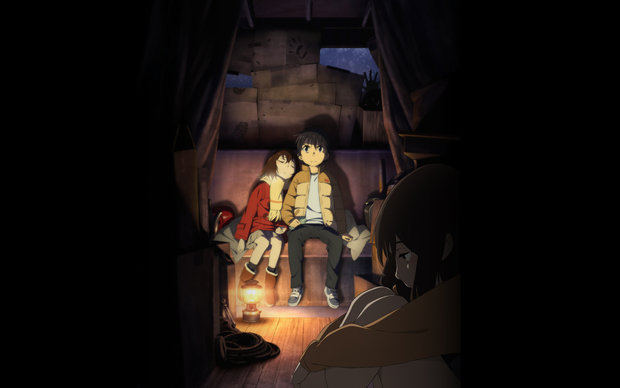 A-1 Pictures 僕だけがいない街 (Erased) (2016)*
Erased is a brilliant mystery anime to watch! It follows Fujinuma Satoru who is a 29 year old manga artist that gains the strange phenomenal ability to travel back in time to prevent mishappenings. After being falsely accused of murdering his mother, his ability suddenly takes him further back to his 11 year old self. When it turns out that his mother's murder is connected to a series of child kidnappings, including his classmate Hinazuki Kayo, he takes this opportunity to make things right. 
I watched Erased back when it just started so I watched every new episode every week. To get ahead, I jumped into reading the manga. The anime was going according to the manga until it came close to the climax where certain events and the ending was altered. I can see why they had to do that though as they wanted to keep it to 13 episodes; following the manga ending would require the anime to animate more episodes. Both versions are great in their own ways and are highly recommended!
約束のネバーランド (The Promised Neverland) (2019 - present)*
One aspect I believe anime slightly lacks are strong, unsexualized female characters. The Promised Neverland actually has a strong, unsexualized female lead: Emma. It's set in Grace Field Orphanage. Life for the orphans was filled with bliss and happiness. However, it was then cut short when Emma and Norman discover that they are living in a farm only to be raised like cattle for demons to be eaten. Discovering this shocking truth, Emma and Norman with the help of the other older orphans devise a plan to escape the farm. 
The animation may make it seem cute but don't let it fool you. The world is actually quite horrifying to live in. Just imagine being raised in an orphanage and then when the faithful day to be adopted into a family finally comes, you are then killed off to be served as food for demons. No wonder the orphans would want to escape; they for sure don't want to be devoured. 
Season 2 is on right now with new episodes airing every Thursday so I recommend catching up if this anime took your interest! Only the first season is on Netflix as well so go ahead and watch!
アオハライド (Blue Spring Ride) (2014)
This shoujo anime was so cute that I actually watched it all in one day. It came out back in high school and it has been one of my favorite shoujos! Blue Spring Ride is about Futaba Yoshioka who is a high school student who attempts to act unfeminine due to past events in middle school with girls always excluding her because of their jealousy. However, she does start developing a relationship with a fellow classmate, Tanaka Kou. They made plans to hang out at a summer festival but failed to do so as Kou suddenly disappeared. Now in high school, Kou returns into Futaba's life as a different person in both name, as Mabuchi Kou, and personality. 
Unfortunately, there is no second season as the anime itself served to promote the manga, which already finished. Finding out about this sometime after finishing the anime, I decided to read up on the manga. A lot more important events happen so it is definitely worth the read.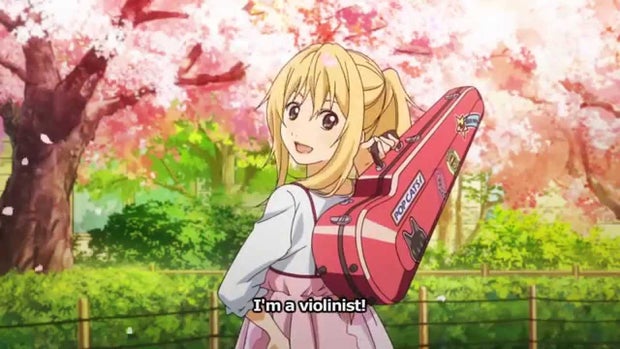 A-1 Pictures, Aniplex USA
四月は君の嘘 (Your Lie in April) (2014 - 2015)*
Get your tissues ready because this anime will bring tears to your eyes. Your Lie in April is about a piano prodigy named Kousei Arima who loses his ability to play piano due to his mother's death. He gains inspiration to play again upon meeting Miyazono Kaori, a violinist. It's incredibly beautiful in animation, story and music. It uses music as empowerment for the characters to express their emotions that cannot be explained accurately into words. The two main characters develop a deep and personal connection with each other as musicians. It may seem like a cliché love story with a love triangle and romantic scenes but it's more than that. I feel like it's quite an underrated anime since I haven't seen many discussions about it which is why I want to add it to this anime list. 
Once again, this anime is also available on Netflix to watch so go check it out! If you are into classical music, this is the anime for you!
I hope you enjoyed reading part 2 of this anime list! I am, however, interested in writing a part 3. So stay tuned for part 3 of the "Anime to Watch for First-Timers" articles series!