My First Concert
One of the ways I nourish my love for music is by going to live concerts. I enjoy them because of the thrill and ambiance you get from singing all of your favorite songs out loud. I have been actively going to concerts ever since I was a little girl. When I was four, I went to my first concert in 2004 for a Latín group called RBD. This band emerged from a famous television show called Rebelde. I was, and still am, a huge fan of theirs. The concert was at the LA Memorial Coliseum, and became a big deal because it was recorded for their show.
I remember that day like it was yesterday. My sister and I wore the famous Rebelde attire, which was the uniform that the band members wore in the show. It consisted of a denim skirt, white button-up, striped red tie, and black knee-high boots. After my dad drove my mom, sister and I to the stadium, it started raining. Regardless of the rain, everything was still going as planned, and the night was still perfect. As soon as the lights of the stadium turned on, thousands of screams took over the stadium. It was surreal.
The idea of seeing my favorite singers on stage, after only seeing them on TV, was unbelievable to me. I could not believe that they were actually real and that I was sharing the same space at the same time with them. My four-year-old self truly was blown away. When I first heard their voices through the speakers, I lost my chill. I enjoyed the concert so much that it felt like it only lasted a few seconds.
Lifetime of Concerts
It took some years to finally go to another concert of an artist that I loved. My next concert after RBD wasn't until 2013, when I attended One Direction's Take Me Home Tour. I was away on a trip, and I remember calling my parents every day asking them to buy me tickets for the concert. They finally gave in and surprised me with two tickets to the first night at the Staples Center. It was the Best Night Ever (no pun intended). I was a huge Directioner, so I made it my personal mission to go to every tour they had. Fortunately, I attended their two tours Where We Are Tour (2014) and On the Road Again Tour (2015).
I went on a mini road trip with one of my best friends to San Diego for the OTRA tour. The concert was at the Qualcomm Stadium, and we had floor seats. We were so close to the stage that we couldn't believe it. When the lights went out and the guys appeared on stage, every single person in the stadium lost it. The crowd was so loud that you could barely hear the band itself. It was crazy.
In 2014, I went to the iHeartRadio Jingle Ball with my older sister. This was also an exciting concert because it was the first time I had gone to a show without my parents. I felt like a big girl. Through this experience, I was able to see many artists perform. The performers included: Iggy Azalea, Jason Derulo, Fall Out Boy, Becky G, Ariana Grande, The Weeknd, Calvin Harris, Jessie J, Nicki Minaj, Jeremih, Nick Jonas, Kiesza, Lil Jon, Demi Lovato, Magic!, Maroon 5, Shawn Mendes, OneRepublic, Rita Ora, Rixton, Sam Smith, Taylor Swift, T.I., Meghan Trainor, Pharell, Charlie XCX, and 5 Second of Summer. We got backstage access, so we got to see when the performers were getting ready to go on stage. It was pretty cool because we also got to the behind-the-scenes of huge concert events like this.
After watching Sam Smith perform, I knew that I had to see him perform live. In February of 2015, I went to see him at the Forum. This concert was indeed one of a kind. My sister and I bought general admission floor tickets. For this concert, access to the barricade was on a first-come, first-serve basis so long as you had GA tickets. We got the third row from the stage, which was really close. At the time, he only had one album released, In the Lonely, and it was a relatively sad album. Therefore the concert gave melancholy vibes, but even then, it was still amazing. Everyone in GA was very friendly towards each other. We all acted as if we were heartbroken and knew each other.
At the end of the night, while my sister and I waited for our dad to pick us up, we ran into Sam Smith. That's right, Sam Smith! We met him in the parking lot and even took pictures with him. He was lovely. That was definitely one of the many highlights of the concerts I've gone to.
That same year in October, I went to see Katy Perry on her Prismatic World Tour. I went with my sister, and our seats were right next to the stage. Her concert gave us a boost of serotonin. It was colorful, vibrant, happy, and uplifting. She sang all of her classics, from "I Kissed A Girl," "California Girls," to "Roar" — she took me on a trip down memory lane.
In 2016, I went to see Beyoncé on her Formation World Tour. This concert was phenomenal, as you can imagine. Seeing her live was unimaginable, mainly because I see her as an inspirational role model. It was a one-of-a-kind experience. Her concert was a confidence booster and delivered female empowerment. I believe everyone should attend a concert of hers because it is beyond just her singing. The choreography, images and setlist are all set up in a way where they tell a story. Her concerts deliver a message to the audience, which is what sets Beyoncé apart from other performers.
Going to her concert made me feel good about myself. It made me feel like I could be and do anything I wanted to which is why I had to see her again.
In 2018, I went to On the Run Again Part II Tour with Beyoncé and Jay-Z. This concert was something else. It was a concert everyone wanted to go to, so a lot of celebrities attended that night. After her astounding performance in Beychella, concert-goers were looking forward to her performance on her own tour with her husband. Let me just say that she served and delivered. Besides One Direction, Beyoncé and Jay-Z had the loudest crowd ever. The same vibe remained throughout the entire show. Their chemistry with the audience was so powerful that it could be heard for blocks.
Another thing I like about their show is that they perform a variety of their songs from beginning to end, which gives the audience a rundown of their discographic history. People showed up with amazing outfits that resembled Beyoncé, including her famous Beychella looks. That concert made everyone in the stadium feel like true baddies. It made me realize that Queen B really does run the world (get it?).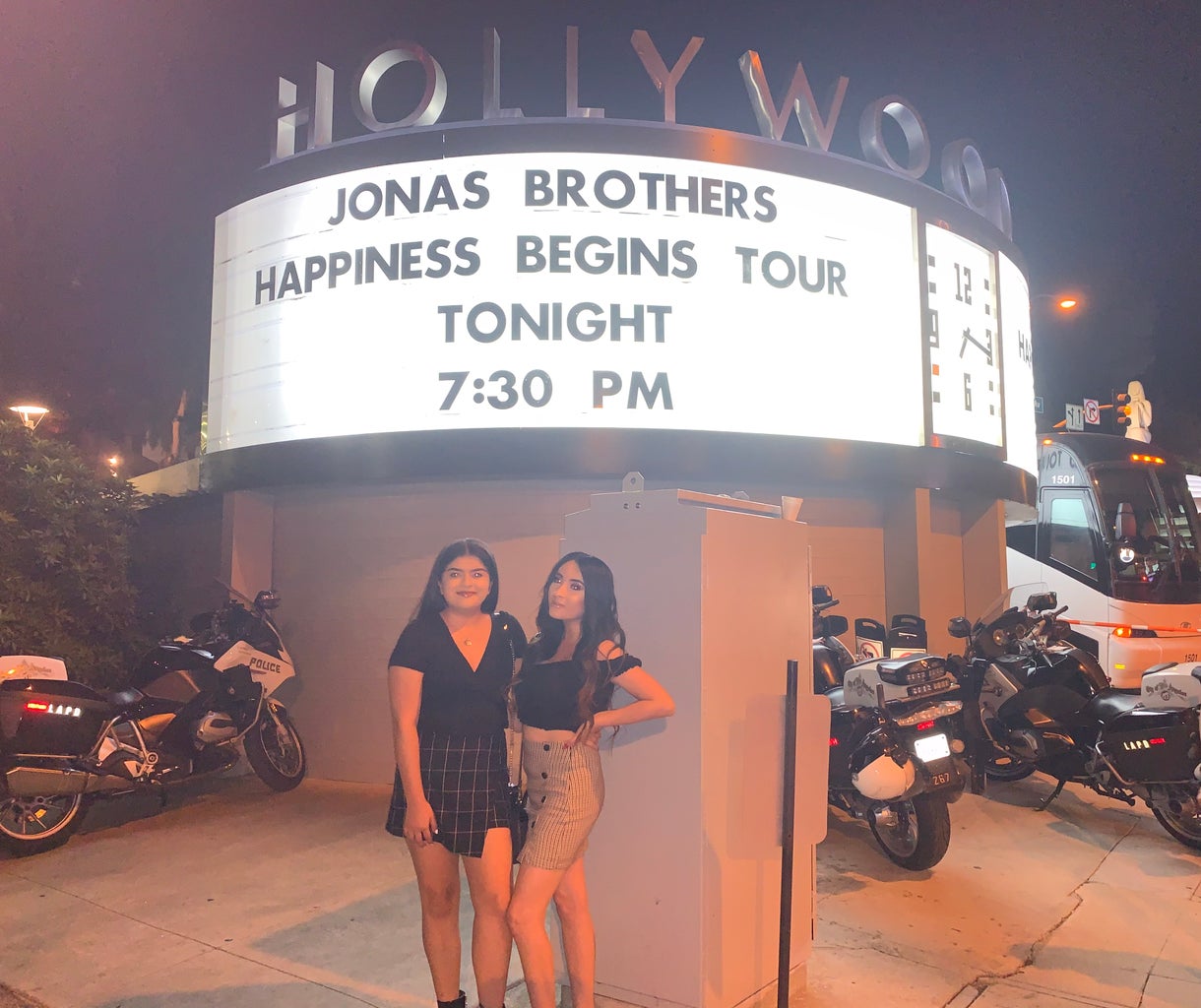 A picture of my sister and I outside of the Hollywood Bowl before the concert.
My Last Concerts Before COVID-19
In 2019, I went to two concerts before COVID-19 shut everything down. In October, I went to the Jonas Brothers Happiness Begins Tour at the Hollywood Bowl. I attended with my sister in honor of her birthday. This concert was something she had looked forward to since we were little. We have been fans of them since their Camp Rock (2008) days. This concert made our eight and 12-year-old selves' dreams come true of finally seeing our crushes in person.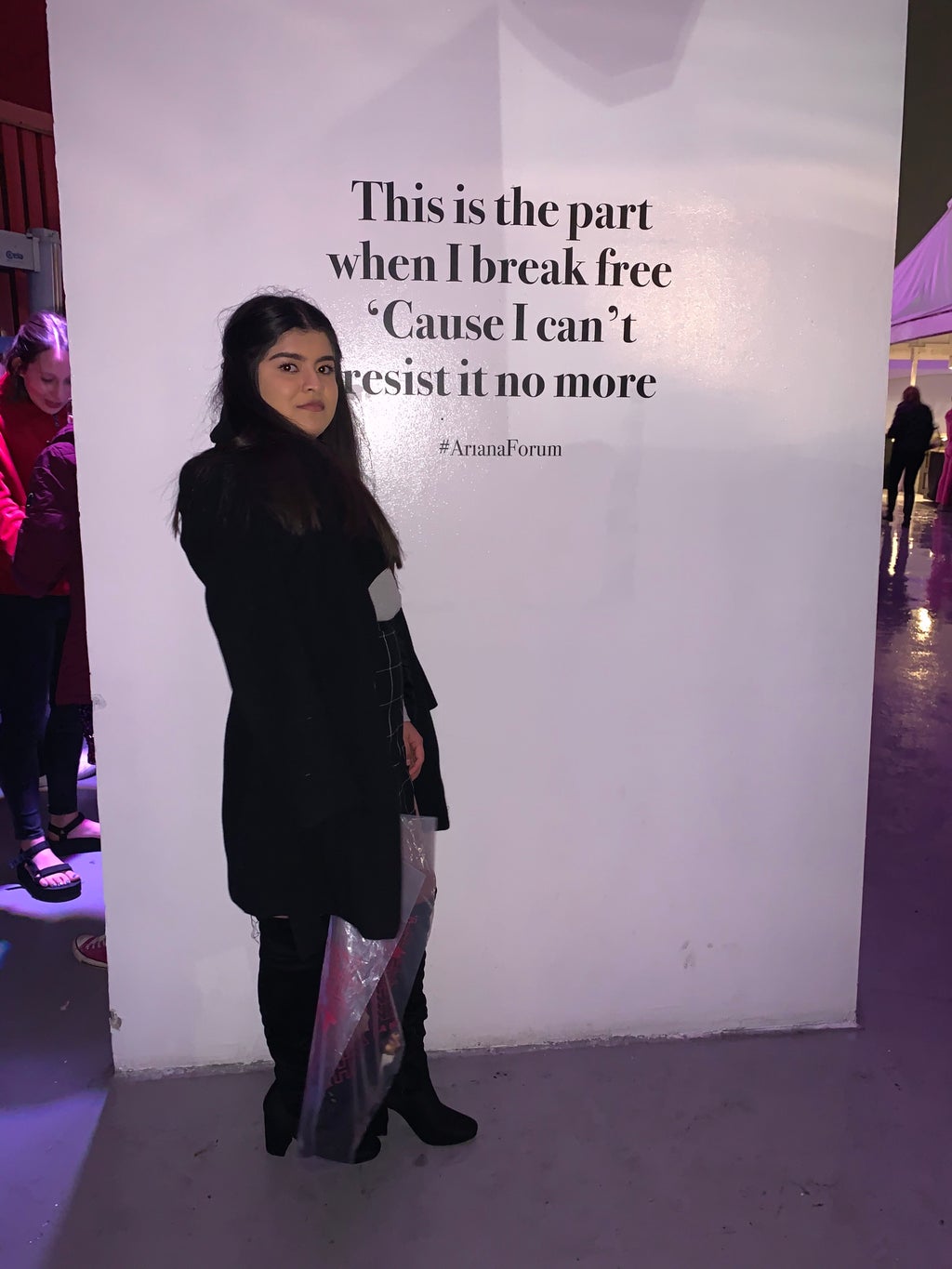 A picture of me outside of the Forum after Ariana Grande's concert.
My last concert before the pandemic started was Ariana Grande's Sweetener World Tour at the Forum. It was definitely the best way to end my year before going into lockdown. The show was in December, two days before Christmas. I did not buy my ticket until a few hours before the concert, so it was all super last minute. Everything happened so fast. I remember I was freaking out because I didn't know what to wear, and it was forecasted to rain later on in the night.
I ended up driving to the Forum, and everything went smoothly. My sister and I bought merchandise and took a ton of pictures outside the venue. Once we entered, we bought snacks and enjoyed the pre-show performance. Since it was the holiday season, it was very holly and jolly. The concert was pretty amazing. Ever since her Sweetener album release, I have wanted to see her perform live. Her show was so worth it. It set the right mood for the rest of my 2019 year. This concert was incredible….but you know what they say, last-minute plans are the best plans.
Why Concerts Mean So Much To Me 
Every concert that I attended has further nourished my love and interest in music. When I am at a show, I live in the moment. I sing my heart out and forget about everything else going on around me. When the lights turn on at the venue or stadium, I get an immediate rush as if I am on a rollercoaster. Something about seeing my favorite artists on stage gives me a boost of serotonin and adrenaline.
Now that everything is starting to open back up and social events are taking place, I am excited to go to concerts again. An upcoming one I'm eager to go to is Harry Styles' Love On Tour, but the tickets are sold out. I plan on checking ticket availability until I can get my hands on at least one ticket. Another tour I have been looking forward to is The Weeknd's After Hours til Dawn Stadium Tour. I am not going to miss this concert no matter what because I have been waiting since 2019. The tour was supposed to happen before the pandemic hit, but has since been rescheduled three times.
There are other singers that I wish to see live in the future like Adele, Rihanna, Lana del Rey, Coldplay, and many more. The list is endless, but until then, I will reminisce about the good times I had in the concerts I attended.