5 Underrated Artists You Need To Add To Your Playlist
Let's face it, actively seeking out good new music amidst a seemingly endless flow of content can be a lot of work. But, you cannot deny that there is something so rewarding about discovering an artist on your own and being able to watch as the rest of the world gradually catches up to speed on their brilliance. I know I have definitely been guilty of finding myself trapped in a cycle of listening to the same handful of songs on repeat at any given opportunity, meaning I have also experienced the full-circle moment of acceptance that it is time to branch out into the world of music discovery once more. Knowing where to start can be pretty daunting when it comes to the new music search, so I have compiled a list of five artists I believe deserve your attention, and who knows, they may be exactly what you need for your up-and-coming "Songs to Play on Repeat" playlist!
For me, Noah McBeth (NoMBe) is one of those artists you happen to stumble upon one day and are instantly aware there is something special about them. Born and raised in Germany, Noah chose the path of adventure by taking a chance on his musical dreams in Los Angeles, and well, those dreams are very much a reality now. I found NoMBe right as his first album was released in 2018 and have returned to it for comfort many times since. Initially drawing me in with its beautiful cover and intriguing title (yes, yes I admit I am not immune to being enticed by album artwork), NoMBe's debut They Might've Even Loved Me gives listeners a reason to stay with its genre-bending multiplicity, exploration and introspection of the relationships which have shaped him and, tying it all together, a voice with the power to both captivate and provide solace. NoMBe currently resides in Hawaii, where he is preparing for the release of his second album, titled CHROMATOPIA, which is expected to be released in the near future. I personally cannot wait to hear what NoMBe has in store next and hope you will soon feel the same!
Songs to get you hooked: "Milk & Coffee," "Young Hearts"
If you are looking for music that makes you dream about how incredible it will feel to be at a concert again shouting the lyrics with everything you have, The Regrettes is a band for you. A four-piece band composed of frontwoman Lydia Night, lead guitarist Genessa Gariano, bassist Brooke Dickson and drummer Drew Thomsen, this Los Angeles-based band is your power-pop dreams come true. I stumbled upon The Regrettes following the release of their second album How Do You Love? in 2019 and was immediately drawn in by the storyline carried on throughout each song regarding the universal triumphs and tribulations experienced with love. This band's style provides listeners with the outlet they may need from time to time, screaming for them to recognize and feel empowered by their own strength. The Regrettes are currently in the process of creating their next album, and if the past is any indication of the future for this band, I am beyond excited to hear what their next chapter will bring. If you start listening now, you can join me in my anticipation for the day concerts may safely continue!
Songs to get you hooked: "I Dare You," "How Do You Love?"
Sasha Sloan is a force to be reckoned with, a fact which only becomes more evident with each new project she contributes to. Based in Los Angeles, Sloan is a 25-year-old singer-songwriter who continues to prove to the world, and herself, that she belongs in the music industry and is actively improving it with each piece of herself she shares. I was first made aware of Sasha Sloan when she opened for a band I was seeing in 2017, an ideal way of discovering new music in my opinion. I knew this was something special the moment she began her set, which brought me to immediately download the EPs she had at the time right after the concert ended. What connects with me the most in terms of Sasha Sloan's music is the honesty and vulnerability she is willing to share. Rather than bury her feelings and insecurities, she channels these emotions into her songs, drawing on her struggles with mental health, body image, family, love, self worth and more in a way which is both unique to her story and relatable for those who have faced similar challenges. Her debut album Only Child is a beautiful culmination of who she has been and who she is today, and I believe everyone who listens will be able to find at least one song which resonates with them. I believe Sasha Sloan deserves your attention and after listening I hope you feel the same!
Songs to get you hooked: "Runaway," "Older," "House With No Mirrors"
We all need music that is ideal for driving because it exudes just the right amount of calm and cool for any situation, whether your goal is to blast the sound with the windows down or to have background noise while in conversation. Peach Pit is a band that fits the bill perfectly. A Canadian group of four having its start in 2016, Peach Pit provides listeners an indie pop fix through the combination of smooth vocals and masterful sound production. The band's discography consists of two albums, Being So Normal (2017) and You and Your Friends (2020), each composed of strong tracklists able to highlight the band's range of abilities and artistic directions well. I highly recommend you download these albums before your next car journey because it will be sure to set the mood and make you wish you could drive forever.
Songs to get you hooked: "Shampoo Bottles," "Alrighty Aphrodite"
I know from personal experience it can be a blessing and a curse to find an artist you enjoy, only to discover you have albums upon albums to catch up on. Being able to say you have been with an artist from the first release and watching as they cultivate their sound, establish their identity and grow their following can be a very exciting experience. On one of my more recent quests for new music, I found mehro. With only two songs out at the time and a third right around the corner, I was instantly intrigued by this music industry newcomer. The combination of his soft and comforting voice, enchantingly atmospheric sound and lyrics infused with introspection create the perfect storm for mehro to have his career breakthrough. As you resonate with the truths he shares regarding his worries, joys, thoughts, emotions and experiences, it will be of no surprise to find yourself reaching for the repeat button and feeling the song's impact long after you've finished listening. Beyond music, mehro has further illustrated his diverse skill set through involvement in a short film titled "Scarecrow." While much remains a mystery regarding this artist, his talent and potential for greatness is as bright as the sunniest of days. It was recently announced that mehro's first EP, SKY ON FIRE, is set to be released on March 25. I am looking forward to continuing along on mehro's journey and hope you join me in the anticipation for what is to come!
Songs to get you hooked: "Perfume," "Lightning" 
I hope this list of suggestions was able to peak your interest toward at least one artist you were unfamiliar with or that it motivated you to begin your own music-finding journey. You never know, you might just find your new favorite artist this way. 
Happy music searching to you!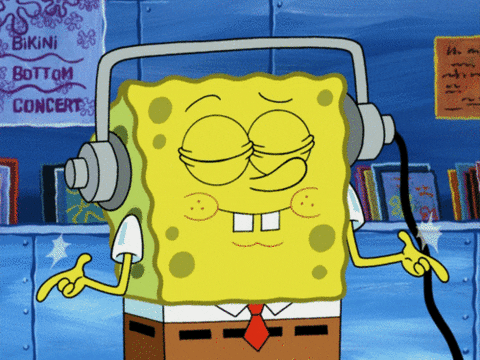 Nickelodeon / Giphy