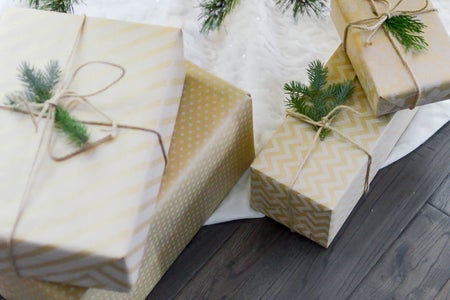 A Sustainable Holiday Gift Guide
Edited By: Tanmaya Ramprasad
With the holiday season around the corner, it's important to be mindful of the gifts we give to our loved ones. Especially with the COVID-19 pandemic, many of us prefer online shopping, which oftentimes leaves a significant carbon footprint. To help alleviate these negative repercussions on the environment, here are some sustainable gift ideas!
DIY Presents
Making your own present allows you to entirely customize a gift for someone in particular. You can often utilize supplies you already own when making a creative gift; there is a multitude of ideas and tutorials available on YouTube. DIY gift ideas can include scrapbooks, art pieces, ornaments, knitted/crocheted garments, or their favourite dessert. 
Gifts from Small Businesses
If you're not much of a creative person, you can always check out local small businesses that sell handmade presents. Etsy has many stores that sell personalized presents, such as poster art for specific movies/albums/t.v. shows, personalized bookmarks, customizable candles, and original designs that can be incorporated into prints, stickers, t-shirts and more. You can even narrow your search to local shops and businesses.
Eco-Friendly Products
While Etsy is a great place to find customizable presents, there are also numerous options for sustainable and eco-friendly products. Reusable gifts are useful and go a long way. Some ideas include reusable water bottles, cutlery, face-masks, cotton pads, tote bags, and zero waste beeswax wrap.
Gift Cards
You can't go wrong with giving someone a gift card to one of their favourite stores. They can choose their own present to their liking, which helps you avoid the stress of buying a present for someone who's hard to shop for. Suggestions could be cards to their favourite restaurants, coffee shop, beauty stores and sustainable fashion retailers. Or, you could pre-pay someones' Apple Music, Spotify, Netflix or DisneyPlus subscriptions by sending them a gift card. However, I encourage getting gift cards to local businesses, who especially need our support at the moment.
Vintage or Second-Hand Goods
Vintage and second-hand goods can be really meaningful presents, especially when you find something that immediately reminds you of someone. These gifts can potentially transform into personal mementoes and heirlooms that a person will constantly remember you for. Thrift stores and online businesses have an array of one-of-a-kind, unique presents. Presents could include restored jewellery, vintage clothing pieces, older editions of their favourite book, and trinkets that can be used as home decor.
Experiences
While your options for experience gift-giving may be limited due to the pandemic, it's worth looking into. Experience gift-giving can include spa certificates, movie tickets, museum and gallery visits. Travelling to nearby nature attractions is also an option – if it's safe and advisable of course.