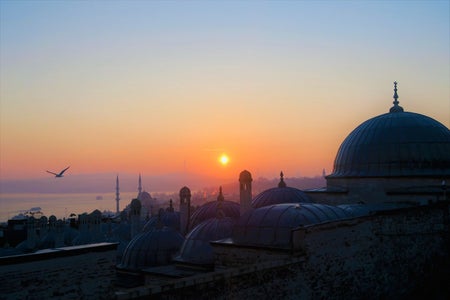 Introducing Humans of the Ummah: UofT's Up and Coming Social Media Initiative
Edited by: Vlada Taits
In this day and age, social media has proved to be a tool like no other. It not only connects people across the globe, but also facilitates the spread of information that may be overlooked in other forms of media. 
This has led to the emergence of numerous social media platforms that dedicate themselves to mission statements surrounding humanitarian issues. One of these initiatives is Humans of the Ummah (HotU), which operates under the Social Advancement team at the Muslim Students' Association (MSA) at the University of Toronto (St. George).
Founded in January 2020, HotU strives to shed light on global humanitarian issues pertaining to the Muslim community - otherwise known as the ummah. Inspired by the storytelling of individual lives by the popular Humans of New York page, the HotU initiative hopes to address injustices against Muslims in a similar fashion. When asked about the inspiration for creating such a network, the HotU team noted that many people were unaware of various injustices occurring in the Muslim world, and thus, they hoped to educate readers on these situations.
HotU aspires to highlight stories about Muslims that do not get the recognition they deserve, such as a multitude of human rights issues, including the Uyghur, Rohingya, and Syrian crises. The HotU platform is also utilized to celebrate the achievements of various Muslim public figures, such as Malcolm X, Ilhan Omar, and Ibtihaj Muhammad. Recently, the initiative began to focus on issues on a local and personal basis, such as the death at Rexdale Mosque, and domestic abuse against Muslim women.
By sharing these informative posts, the HotU initiative hopes to take advantage of the growing influence of the internet to educate readers in an accessible format - their social media timelines. The HotU facilitators believe that it is important to "bridge the barrier between global news and today's youth," and can help close this gap by providing well-researched, brief summaries on various topics. The initiative also provides resources on getting involved, such as legitimate donation organizations, and reliable informative links. 
The HotU team shares that they "want to create a sense of curiosity and proactivity among our fellow university students by cultivating an environment of both knowledge and action that allows them to be informed of what is happening outside of their social bubble." 
Check out and support the HotU initiative by engaging with them on their various social media pages - Facebook: "Humans of the Ummah @UofT MSA and Instagram: @hotu_uoft. To get involved with the MSA, reach out via Facebook and Instagram, or apply to be a committee member.