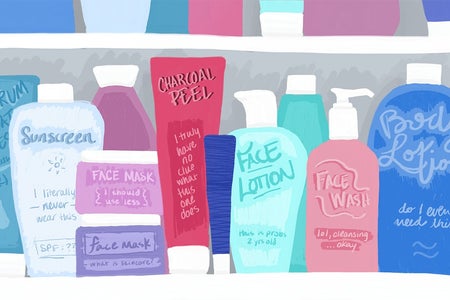 Five skincare brands TikTok made me try...and eventually made me fall in love
Edited by Olivia Spahn-Vieira 
By now, I'm sure many fellow Gen-Zs can relate when I say TikTok has transformed my skincare routine over the quarantine. 
Growing up with (and dealing with the consequences) of on-and-off acne breakouts and oily-combination skin, I am always on the hunt for new skincare products, as I slowly build my hoard of cleansers, creams, toners, and serums. I'd like to say, I've somehow tried it all; from hopping onboard seasonal fads such as activated charcoal, to tried and true dermatologist-recommended classics like Salicylic acid acne treatments. 
Stumbling upon popular TikTok skinfluencers (Hyram, anyone?) and skincare related content on my curated "For You Page", I realized I was making critical mistakes in my routine, from choosing a harsh exfoliant, using fragrance and alcohol-based products, to not wearing sunscreen, and forgetting to apply eye cream. 
I not only learned to take care of my skin from the inside, keeping hydrated and eating my greens, but how to choose the right products that target my specific needs and are packed with all-natural ingredients. 
I narrowed down five cult-status skincare brands that are worth the purchase, and do the job for their price point. While price may be an issue for some,  it is crucial to remember that good skincare doesn't always mean expensive products. The drugstore has some great finds! 
CeraVe 
I briefly heard of CeraVe through my doctor, and after trying this brand as an adult, I can say the products definitely live up to its reputation and claims. 
The ingredients are simple, with no fragrance or odour, and are perfect for those with sensitive or extremely dry skin or are suffering from conditions such as eczema or psoriasis. The hydrating cleanser ($5.49) packed with hyaluronic acid and ceramides increases the skin's hydration, protecting the natural barrier and locking in moisture. Coupled with the moisturizing lotion ($17.99), you can keep your skin refreshed and plump going into the colder months. 
Paula's Choice 
I swore by Benzoyl Peroxide to dry my acne scars and breakouts. This exfoliant from Paula's Choice not only fights acne, reduces redness and prevents future breakouts, but also hydrates and minimizes dryness and flaking. The acne-fighting line also claims to fight stubborn acne and also can be used and worn under makeup. 
Paula's Choice has curated skincare lines to address concerns such as dullness, clogged pores, uneven skin tone, and anti-pollution, using ingredients such as Niacinamide, Retinol, AHA, BHA, and Vitamin C. 
The Ordinary
DECIEM's The Ordinary is not only a cult-classic among skinfluencers and celebrities alike for its minimalist packaging and storefronts, but for its ridiculously cheap price point and simple ingredients as well. Formulas come in small droppers of one ingredient, many listed under $10 according to Sephora. 
A game changer in the skincare industry, using these individual ingredients such as the Buffet serum, the Caffeine solution eye serum, and the peeling solution, I learned a lot about the science behind the creation of products and the purpose of these popular ingredients. 
Drunk Elephant 
A little bit of a splurge, but hear me out...a little goes a long with this brand. 
For those looking for a saving grace when it comes to tired, dull skin, Drunk Elephant's skincare philosophy is a lifesaver. Focused on maintaining a healthy pH balance, the brand steers clear from six harmful ingredients including essential oils, drying alcohols, silicones, chemical sunscreens, fragrance, and SLS. 
Their jelly cleanser ($32), polypeptide cream ($68), and C-Firma day serum ($80) are great starters to add to your daily routine. 
First Aid Beauty 
I fell in love with First Aid Beauty after trying their ultra repair cream and cleanser in a VIB birthday gift a year ago. The ultra repair cream is so rich and is great for restoring moisture back into dry skin. The cleanser makes the skin feel soft, and without gentle being too stripping. 
Best part about First Aid? 10% of all sales of their ultra repair cream will go towards their FAB AID initiative which aims to commit one million dollars to pay off student debt.