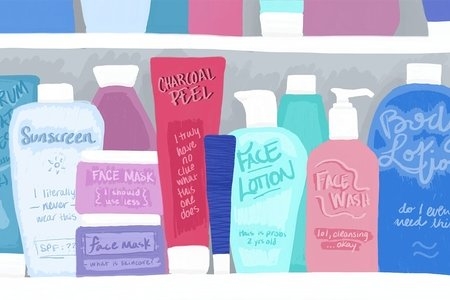 Her Campus / Megan Charles
Winter Skincare And Makeup Recommendations
Whether we like it or not, there's no denying that winter is near, and with it comes frigid temperatures, dry air, and dark skies. I love winter, but I don't love how it causes dry and flaky skin. The outside weather blasts our skin with cold and unforgiving air, while indoor heating sucks out any remaining moisture; it's a tough season for our skin! 
I suffer from pretty much every dermatological issue one can encounter in winter. Alongside constantly dry and parched skin, I suffer from eczema, which means I get itchy red patches all over my body, especially my face. I spend every winter slathering vaseline on my skin and sitting in front of a humidifier. 
I consider myself somewhat of an expert on dealing with dry winter skin. So, without further ado, here are some tips and products I use to keep my face presentable during the winter months.
1.

Morning Skincare Routine

With sensitive skin like mine, I try to avoid using too many products, which can cause irritation. I follow a simple skincare routine twice a day, morning and night.

I begin my skincare routine by washing my face; I highly recommend the Cetaphil Daily Facial Cleanser. I love to use this cleanser year-round due to its affordability and gentle feel. It leaves my skin feeling clean, not dry. 

Next, I skip past toners, which tend to dry and irritate my skin. I like to immediately apply facial oil instead, which adds additional hydration and moisture. I usually use The Ordinary's 100% Organic Cold Pressed Rose Hip Seed Oil – this is one of my holy grails; I've repurchased this product at least three times. I use the included pipette to dispense three to four drops on my skin, and it instantly feels soft and hydrated. 

I then like to apply a vitamin C serum, which helps boost hydration (as you can see, hydration is a priority in my winter routine!) I'm currently loving Derma E's Vitamin C Concentrated Serum, which is great for my sensitive skin. 

Lastly, I like to finish my morning routine off with a light moisturizer and sunscreen duo, currently the Neutrogena Oil-Free Moisture SPF 15. This is great for the winter, because it's light on the sun protection; my skin doesn't get enough sunlight during the colder months! 

Next, I apply my makeup. Although we'll probably be wearing masks during the winter, I feel most comfortable with a full face of makeup on! 

I make certain changes to my makeup routine to accommodate for the winter. I like to begin by prepping my skin with a primer. I choose a primer that not only protects my skin from the cold air, but also adds a layer of moisture. For this, I like to use Too Faced's Hangover Replensing Face Primer. This primer is basically magic; it gives me a brand-new face that's glowy and radiant! I apply a little bit to the dry patches on my face, and it instantly brightens up the application area. 

After prepping, I like to apply foundation to cover up any visible redness. I try to use a dewy, hydrating foundation, like Maybelline's Fit Me Dewy + Smooth Foundation. I find this product perfect for the winter, as it helps smooth and hydrate my skin. 

3.

Time for Sleep! My Nighttime Routine

After a long day out in the cold, I absolutely have to wash my face. I start by removing my makeup with an oil cleanser, which leaves my skin feeling clean and soft. I personally love the Elemis Pro-Collagen Cleansing Balm, as it melts the makeup off of my face without any scrubbing or tugging at my already-irritated skin. 

Next, I use the same face oil I use in the morning, just to give my skin more hydration. After this step, I like using a serum or essence – this is where the real magic happens! Serums have a ton of different benefits for the skin, but I'm currently using Peach & Lily's Glass Skin Refining Serum, which, as the name implies, helps give my skin a "glassy" appearance. It contains one of my favorite ingredients – hyaluronic acid, which is essential for the winter months. Hyaluronic acid boosts the skin's moisture levels and plumps it up!

Immediately after applying the serum, I follow it up with a thick moisturizer; right now I'm using the Vanicream Moisturizing Cream. If you're going to get anything from this article, I highly recommend this product! This is a godsend for those who struggle with eczema or any sort of dry skin. It comes in a large pump container, so it's both hygienic and lasts forever.

Lastly, I like to finish my skincare routine by slathering on a thick healing ointment to seal in the moisture. Right now, I'm using the Cerave Healing Ointment, which helps my dry and flaky skin heal overnight. This product is amazing, and I highly recommend it for the winter!
These are a few products I recommend for the winter months! I've tried out a ton of skincare and makeup products over the past few years, and I think these are some of the best for those with dry and irritated skin. While I deal with similar issues throughout the year, winter is a particularly tough time on my skin, so I like to focus on hydration and moisturization. If you're dealing with similar skin troubles, I believe these products will work great for you!