Who Runs the World? Andrea Vicencio & Brianna Di Caro, Imogen Collective
HCUO's "Who Runs the World?" series aims to highlight the stories of female founders running small businesses while completing their studies.
With the increasing awareness of environmental issues, more people are seeking out sustainable clothing options, and Imogen Collective is here to help! Run by two first-generation Canadian gals – Andrea and Brianna – the brand is known for their super trendy sustainable clothing and adorable accessories. Their brand vision makes it easy to want to support them, as well!
"We are a progressive company committed to advocating for and promoting change. Our goal is to empower individuals to be bold, and our mission is to redefine femininity through hyper-feminine handmade designs." — Imogen Collective 
Brianna (a third-year Telfer student in International Management) is responsible for the management side of the business, and makes accessories for Imogen Collective. Her partner-in-crime Andrea is a third-year BioMed student, and handles the executive design and sewing choices for their pieces. They work together as co-designers and co-creative directors to carry out their brand vision for a sustainable future for fashion.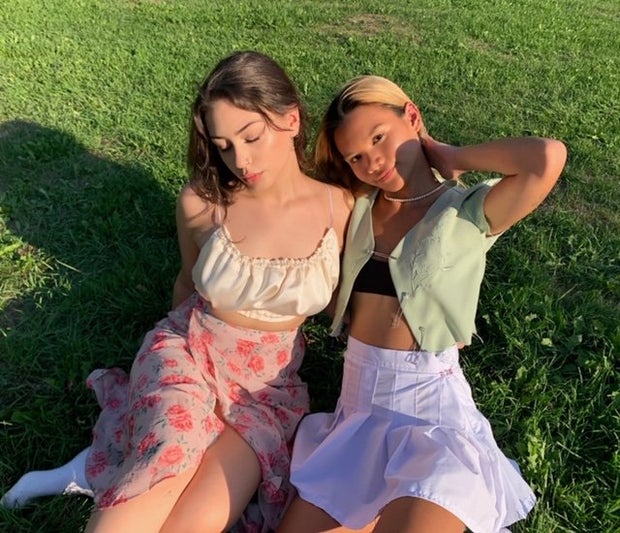 Photo by Brianna Dicaro
HC: How did you come up with the idea to make and sell sustainable clothing? 
Andrea: "At the very start of quarantine, DIY fashion became more of a thing, and I got really obsessed with it. I started making my own—then I talked to one of my best friends from home and she suggested that I start thinking about making my own business. So, I started researching sustainability and clothing brands, how they market and what they market as sustainable. I started building the idea of making a company, and I texted Bri one day saying "Hey, I need a name." She kept inputting her expertise on business since she's a business major – and I don't know anything about business! So I asked her to partner with me and we started from there together."
Brianna: "Andrea had messaged me asking for some names and I was bored like everybody else in quarantine—pursuing fashion was not something I had my heart set on when entering university, but COVID was a period of introspection for everyone and it pushed me towards finding my passion. I think having something to direct my energy into is motivating me in my school environment too so it's a win-win."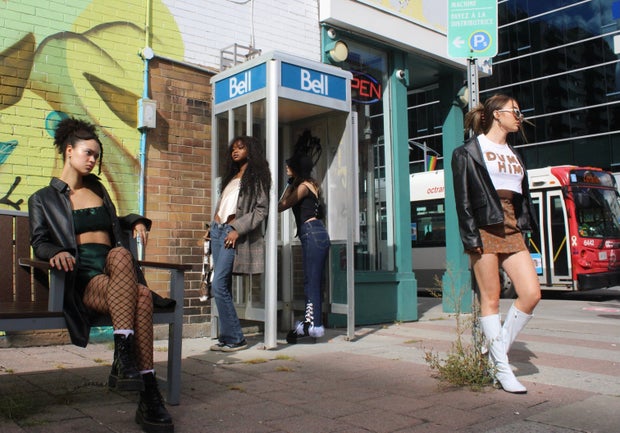 Photo by Nikola Skilton Photo Credit: Nikola Skilton
HC: Can you tell us more about your brand's commitment to sustainability? 
Brianna: "The reason why sustainable fashion is coming into light now especially is because fast-fashion (the mainstream fashion option) is really harmful for the environment, but it's harmful from a social perspective as well. I did some research and found that the industry emits 10% of global carbon emissions - it's the 2nd leading cause of carbon emissions. There's also about $400 billion worth of clothing which end up in landfills every year. Larger companies even off-source their labour to garment factories in poor countries, so they don't claim responsibility when hazardous things happen in the workforce—there's a real disconnect between consumers and the large companies and corporations that we're so familiar with. But to ensure that all of our products are sustainable, we recycle a lot of clothing. A lot of what we do is upcycling so that clothes don't end up in landfills. Also, we don't donate to certain thrift stores due to the fact that they often send the clothing to developing nations, which is also harmful to these economies because it affects the local garment workers … it's a whole cycle."
Andrea: "We thrift at local stores—mostly Value Village because Salvation Army is run by the church and they're not as inclusive. Even when 'sourcing' our materials from other thrift stores, we make sure they're inclusive and that they actually do have an initiative attached to their brand. Value Village is a for-profit company, but they do have a better initiative than Salvation Army, for example."
Brianna: "To avoid the gentrification of thrift stores—which is a big issue with the popularization of thrift culture—we look for materials and pieces that wouldn't be worn or that we could show some new love. We don't buy jackets or super big pants to cut down into small sizes, because we try to be really conscious of the fact that people go to shop there on a needs basis. Also, we donate clothes back to thrift stores—things that we're not going to use or clothes that we don't feel are necessary to cut up for fabric—we'd rather keep them intact and give [them] to somebody else who needs it more. There's the issue of people who go to thrift stores for the sole purpose of buying clothing to resell at a marked-up price but without doing anything to it … so we keep the costs of everything we buy at Value Village and we mark things up based on labour and materials used, and we've been told that our prices are very reasonable—but we know our demographic is younger individuals and students, so we want to keep our products affordable and inclusive so it's not a high-fashion niche or anything."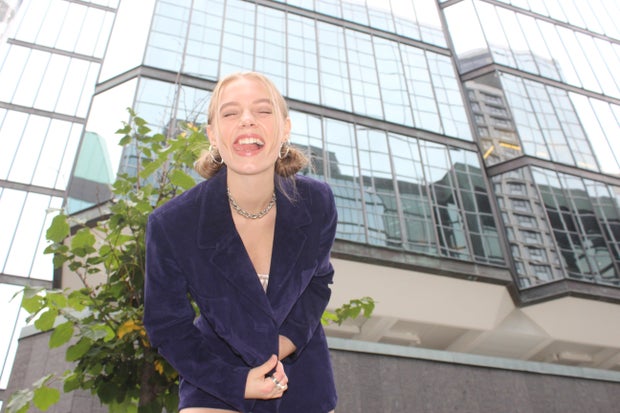 Photo by Nikola Skilton Photo Credit: Nikola Skilton 
HC: Do you have any tips on how to make yourself stand out in the market? What makes your business stand out in your niche? 
Brianna: "I think our advocacy for sustainable fashion, social justice causes, diversity, and empowerment sets us apart from other brands. We make more 'feminine' clothing but we don't cater to one group specifically—we didn't want to say 'empowering women' in our mission statement; it says 'empowering individuals'—if anyone wants to buy the clothes they can absolutely rock them and that's none of our business." 
Andrea: "And in terms of tips for how to make us stand out, I feel like our thing is that we really understand our demographic and who we're targeting, and also we market as an actual brand that really wants to [be transparent with our clients]. We have our personal Instagram accounts attached to the brand, so we also have to market ourselves as professionals, though we try to show our personalities too — [we want people to know that] it's just two real girls in university trying to do this business."
Want to give your wardrobe a sustainable upgrade? Check out Imogen Collective on Instagram @imogencollective !
Know someone who would be perfect for this feature series? Send us your suggestions in an email at [email protected] with the subject "Who Runs the World?" 
Note: responses have been formatted for the purposes of this story.