The three things I'll miss most about living in Ottawa
Similar to most people, my University classes this year haven't been what I imagined. For me, this looks like Zoom classes in my bedroom four hours away from campus. Reminiscing over my student life for the past three years has me missing Ottawa in many ways (the Southern Ontario winter temperatures is not one of them, though). 
Here are the three things I miss the most about the nation's capital:
1. The Rideau Canal 
The hockey player in me says that the Rideau Canal, which stretches alongside uOttawa's campus, might be my favourite characteristic about the school. Despite the skateway turning into a dangerous obstacle course of potholes at night, going to school beside the world's longest natural skating rink is something I'll never get over. Even if you're not a skater or someone who loves the ridiculous temperatures required for the skateway to remain open, I promise the fall walks along the Canal are just as breathtaking as the winter ones. Oh, and who could forget about the Beavertails!
2. Studying at the NAC
My first year living off-campus, one of my golden finds was the lobby space in the National Arts Centre. It was a ten-minute walk from campus and quickly became my favourite place to study. The view speaks for itself; in between procrastinating and coffee breaks, staring out at the Chateau Laurier was not a bad place to get "Poverty of Globalization" readings done (and in case you're wondering, yes - that class was as horrible as it sounds).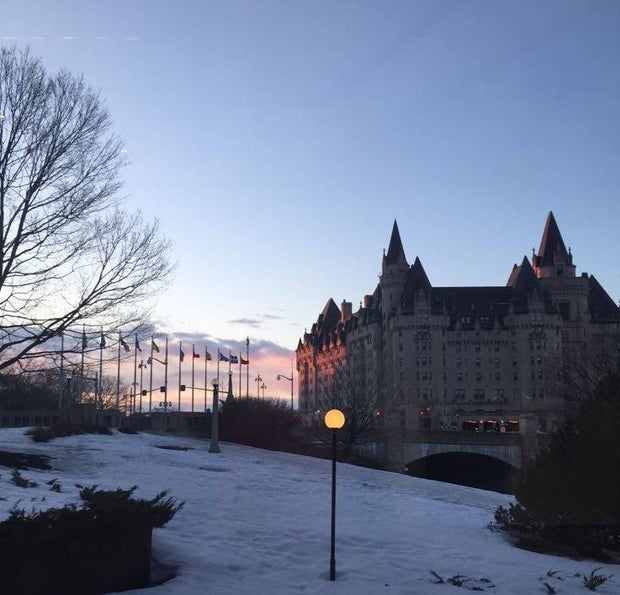 Original photo by Stephanie Reed
3. Elign Street
Aside from the obvious destination being Elgin Street Diner (ESD) – a local joint loved by students and night owls, open 24 hours – Elgin Street is home to numerous small boutiques, comedy bars, coffee shops, bakeries, fine dining and more. I was lucky enough to live next door to ESD in my third year of school and got to appreciate seeing the regulars I passed at Happy Goat Coffee Company during morning rush hour. My feet always heavy commuting to an 8 am lecture in the cold, but my pace seemed to quicken to the smell of fresh baked goods from the many local bake shops. I cannot forget the owner of the cutest boutique (Boogie + Birdie) who brought her Boston-Terrier with her to work every day. All of this to say: Elgin Street holds a special place in my heart. 
Until next time Ottawa! I look forward to returning to my home away from home, but mostly I am excited to find new adventures and new favourite spots – I just haven't a clue where they'll be yet!