So far in the natural makeup series I've covered approaches towards eye and complexion makeup (go check out those articles if you haven't yet!) However, that's not where the look stops. Another important feature is the lips.
What you apply on your lips immediately affects your entire look. Take red lipstick for example; makeup styles with red lipstick make up a whole "genre" unto itself. In natural makeup looks, it's important to note that lip makeup tends to be a complementing factor. 
The Lips
For lips, the most important thing to do is to keep them moisturized and healthy. So, lip balm or Chapstick is the way to go. It can be tinted or clear. Instead of balm or Chapstick, you might even opt for a gloss, lip tint or lip oil. I've also seen satin finished lipsticks and nude colours used as well. 
Before a balm or Chapstick, some blush or lipstick can be patted on the lips for colour too. Common colours are pinks, reds, and oranges. You can even go with something that matches your eye makeup or balances out the colours in your look. If you want to use something more matte or velvety, go for a subtle colour and a softer finish. Many makeup wearers use a mixture of products, like moisturizers to nourish the lips, lip crayons, and then gloss on top of all that. 
Usually I pat a bit of berry-reddish-toned pink and a medium-toned pink or orange on the middle of my lips. Then I blend it on the rest of my lips with my fingers. I like to seal everything with a light pink or clear gloss. Sometimes if I'm feeling wild, I'll only apply the gloss to the middle of my bottom lip and blend it into the rest of my products!
To summarize…
For natural makeup you don't have to be very extravagant with your lips. If you wish to put makeup on your lips, then there are a lot of ways to do so even if it doesn't seem like it. Natural lip colour varies from person to person and by skin tone. So, using the right blend of products helps to achieve a colour that either reflects or complements your lips for your desired look.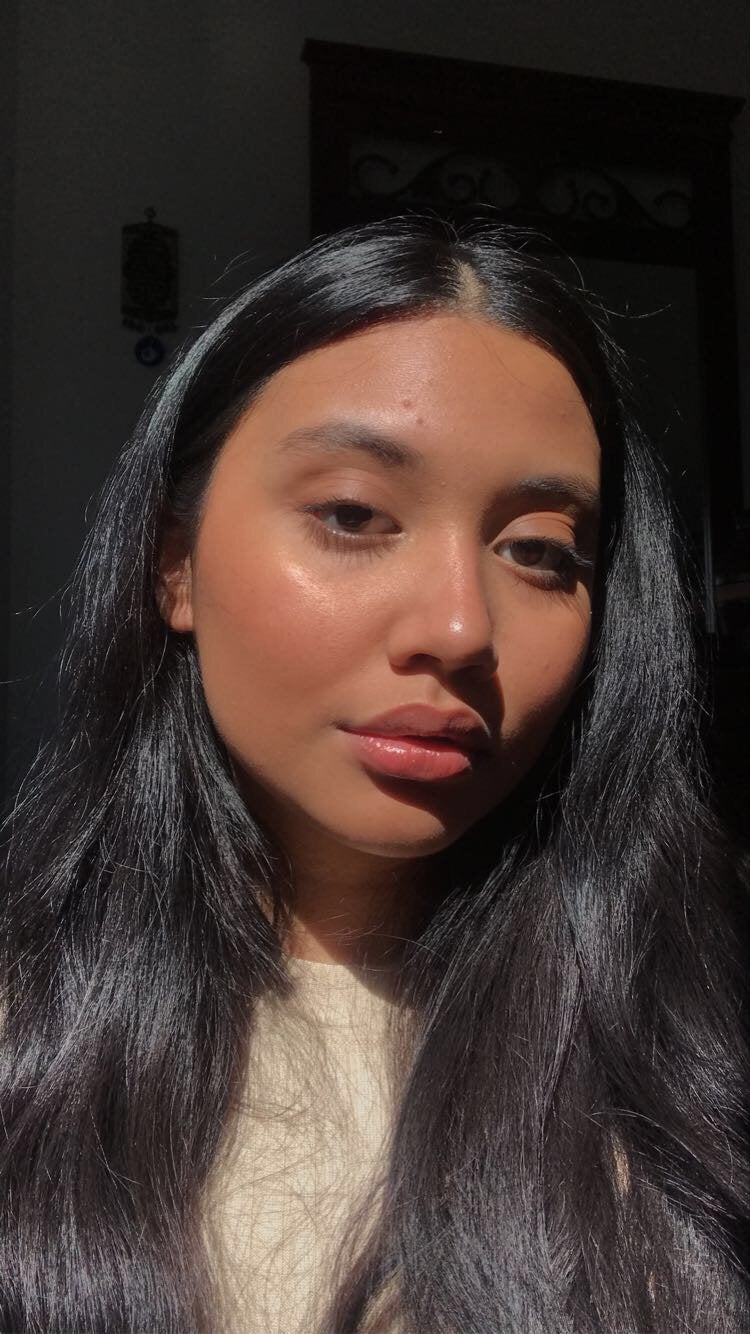 I've been using the same photo for the series so that I can zero in on each feature. In the picture, it doesn't look like I have much on my lips. In fact, you don't have to put anything at all on your lips, but to illustrate, I mixed a bit of reddish pink and orange lipstick and lip gloss on my lips. 
Exfoliating with a scrub and drinking water helps the overall maintenance of lips too, so TLC is one of the best things you can do for yourself.