Tackling Natural Makeup: The Complexion
This article is the second installment of my "Tackling Natural Makeup" series. In this article I will be focusing on the complexion part of the style. I encourage you to read the other articles in this series to get a better understanding of the natural makeup look. 
Base Makeup
There is lot of variation among complexion products used in natural makeup looks and to the degree to which they are used. Most people opt for foundations, serums, or BB/CC creams that offer light to medium coverage. 
With light- to medium-coverage products, most people are able to even out their skin tone and cover up blemishes to an extent. (Blemishes may not be noticeable at all, or they may be less prominent in appearance — it depends on the blemish and how much the user would like to cover it.) If more coverage is needed, a product with heavier coverage can be used (for example, switching from a light-coverage foundation to a medium-coverage foundation). Coverage also differs between serum and foundation.
The goal is to have the most "skin-like" finish. Full-coverage foundations are usually reserved for more dressed up glam looks. I personally like to go barefaced with some concealer, or use a lightweight, light-coverage BB cream (after my primer/sunscreen). I apply it with a damp sponge. The foundations I have are matte, but a glowy complexion can mimic a healthy glow from within, so many people go for dewy or hydrating finishes — possibly even satin finishes. I have oily-combo skin, so something more matte doesn't look dull or drying on me. The oiliness of my skin compensates for any dullness my matte products give. I use a light hand to apply my products to help maintain that glow.
After the base face makeup, concealer is next. The amount used depends on what you want to conceal, and what you want to highlight. Concealers can also be used to cover blemishes like acne. Acne isn't a bad thing, but it's something many people like to cover, including myself. However, if you want to be the most natural, don't hesitate to flaunt your acne! We all have "imperfections" that we shouldn't be ashamed of. 
Personally, I like to use a concealer to reduce the look of my dark circles. I place a few small swipes or dots of concealer under my eye and on my eyelid. Then, I wait a few seconds to let the concealer dry and I blend it with the other side of my damp sponge. When I'm done with concealer, I set it with a translucent powder. I press the powder in place and then I wipe it off. Many people colour correct beforehand to reduce the appearance of redness or hyperpigmentation or take other measures that address their concerns.
For example, I recently watched a video by TikToker and MUA Mikayla Nogueira where she did her own version of the natural makeup look. In her look she used a concealer before her foundation to help cover her acne. I do the opposite, because of my personal needs. For more insight on different methods, you should check out her videos and what other MUAs or beauty influencers recommend since we all have different needs.
Blush, Bronzer, Contour, and Highlight
Aside from foundations/concealers, some staple products include blush, bronzer/contour, and highlight. 
For blush, many people like to create a flushed look on their skin and go for a dewy sheen that blends into their face/bronzer. Yet blush is really powerful, so it's not hard for it to look noticeable on your face when applying it. The placement of the blush on your face is also important. 
I like to use a pink or an orange that is similar to the colour of my face when it's naturally a bit more red. I place it near the apples of my cheeks and blend it up near my cheekbones. I think of it as a contour to help shape my face. I also like to put some on the tip of my nose to help contour it and to make my face look more uniform in colour with the blush on my cheeks.
I use bronzer to carve out my nose, forehead, jaw and cheeks and lower lip as if I'm contouring. I use a warm bronzer with some shimmer in it which adds to the dewy look I'm going for. Makeup made for contouring typically comes in cool tones to mimic shadows, so keep that in mind when planning your look. The amount of depth and warmth you would like to add to your face will affect how you approach this. Warm bronzers and soft contours are popular. 
Like I said, I am going for a radiant complexion. For that, I like to use cream highlights which I apply under my brow bone, and on my nose and cheek bone. I find that cream isn't always as intense as powder and liquid highlights, so it doesn't make me look blinding. Since my blush and bronzer add a glow to my face, I like my highlight to be subtle. In many natural makeup looks, highlights look like a beautiful sheen.
Conclusion
In natural makeup looks, the complexion makeup usually follows a "your skin but better" mentality. "Better" in this sense means that the products that are used will help make your skin look unified and amplify your inner health. 
Stay tuned for the next article in the series for tips for natural lip makeup!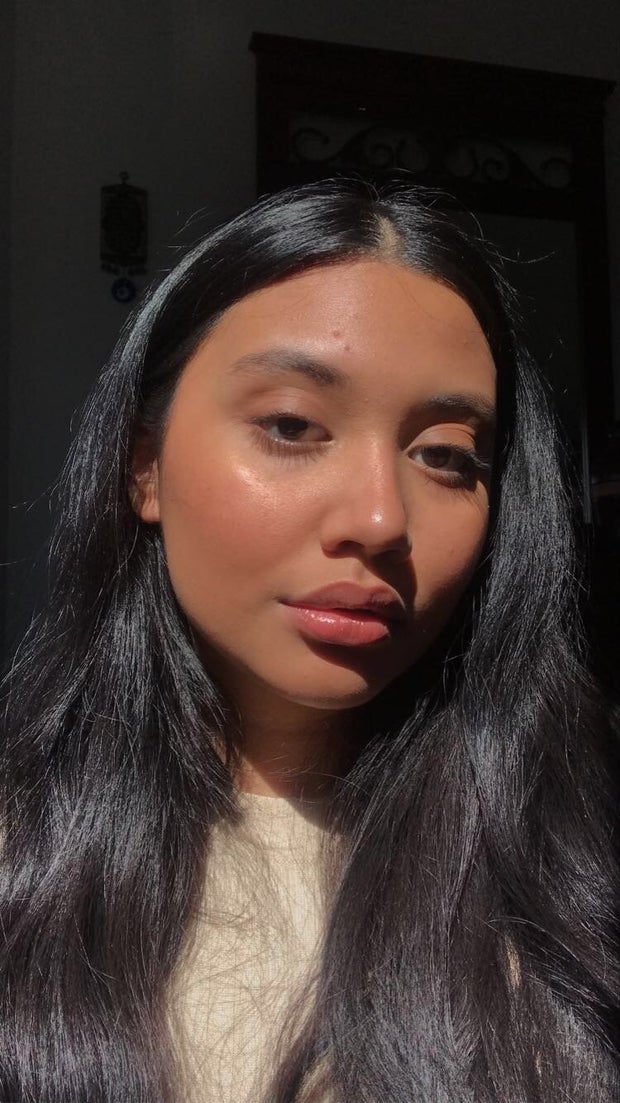 Original photo by Bashira Nawar Tahiya
Image description: In this photo I am wearing powder, concealer, BB cream, blush, bronzer and highlight. Because of the lighting, it looks much more subtle than in regular indoor lighting. Aside from that, there's no harsh contrast with any of the products in the look so the makeup looks seamless. However, I can be kinda hardcore with my blush ;). Anywho, the face makeup is very dewy and makes my skin look healthy, energized, and ready to take on my day, which is one of the goals of natural makeup!