Sephora Collection x Coach: The Makeup Collab we didn't see Coming
What do you get when you match Sephora's beauty expertise with Coach's legacy and free-spirited attitude? A limited-edition collection! The collection is sparkly and fun, and the packaging is unmissable. Because Coach is a luxury brand, prices are a bit on the higher end, ranging from $21 to $90.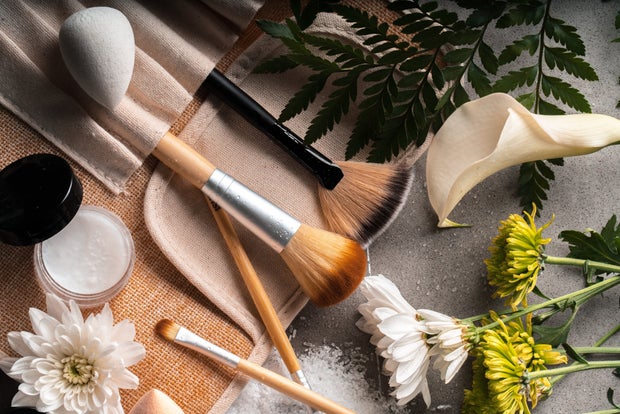 Photo by Nicole De Khors from Burst / Shopify The makeup collection includes:
1. Coach x Sephora Collection Rexy Eyeshadow Palette ($50): The Rexy palette is inspired by Coach's mascot Rexy, a cute little T-Rex. The gold and metallic tones will make you shine bright like a diamond.
2. Coach x Sephora Collection Sharky Eyeshadow Palette ($50): This palette is inspired by Sharky, who is – yep, you guessed it – a shark. This eyeshadow palette contains a deep black shade and a bubbly orange shade that will make your eyes pop.
3. Coach x Sephora Collection Uni Face Palette ($50): The Uni palette (my personal favourite) is soft and dreamy, and it was inspired by another Coach mascot: the unicorn. To be honest, I would probably buy this face palette for its aesthetic alone. I mean, how adorable is the unicorn? And, before you ask –  yes, I do want my face to look like it's covered in fairy dust.
4. Coach x Sephora Collection Tea Rose Brush Set ($90): Alright, $90 for a five-piece brush set might seem like a lot… but just look at the cute coach mascots, and the glitter, and the sparkles! Plus, the mascots are actually detachable Coach rings, perfect to level up your accessory game! 
5. Coach x Sephora Collection Tea Rose Lipgloss Set ($47): Inspired by the Tea Rose, a symbol of the Coach Girl's wild feminine spirit, these four high-shine lip gloss shades glide smoothly across the lips leaving a refreshing, tingly sensation for comfortable non-sticky wear.
6. Coach x Sephora Collection Tea Rose Eye Mask Set ($21): These eye masks enriched with cucumber will definitely elevate your getting-ready experience.
7. Coach x Sephora Collection Tea Rose Nail Set ($24): This nail set comes with Coach stickers and pastel pink nail polish – perfect for a girls' night in! 
Grab yours today! The Coach x Sephora collab is available online as well as in-stores.