The day has finally come. Grab your tissues, the waterworks are on the way, for it's the end of the Supernatural era! After fifteen glorious years, the beloved demon-hunting brothers hung up their boots for the last time on November 19th. 
Supernatural became an important part of my teenage years, my parents having been the OG fans and later on my sisters and I followed suite as we got older. I became the most invested in the show in my family, which is how we ended up with a Supernatural Pay Up Jar, for every time I talked to much about it. And over the years, we drifted from the show, our lives taking us in all sorts of directions, but over this last year, and as the last season was airing, we came back together, watching the show we'd come to love go out with its final glorious bang.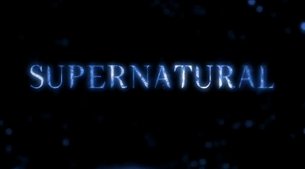 The show was created by Eric Kripke, yes, the same guy who created The Boys, another amazing show that is definitely worth a watch (and it's not 15 seasons long so you'll have plenty of time to catch up for season three!). The characters Eric created were based on Han Solo and Luke Skywalker. And as an avid fan, I can tell you that some of the similarities in personality and poise are uncanny! 
The show was based on two brothers Dean (Jensen Ackles) and Sam (Jared Padalecki) Winchester. Airing for the first time in 2005, the brothers started their journey on a mission to find their father, John. And you guessed it, the first episode aired the iconic line:
"Dad's on a hunting trip and he hasn't been home in a few days." – Dean Winchester
Said by our very own, Dean Winchester to his younger, college-bound brother (yes, my social life went bye after hearing those icon words too, don't worry you're not alone!). From that episode on, the show followed Sam and Dean, as they navigated demons, ghosts, witches, sirens, angels, leviathans, fairies, a chupacabra, alternate universes. You name it, Supernatural has done it. 
Along the way, we were introduced to characters who became an important part of the Winchester family. 
"I am the one who gripped you tight and raised you from Perdition." – Castiel 
Castiel (Misha Collins), the angel of Thursday, pulled Dean out of Hell and became Dean's best friend. 
"What my true happiness could look like? I never found an answer. Because the one thing I want, it's something I know I can't have. But I think I know now. Happiness isn't in the having, it's in just being. It's in just saying it." – Castiel
Jack (Alexander Calvert), Lucifer's love child (oh yeah, you heard me right), who later becomes a great ally and son like figure to the Winchesters. 
Bobby (Jim Beaver), the father they never had, one of the most prominent role models in the boy's life and the comic relief you needed from time to time on the show. This character also coined the iconic phrase; "idjits"
And we can't forget the rest of the amazing cast which consisted of John (Jeffery Dean Morgan, Matt Cohen), Mary (Samantha Smith, Amy Gumenick), Charlie (Felicia Day), Donna (Briana Buckmaster), Jody (Kim Rhodes), Alex (Kat Ramdeen), Claire (Kathryn Newton), Mick (Adam Davies), Garth (DJ Qualls), Rowena (Ruth Connell), Crowley (Mark Shepherd), Gadreel (Tahmoh Penikett), Gabriel (Richard Speight Jr), Chuck (Rob Benedict), Amara (Emily Swallow), Billie (Lisa Berry), Benny (Ty Olssen), Cain (Timothy Omundson), Abaddon (Alaina Huffman), Jo (Alona Tal), Ellen (Samantha Ferris), Ash (Chad Lindberg), Michael (Jake Abel, Christian Keyes), Kevin (Osric Chau), Ketch (David Haydn Jones), Lucifer (Mark Pellegrino), Becky (Emily Perkins), Ruby (Katie Cassidy, Genevieve Padalecki), Anael (Danneel Ackles), Anna (Julie McNiven), and many more. 
"Driver picks the music, shotgun shuts his cakehole."  – Dean Winchester 
Alongside this amazing cast, many fans fell in love with the car that Dean Winchester drove. The 1967 Chevy Impala. The iconic car was passed down from John to Dean in the show and has been featured in almost all the episodes, including one that was exclusively filmed from the car's perspective. You heard me right, the show actually filmed an entire episode from the point of view of the car, so when I say they've done everything, they really have. This car became a primary character throughout entire show, and Jensen was even able to bring the original Baby home once they wrapped filming! (Don't worry Sam fans, Jared also got to bring home the second Baby they had on set!)
"No one gave two craps about her. But they should have. Because that 1967 Chevy Impala would turn out to be the most important car – no the most important object in pretty much the whole universe" – Chuck Shurley
Many of these actors have become friends with one another, many of these actors are Canadian as well (I'm looking at you Lisa, Alex, David, Ty, Julian, Kat, and Briana! Go Canada!) and some even have close ties to the main cast! 
Genevieve Padalecki, Jared's wife played Ruby, Sam's demon love interest in season 4 and later reprised the role in season 15 for one last time on the iconic show. 
Danneel Ackles, Jensen's wife played Sister Jo "Anael" in season thirteen after many years of fans pleading for her to also be cast on the show. She reprised her role throughout the last two seasons as the angel healer. 
Need a break from reading? No problem, click right here to check out the fandom's anthem Carry On My Wayward Son, by Kansas which was released for the first time on November 19th in 1976. How fitting?
This song has aired in every season finale and is airing for the last time on Supernatural on November 19th. The band even performed at Comic-Con where the cast was able to watch and jam out to one of the best rock songs in history! (And enjoy the Supernatural montage that goes along with the wicked song!)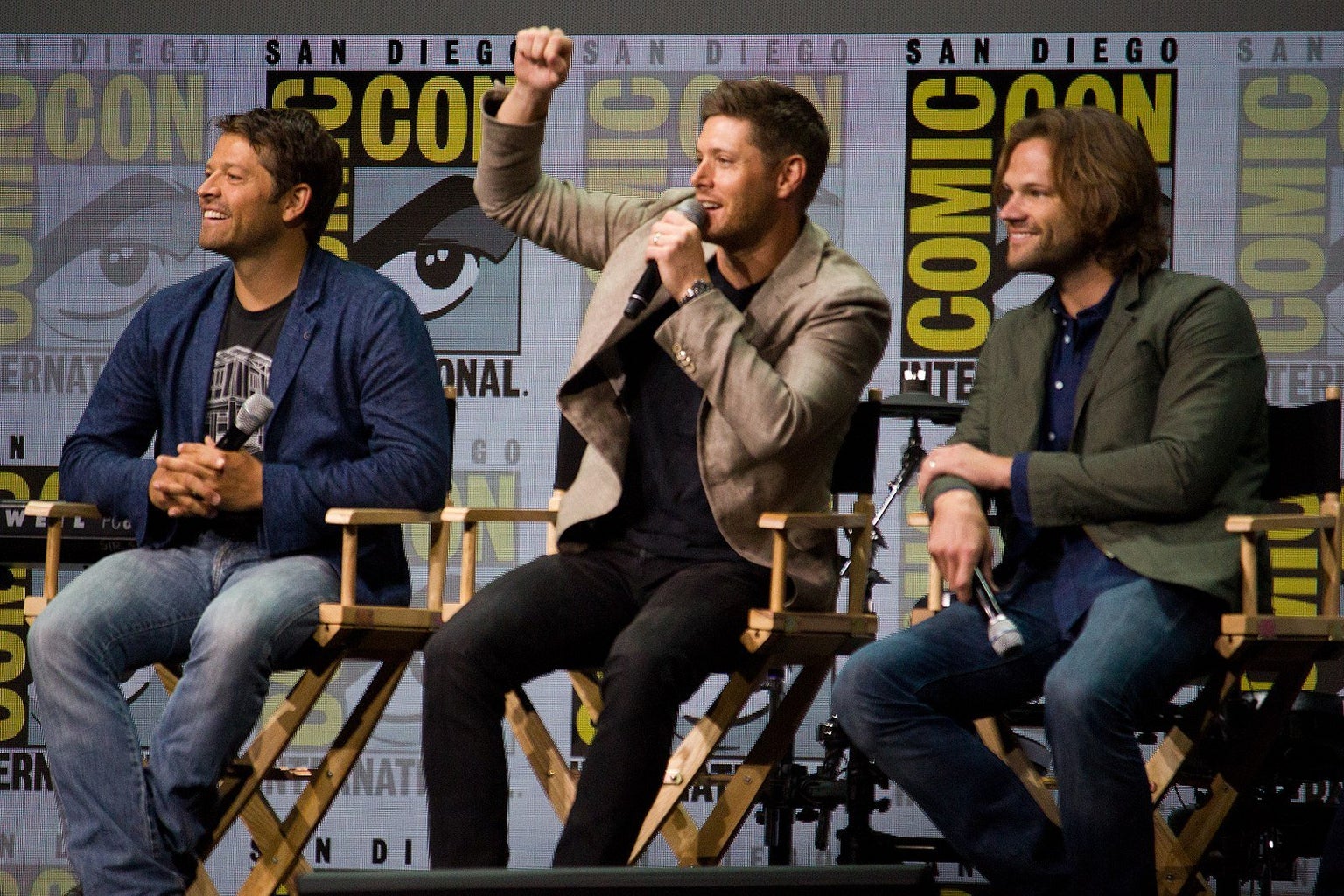 What we saw happen over the years it aired, was the fandom was growing bigger and bigger the longer the show was on TV. People from around the world were watching, all social media platforms were filled with people talking about it and the merch just kept getting better. 
And it continued to grow. The cast would do conventions around the world, meet the fans, and continue to spread their reach. Campaigns started to arise for different initiatives and organizations. Soon this wasn't just a fandom, it became a family. 
"Other things may change us. But we start and end with family." – Quoted by Anthony Brandt in Supernatural
Some of the most powerful campaigns came from this show: 
Always Keep Fighting
Launched in 2015 to raise funds for To Write Love on Her Arms, supporting people who struggled with depression, addiction and self-injury. Jared Padalecki launched this campaign because at the time he was struggling with his own battles of depression. Later that same year, Jensen Ackles, his costar joined the campaign to help raise awareness. Over 70,000 shirts were sold that year. The following years he continued to launch more campaigns to support people who were struggling with their own mental health. These campaigns included: Family Always Has Your Back, I Am Enough. Love Yourself First.
"We're all just humans doing our best. No one's better than anybody else. We're all just here, all have struggles and our strengths" – Jared Padalecki 
You Define You
Launched in 2020, again Jared Padalecki wanted to remind the fans, as time was coming to an end on this chapter of his own life and on Supernatural's chapter, that we define ourselves. (Read more about this amazing campaign in my You Define You article!) 
"It doesn't matter what you are, it only matters what you do. It's your choice." – Sam Winchester
The family that this fandom built extended into many other aspects of the actors' lives, Jensen Ackles opened up a Family Business Brewery in his hometown of Austin, Texas with his wife Danneel Ackles (yes Rachel Gatina from One Tree Hill!) and his brother-in-law. The name stemmed from the commonly known Supernatural slogan: 
Saving People, Hunting Things, The Family Business 
Misha Collins, started GISH, an international scavenger hunt that connected people across the world with tasks of doing good deeds for one another. This scavenger hunt has run for a few years and during 2020, there have been multiple challenges and opportunities to participate.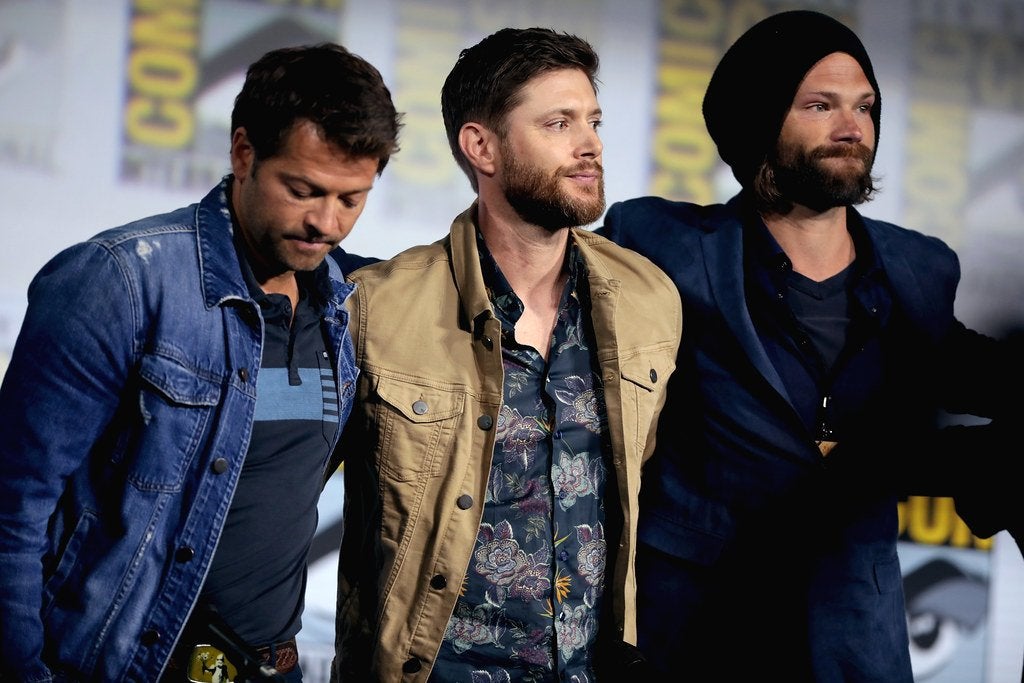 This was the last San Diego Comic-Con, the three actors were at, after announcing the end of the show, knowing they wouldn't be coming back to this Comic-Con as the cast of Supernatural (They cried, I cried, we all cried) 
"A wise man once told me, "Family don't end in blood", but it doesn't start there either. Family cares about you. Not what you can do for them. Family is there, for the good, bad, all of it. They got your back. Even when it hurts. That's family." – Dean Winchester
Not only did this show connect the actors with their fans, but it connected fans with other fans, nearby and far apart. I can personally say that I've met some of the best people I know through this fandom.
Just some sweet fan testimonies to make you smile: 
"It helped me open my eyes and as the characters grew, I grew" – Kaye
"It changed my life and helped me through many tough times. I've made so many new friends because of this show and I wouldn't have it any other way." – Kate
"15 years of memories and support. We're going to miss them so much." – Anonymus 
"There are not enough words to describe how much this show means to me. It's been a constant happiness in my life for so many years. Thank you to the entire cast and crew for bringing this masterpiece to life" – Andrea
"Thank you for being something that I can escape to. Thank you for being constant. Thank you for everything. I will miss you like crazy, endings are hard but then again nothing ever really ends does it?" – Megan 
Over the years of liking it and following it, it's easy to make some friends throughout the way. Some of the best people I know are fans who I'd meet through Twitter, Instagram, and at conventions. I've met people from all over the world; Marta, Megan, Nicole, Kate, Luna and so many more! It's crazy how this show helped me find new friends, near and far. This show is also how I became friends with the girls who lived downstairs in my second year of university! (I'm looking at all of you and thanking Supernatural for bringing us together, seriously.)! This family that the show built is so much bigger than even the fans know. 
"You and me, we're all that's left so if we are gonna see this through, we're going to do it together" – Dean Winchester
Thank you Jensen Ackles. Thank you Jared Padalecki. Thank you Dean Winchester. Thank you Sam Winchester. Thank you for the inside jokes (Talk Amongst Yourselves – TorCon 2017).
Thank you Supernatural for bringing me those friends, for the laughs and tears. But most importantly for the smiles and the moments that I got to share with my family and friends just by sitting on the couch and catching an episode.
Thank you for finding me. 
"Keep grinding. No matter how much it hurts, no matter how hard it gets, you gotta keep grinding. And that's how we're going to win" – Dean Winchester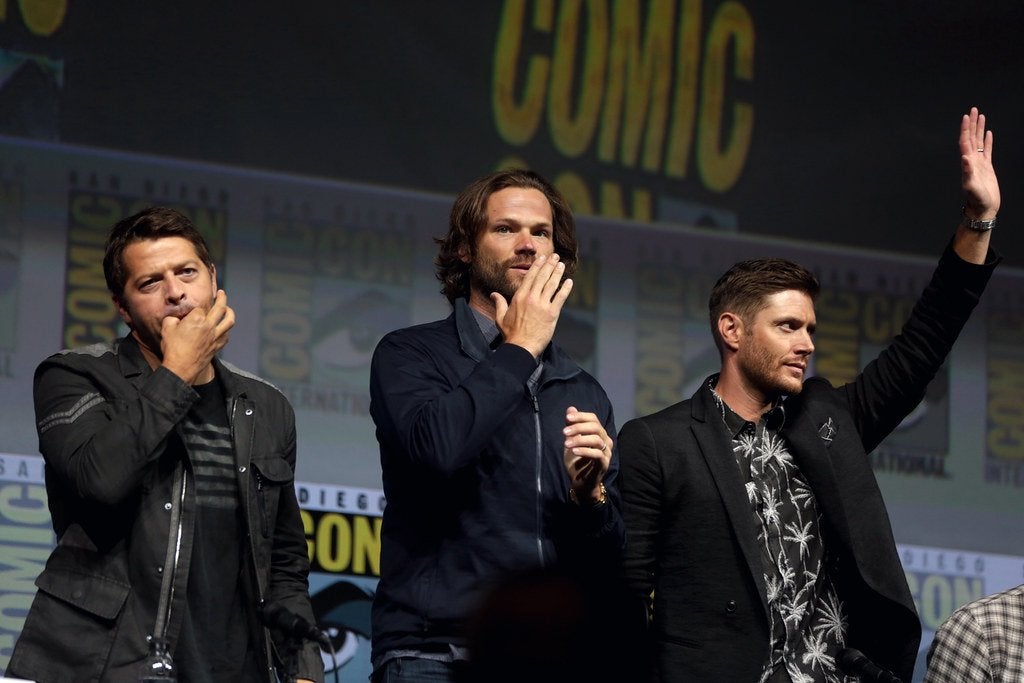 "Make sure you stand for something, because if you don't you'll fall for anything" – Jensen Ackles 
If you're intrigued and want to start the show, I urge you to watch through the spooky first season and enjoy how the brothers have grown over the years. (Don't worry Canada, Prime has all of the seasons available for you to watch!). If you're sad the show is ending, not to worry! Jensen and Jared won't be leaving our screens any time soon! Check out their new projects:
Jensen Ackles 
Will feature on The Boys, coming onto the show in Season Three, also created by Eric Kripke (the same guy who wrote Supernatural into existence!). He'll be playing the mysterious, but handsome Soldier Boy (kind of like Captain America!) As Jensen said in a panel on November 15th, he's going to be "the new guy" coming onto a show that's already started. Season Three will be hitting Prime's screens sometime in 2021! 
Jared Padalecki
 Will be taking on the main lead on the reboot of Walker. He'll be playing Walker, with an awesome cast, including his own wife Genevieve, playing his wife on the show as well (I know, how cute! Totally couple goals!). The filming for this has slowly started this fall and it will be hitting our screens on the CW on January 21st, 2021! 
They'll also be appearing at their regularly scheduled conventions starting later in 2021. Jensen is also working on a new album with his music partner, Steve Carlson, so stay tuned for Volume Two of Radio Company! Keep your eyes peeled for these actors to grace our screens in different roles than we've seen over the last few years! 
I won't tell you what happens, who dies, and how the show ends. In true Office fashion, I often wish I knew we were in the good old days before they were over. Now more than ever I'll cherish this show and hold it close to my heart. This is a show I encourage you to watch. Watch with a friend, family member, partner, roommate. 
So, if you've stuck with me and the Winchesters for this long, get comfortable, grab a drink, grab someone to watch with and grab your tissues (lots of tissues) and enjoy the last ever episode of Supernatural! 
"So what's it all add up to? It's hard to say. But me, I'd say this was a test… for Sam and Dean. And I think they did all right. Up against good, evil, angels, devils, destiny, and God himself, they made their own choice. They chose family. And, well… isn't that kinda the whole point? No doubt–endings are hard. But then again… nothing ever really ends, does it?" – Chuck Shurley