I love to read. When I was younger, it made me want to try writing my own stories. None of them were amazing or anything, but it was always a fun way for me to relieve stress. It doesn't matter what time of year it is, we can get stressed at any time. It can help to have an outlet, and maybe creative writing is just the thing for you! These are some tips that can help you get started.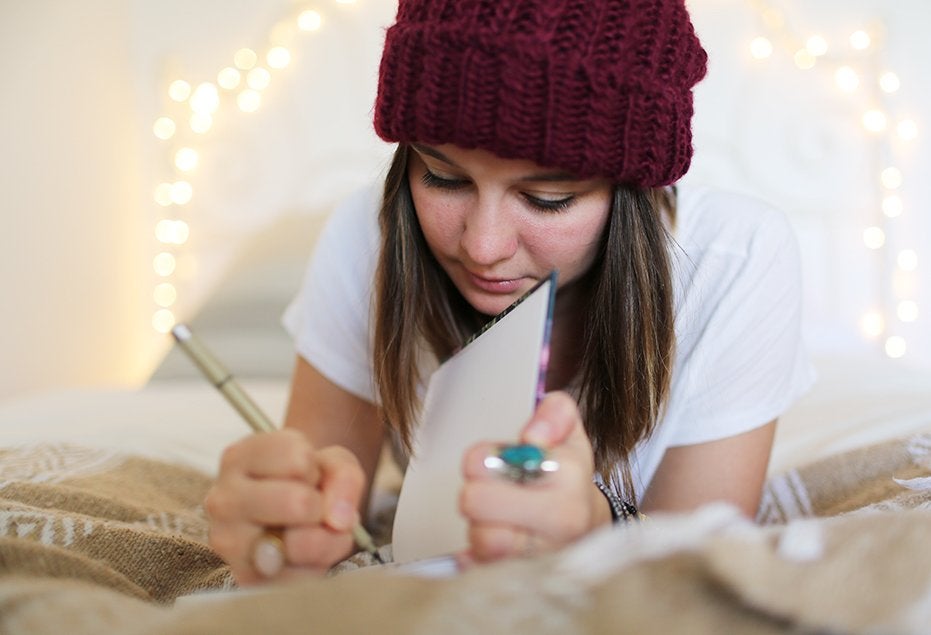 Start with writing whatever comes to mind
It doesn't matter if what you're writing makes sense at this point. It can just be a jumble of thoughts that have nothing to do with one another. Whatever you do, don't stop writing while doing this! Eventually, you can come across something that sticks, and you can continue from that thought. If you stop to think about it, there is a possibility that you may overthink it and end up back at square one. 
Try using writing prompts
A very basic place to gain inspiration. If you look around online, there are thousands of prompts just waiting to be used! Make sure that you just look at the prompt and try to come up with your own ideas, rather than looking at examples of the prompt being used. It doesn't help to read another person's writing when you're trying to write something similar, as you might not have as original ideas or it might make you feel self-conscious about your ideas. 
Using keywords in your writing can make things interesting!
If writing prompts don't seem to work well for you, this might. At the top of the page, write down 5-10 words that have practically nothing to do with one another. Use a mix of nouns, verbs, adjectives, and adverbs. Now, use as many of these words possible to create a story. Each word must appear in it with the purpose of moving the story along. This exercise helps you think a bit more about what you want to have happen next. 
"But what about writer's block?"
Writer's block is definitely one of the biggest obstacles that you'll encounter in writing. There have been several times where I stare at a screen for several hours before giving up because I can't figure out how to find the proper words. And that is okay. Writer's block allows you to take a breather for a bit. This can even act as a time for you to gain a little bit of inspiration by trying something new. It can be as small as trying a new food or as big as facing a fear of some sort. Regardless, this time allows you to take a break and maybe be ready for writing later. 
Creative writing might not be the thing for you, or it could be something that you never knew you needed to be doing! Whatever happens in the end, it never hurts to try something new.