Alright, you've read the title, you know what's going on. Today we're doing a review of SKIMS by Miss Kimberly Kardashian. Before we begin, I will fully admit: I am a Keeping Up with the Kardashian's STAN. I cannot lie, that's my comfort show, and I know way too much about this family. That being said, I actually don't normally buy their products or those of any celebritiy due to my own convictions. I find that typically celebrities' products and production methods are less than ethical and you can normally find the same (if not better) product from a more sustainable producer. However, I am an admitted shopping addict and have been on the hunt for the perfect bralette for years now. When I looked at the SKIMS website, I noticed that they had a wide array of bralettes that seemed to be of good quality so I decided to give it a shot. So, without further ado, I present a review of the four SKIMS that I own. 
The Cozy Set:
While the bralette is what made me finally pull the trigger and purchase from SKIMS, the iconic Cozy Collection is what initially piqued my interest. The Cozy Collection is exactly what it sounds like. The material is extremely soft, surprisingly warm, and definitely cozy. While I someday hope to own every piece in the collection (there are pants, robes, etc.), I settled on the shorts and zip-up sweatshirt. Did TikToker @victoriaparisf influence the decision of buying the jacket? Absolutely yes. When I put these bad boys on I immediately feel like I'm being hugged by my favorite blanket. The shorts are high-waisted and have good stretch, and the jacket is slightly cropped depending on the size you get. I am 5'9 and usually wear an S/M (which is the size I purchased) and I felt it fit very true too size. Priced slightly on the higher side, but worth it if you're committed to loungewear. Overall, my girl Kim killed it. 9/10.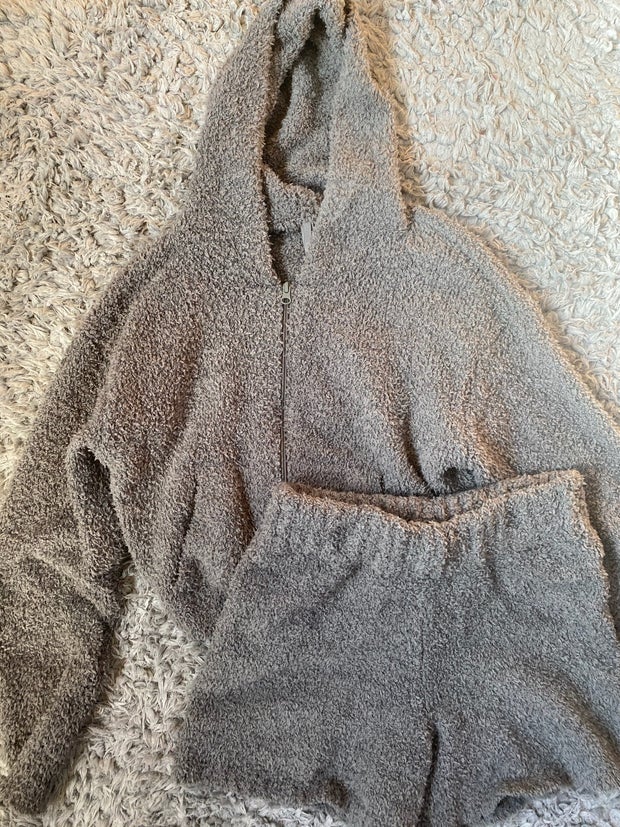 Original photo by Caroline Harrington
Bralettes:
These bralettes. Wow. As I mentioned earlier, I've been hunting for the perfect bralette: one that keeps its shape and feels supportive, gives you a lift, and is comfortable enough to be worn all day. SKIMS bralette checks every box. Priced at $32-$35 depending on the style you get, I think it's reasonable for such a high-quality item. The material is shapewear, so it's extremely soothing and flattering. I also find it to be pretty soft, and the bralette holds its shape throughout the day. Again, the sizing was very accurate (I am a 34B and got a small) and I can wear it all day and not feel any sort of discomfort. Another thing I appreciated about SKIMS is that they have a very wide range when it comes to skin tone rather than having 2 "nude" shades. Every time I put these bralettes on, it is immediately a hot girl moment.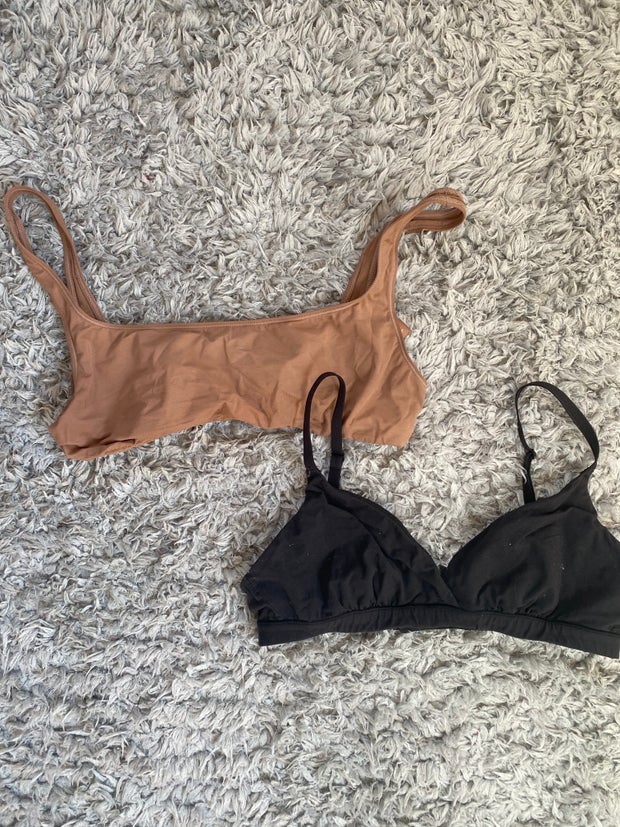 Original photo by Caroline Harrington
Overall:
In my opinion, Kim killed it with this. She clearly knows what she's doing, as she has expressed that with her career she has tried nearly every brand of shapewear. The material of both the loungewear and shapewear is incredible and the items are high quality at a reasonable price. There are a very wide size and color range, meaning that everyone can find something. I know that I'll definitely be trying more of their products and I would recommend them to anyone and everyone!