On November 30, 2018, Lili and I were leaving Wheeler Hall on foot when she was hit by a car on Thatcher Street. It all happened so fast… My hands were shaking so intensely I dialed the wrong number for 9-1-1. She was even accused of deliberately placing herself in front of the car in a suicide attempt to relieve the driver of guilt.
Lili was forced to withdraw from UMass after three surgeries including a final hip replacement. Her family was impacted by thousands of dollars in medical bills that the driver of the car was not able to pay. Today, over a year after the incident, Lili is still in recovery and has not been able to acclimate back into society, nor return to continuing her education due to this traumatic collision.
As Lili states, "This crosswalk and others have shattered families and changed … lives traumatically and it will continue to affect students in these horrific ways until the University administration is called upon to do their jobs to not only educate us [as pedestrians] but to keep us alive."
Google Street View from October 2018 on Thatcher Way where Lili Allen was impacted by a vehicle.
On April 12, 2019, UMass grad student Jaskaran Singh died after being hit by a car on North Pleasant Street. Lack of traffic safety is a hazard that continues to affect students each year.
Today, the speed limits on both Thatcher Street and North Pleasant Street are still 30 mph, despite many deaths and injuries. There are still no radar speed limit signs, no improved lighting or elevation at crosswalks, and no additional stoplights have been installed.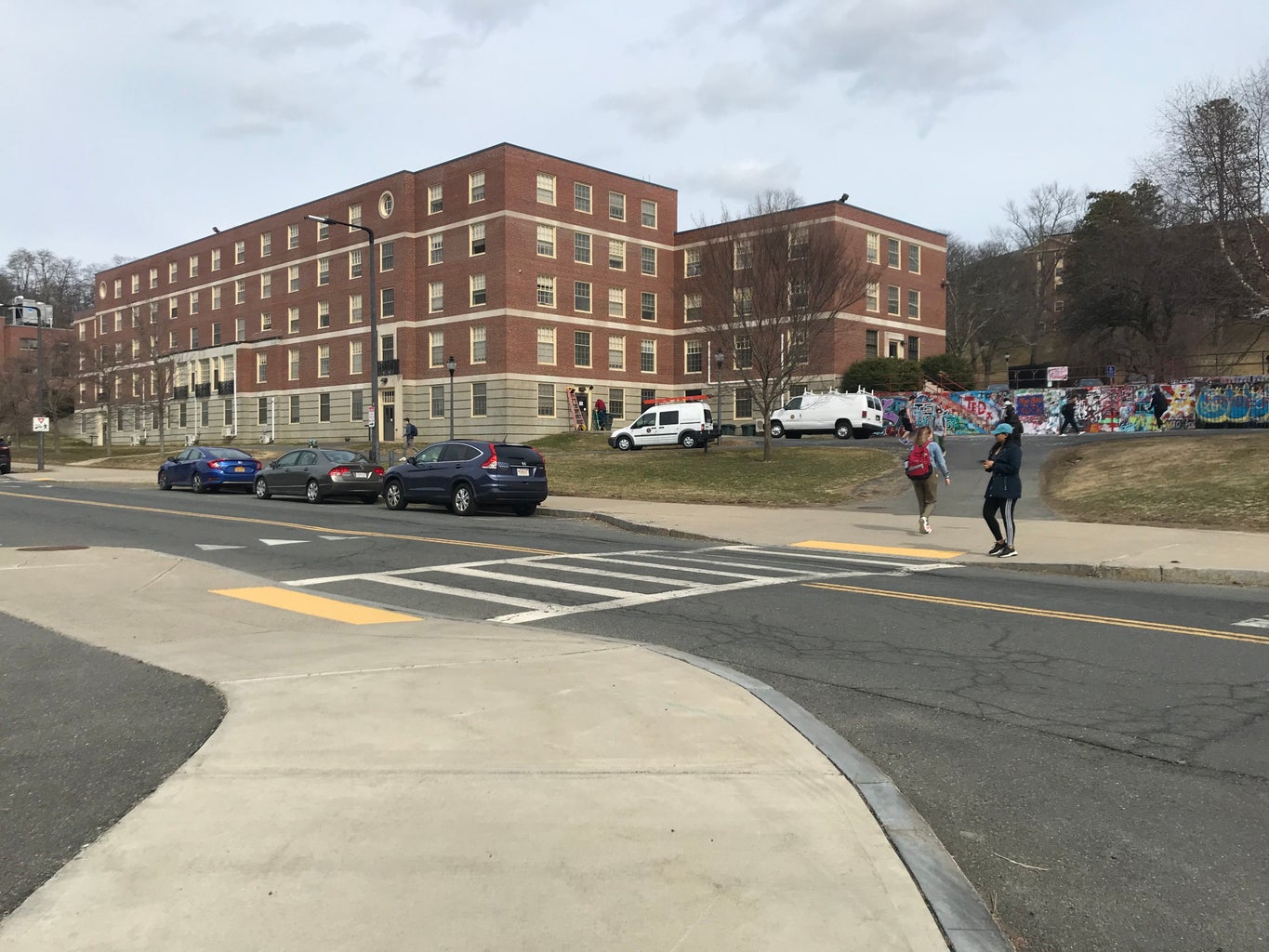 Photo from March 2020 on Thatcher Way at the same intersection. Image courtesy of the author.
In a study conducted by the Journal of the American Planning Association, 662 of 5,167 survey respondents "reported experiencing … crashes that involved either a bicycle or pedestrian on or around the three campuses." The Journal cites a study by Benekohal et al, 2007 that suggests establishing a diverse traffic safety committee to discuss traffic safety concerns as a first step to address pedestrian and cycling accidents on college campuses. The study found that an overwhelming majority of pedestrians at intersection crosswalks (over 97%) look both ways before crossing, indicating that the problem lies in lack of adequate road signage and in negligent driving.
This is a call to UMass Amherst administration to be better advocates for the dozens of cyclists and pedestrians who are injured and killed due to lack of road safety, and that includes adding adequate signage to hotspot intersections.
For those interested in making a difference in the traffic safety conditions, please consider attending a Critical Mass rally on March 27, 2020 on the UMass campus.