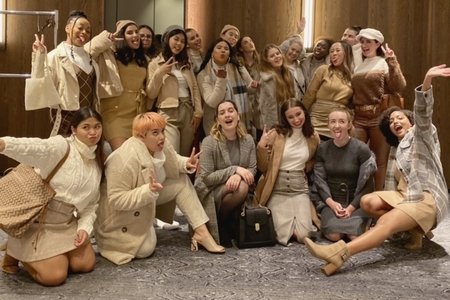 My Experience Modeling at College Fashion Week in Boston
When I attended Her Campus College Fashion Week last year, I knew I would have to attend again. It is an incredible event where I saw a group of amazing college women, all from different backgrounds and educational paths, come together to show off their personalities on the runway. Sometimes, it can be hard to own all your quirks and insecurities and put them out for the world to see. However, these women did it flawlessly and authentically. It was inspirational to say the least.
Little did I know that this year, I would be walking the runway myself! It certainly was not something I expected, but I am so thankful it happened and it definitely impacted me for the better. I am going to recap what happened starting with my fitting on Friday all the way to the end of the show Saturday!
1.

Fitting at Primark: Outfit 1

The first thing I did once I got into Boston Friday afternoon was head to my fitting at Primark! The HC team picked out two outfits for me;  one chic but comfy athleisure (which is pictured here) and the other a neutral jumpsuit. Both of these outfits were certainly out of my comfort zone style-wise, so I was a bit nervous at first. However, once I tried them on and got pumped up by the HC girls, I felt much better and was excited for the show the next day!

2.

​"Come As You Are" Brunch with the CWF Models at The Glass House:

Once Saturday morning came, I was off to a brunch at The Glass House in Cambridge with the other models and HC team! Everyone came however they wanted, some in makeup and some bare faced (thus the name 'Come as You Are' Brunch). It was so nice and chill. The restaurant was very aesthetically pleasing and they had amazing food too. Plus, everyone got a personalized gift bag with their name on it with lots of goodies from CFW sponsors, such as Higher Education Skin Care, State Bags, Aid Through Trade, La Presh Skincare, and more! I also got to know many of the girls I would be modeling with that evening and we took such a cute group pic!

3.

Backstage at The Revere Hotel:

Once we all finished munching, the HC team called all of us our own Ubers and we traveled in style to The Revere Hotel for the show! There, we were decked out in full hair and makeup by GlamSquad, and did a quick run through of the show. Below is a picture of me in full glam!

4.

Exploring the CFW Floor:

Once everyone was all glammed up, we headed to the floor for VIP hour. I swear, every year the sponsors and booths at CFW get better and better! A personal favorite of mine was Maleficent, since I loved the first movie and am so excited for the sequel to come out (not to mention, Angelina Jolie is the definition of badass). They also gave me a free t-shirt as well which is now my go-to one to wear to bed because it is soooo comfy!

The Primark booth was also awesome! My friends and I took such cute pics in front of their sequin background and they gave away free hats, scarfs, and hair clips. We got all our fall essentials for nothing, which you definitely can't beat! 

Before I knew it, the VIP hour had passed and the models (including myself) had to run backstage to get changed for the show! Not gonna lie, I was very nervous leading up to it since I've never really done anything like a fashion show before. But after a pep talk from the HC staff, the other models and I stepped out on the runway and killed it! My first look was actually the black one below. The joggers were probably my favorite piece, and they will surely be my new lazy day staple. I also loved the mesh top and the sneakers too! Both were things I probably would not have picked first hand in the store, but I've already been styling them within different looks since! Oh yeah did I mention we GOT TO KEEP ALL THE CLOTHES?! Definitely an incentive to model next year ladies!

My second look was a jumpsuit with heeled boots (and a beanie too but that went missing backstage somehow so we went without it). This was the one I was most nervous and insecure about, both because of the heel height and the fact I had never seen myself as a jumpsuit wearing girl. Even with the encouragement the HC team gave me the day prior, I still wasn't feeling super confident in it, but the other models said they loved it on me which gave me a huge confidence boost! Thanks to them I was able to own it on the runway!

(You can swipe over on this post to see me walk the runway with both my looks!)

Overall, I loved modeling at CFW this year! I would definitely recommend it to anyone interested in the future. The community I built with the other models that night was so special and we were all able to empower eachother and put on an amazing show. Or if you don't think modeling is for you, plan on going! For $20 a ticket you get so many amazing products, fun photo opportunities, and have an amazing night promoting such an important message:

Fashion is something that everyone deserves to be represented in; no matter what shape, size, gender, or race. Everyone is beautiful in their own way.
Being able to share the real runway with such a diverse group of college women was an experience I will never forget and will stick with me forever.