Meet Some of the Bad-a** Women Running for President
November 2020 may seem like light years away, but when it comes to elections (especially Presidential ones), it's never too early to start preparing. As of early 2019, 10 Democrats are running for President in 2020 and dozens more have been labelled as potential candidates by political experts, including favorites like Joe Biden, Bernie Sanders, and Beto O'rourke. This will be a significant election for a number of reasons (will the American people finally dump Trump?), but the 2020 Presidential race is already making history-and it's still nearly 2 years away! The Democratic field has been the most diverse group of candidates so far, which includes a record number of female contenders. Check out the potential Madame President's down below:
Elizabeth Warren: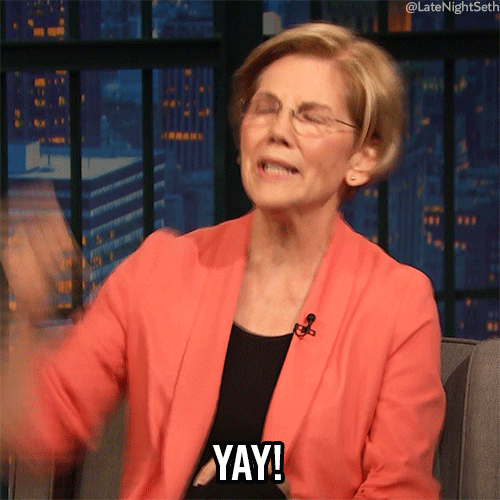 If you live in Massachusetts, this name should be somewhat familiar to you. Warren currently serves as the U.S Senator for Massachusetts along with Ed Markey, and she's been doing an absolutely kick-a** job since 2013. She casually announced her candidacy via instagram livestream, a new trend among politicians who are attempting to resonate with young voters. Warren is best known for being a fierce advocate of social programs and women's rights, as well as one of Trump's toughest critics. However, she's probably known best for her controversial identification as part Cherokee. She even took a DNA test to prove that she had Native American ancestors who lived approximately 6-10 generations ago, which is like, the whitest thing you can do. She has come out and apologized to the Cherokee nation since, so hopefully she's learned her lesson and will focus her attention on taking down Trump in her campaign. 
Kirsten Gillibrand:
Kirsten Gillibrand is the U.S Senator representing New York State since 2009, and before that she served as a U.S Representative for New York's 20th congressional district. While serving as a Rep, she notably voted against the Bank bailout bill in 2008, and in case you haven't seen the film The Big Short, that's a really big deal. As a senator, Gillibrand is passionate about combating sexual harassment/violence and supporting paid family leave. In fact, she is such as strong supporter of ending sexual harassment that she called for Bill Clinton to step down from office following the Monika Lewinsky scandal- this makes it clear that her advocacy for victims of sexual assault trumps her political affiliations.
Tulsi Gabbard:
Born in the American Samoa, Gabbard is the Representative from Hawaii's 2nd Congressional district and at 37 years old, the youngest female candidate in the 2020 Presidential race so far. She served in the field medical unit of Army National Guard in Iraq from 2004-2005, and before that was elected to Hawaii's state legislature in 2002 at the age of 21. This made her the youngest woman to be ever elected to a U.S. state legislature! She supports the right to abortion, medicare for all, and same-sex marriage. If elected President, Gabbard would be the first Samoan-American and Hindi President. 
Kamala Harris:
Being the second African American woman to serve in the U.S. Senate, Harris has represented the golden state of California since 2017. In her short time in office, Harris has made waves with her unwavering support of medicare-for-all, legalization of recreational marijuana, the DREAM act, and raising taxes on the wealthiest 1% of Americans. According to sources, over 20,000 people attended her campaign launch in her hometown of Oakland, CA, which is more than the number of people who attended Obama's first presidential campaign kickoff in 2008. If that isn't a sign of greatness, I'm not sure what is.
So, will 2020 be the year we finally see a woman in the White House? To quote our current POTUS, I'd say there's a Bigly chance judging from these more-than-qualified candidates.