If you haven't already heard, Harry Styles is taking the country by storm with his long-awaited "Love On Tour." After two years of postponement due to the COVID-19 pandemic, fans are more eager than ever to finally join Harry for the shows. The years of waiting were not wasted.
During quarantine, Harry still had a few projects up his sleeve. Following surprise music videos, Styles made history by becoming the first male solo cover star for Vogue magazine, but along with praise, his cover also received lots of backlash. Quite a few conservative political figures posted online about their dislike for Harry's Vogue attire: a long, periwinkle dress with black lace accents made by Gucci. In response to those saying he was too feminine to be a "strong man," Harry posted a photo on Instagram with the simple caption, "Bring back manly men."
The Vogue cover shoot wasn't the first time Harry has experimented with fashion. After his boy band days in One Direction, where he was usually styled by the band's stylist, his style has changed dramatically. When he first rose to fame, he was given a specific style to brand himself: a t-shirt, jeans, and a blazer. Harry is now famously known to wear outfits that are outside the box and for pushing the limits on fashion, particularly between traditionally men's and women's clothing. Through his confidence to redefine the rules of fashion, Harry has become an icon of self-expression to many.
While Harry was busy shooting the cover of Vogue, his fans got creative over quarantine and started planning their extravagant outfits for "Love On Tour." Many crafted their own clothing pieces, and others shopped all over the internet for the most perfect Harry-esque clothes they could find. Drawing inspiration from Harry's outfits at the 2021 Grammys — a black leather suit with a green boa for his performance, and a yellow, plaid blazer with a purple boa for the awards — feather boas are a staple at "Love On Tour."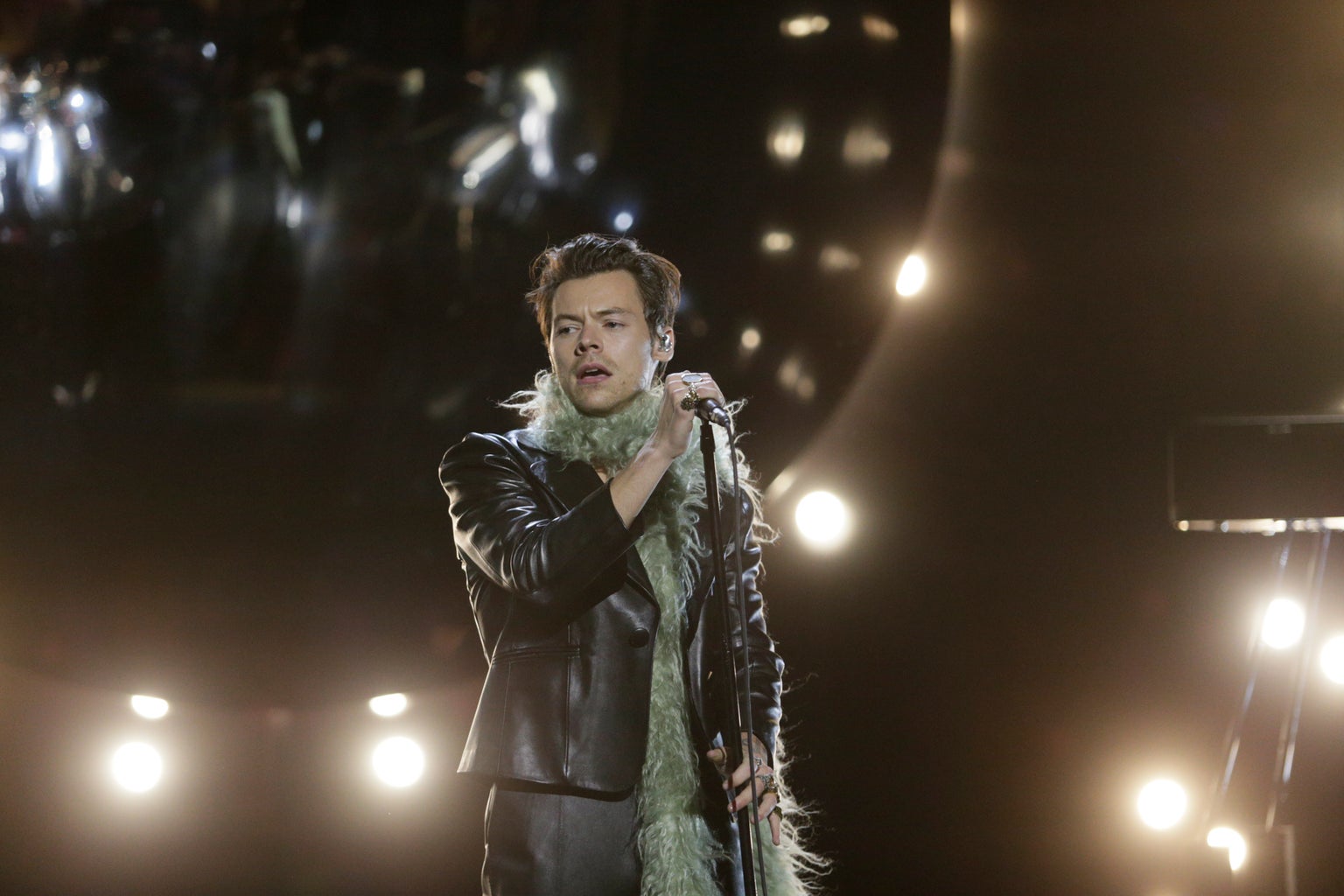 "Love On Tour" in Boston was one to remember. On the way to the venue, it was very clear by people's outfits who was on their way to see Harry. It was feathers, glitter, satin, lace, and sequins galore, and if it wasn't obvious to the residents of Boston who was in town that night, they quickly figured it out. Following the end of the concert, the stadium floors were covered in feathers and glitter, something that would only be found after a Harry Styles concert.
The outfits at Harry's shows are unlike any others, and that is because of who he is and how he expresses himself. Harry is unapologetically himself and encourages others to do the same, and to have fun while doing it. Inside the venue was two hours of pure acceptance and love — I mean, it's called "Love On Tour" after all.
Can't get enough of HC UMass Amherst? Be sure to follow us on Instagram, listen to us on Spotify, like us on Facebook, and read our latest Tweets!