Here Are A Few Music Festivals You Should Attend Instead of Coachella
Attending a music festival is a euphoric experience. The feeling of delirious excitement from watching your favorite bands and artists perform live is unlike any other. Thousands of strangers from all over the world come together to bond through the mutual love of music. The natural high you get from a music festival is one that you will want to chase for the rest of your life. But that's not necessarily a bad thing– as long as the festival you're attending is worth every penny.
Mention the words "music festival" to any Millennial and a specific one will most likely come to mind: Coachella. With the publicity Coachella gets from the countless celebrities and YouTubers who attend this festival combined with the fire lineup and huge headliners, its popularity is no surprise. However, this popularity attracts the worst type of crowd– entitled, rich kids who only go to Coachella so they can say they went to Coachella.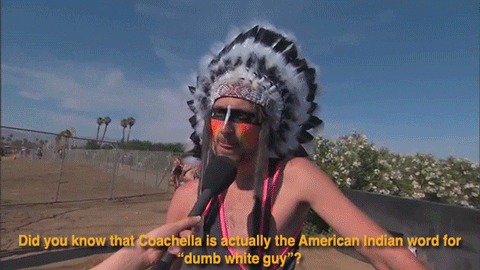 With the GA ticket price of $430 (excluding fees) plus another $125 for camping, it's understandable why Coachella attendees consist primarily of well-off Americans. And exactly what is our money paying for with those overpriced tickets? Unfortunately, it's going straight into the pocket of a right-winged homophobe. Philip Anschutz, the owner of Coachella, has donated a grotesque amount of money to extremist groups who are trying to take away the rights of the LGBTQ+ community. On top of this, Anschutz has also donated thousands of dollars to multiple Pro-Gun and Anti-Abortion Republican politicians. 
Music festivals are a place for freedom and acceptance despite your gender, race and sexuality. Anschutz displays qualities and beliefs that go completely against this and does not deserve our money to attend an overrated festival on the West coast. There are tons of other music festivals in America that are more affordable, easier to access, and have better crowds with good vibes that are more worthy of our attendance. Here are a few festivals you may want to consider instead of Coachella:
When: June 27th–June 30th, 2019
Where: Sherwood Forest– Rothbury, MI
Music: Multigenre, primarily EDM and Jam Bands
Price: GA ~$350. Payment Plans available. GA camping included with GA ticket, or Group Camping ~$50
I've heard only good things about Electric Forest. "It's different from other festivals because it's not all about the lineup," says Cait Finn, senior at UMass Lowell. "My most memorable experience was roaming around the Forest both during the day and night." Literally located in a forest, this festival has multiple displays of beautiful and trippy art, statues, and decorations. Some are even hidden inside tree trunks. If you need a break from the sun and music, they have hundreds of hammocks hung on the trees where anyone can relax. As a 4-day festival, you'll have plenty of time to explore everything. Cait recommends checking out the Giving Tree, taking time to meet other people, and to live in the moment. "The Forest is the most magical place on Earth!" Although tickets for Electric Forest 2019 are sold out, this is definitely a festival you need to keep on your bucket list for the future.
When: July 18th - 20th, 2019
Where: Montage Mountain– Scranton, PA
Music: Primarily EDM
Price: Early Bird GA $180, plus fees. Increases to $210 when Early Bird sells out. Payment plans available. Camping costs about $40 more on top of ticket price.
Camp Bisco is a combination of the photogenic Montage Mountain, concert venue, and a waterpark. So you can dance under the sun all day and cool off in the water– one of their stages is even located in a pool! You can also ride the chair lift to the top of the mountain and zipline down while overlooking other festival-goers. This is a 3-day festival, so you'll have plenty of time to do everything you want. If three days seems too intense for you, they offer single day passes. Recent graduate of UMass Amherst, Maggie Buettner, attended one day of Bisco in 2018 to see Bassnectar, and that's all she needed. "My first and only day was great," she says. "Not the best organization in the world but if you're looking for something more lowkey then I recommend this festival. Go for the music, not the accessories!" Preach. Local DJ (@mavysmusic) and graduate of Berkshire Community College, Myles Lambert, is a Camp Bisco attendee of three years and warns to beware of the wooks: "It's a great little festival that artists treat intimately and has great people there, but attendees go full wook-mode and are known to be savage and filthy." Perhaps not the best festival to attend if your goal is to get cute Instagram photos, but ideal for good music and letting loose.
When: September 27th – 29th, 2019
Where: Legend Valley– Thornville, OH
Music: Dubstep 
Price: GA ~$200. Payment Plans available. GA camping ~$120 per car. 2019 tickets not yet on sale.
Dubstep, Dinos, and Bass, oh my! If you love heavy, grimey, dirty and wonky beats, this festival is perfect for you. Founded in 2017 by music producer Jeff Abel– more well-known as Excision– Lost Lands is a 3-day prehistoric themed festival completely and utterly dedicated to dubstep. The debut of Lost Lands was a sold-out hit with 25,000 attendees, and I was lucky to be one of them. My experience at this festival was surreal and exceeded my expectations. I attended again in 2018 and plan to return this year for Round 3. Ryan Prentice, an Artist Management Associate and Event Promoter for NV Concepts said it best: "I remember standing on the hill, looking out across the festival grounds watching thousands of people all headbanging and bouncing to the same beat. I could tell that everyone was there for their love of bass music. And I said to myself, 'this is home.'" Lost Lands is a must for any headbanger– "The energy is unreal," Ryan adds. "Be ready to have your insides shaken by all them watts." Exactly 1,000,000 watts of bass, to be exact. "Plus, it's run by a DJ and his goal is to ensure the overall experience is unforgettable, which it is." Earplugs and neck braces are necessities to bring with you to this festival. BONUS FESTIVAL: If you were intrigued by Lost Lands and want to add another bass-centered festival to your list, Excision hosts another festival called Bass Canyon at this same venue at the end of August. I already bought my ticket for this year, who will be joining me?
When: June 14th & 15th, 2019
Where: The Gorge Amphitheatre– Seattle, WA
Music: EDM
Price: GA ~$180. Payment Plans available. GA camping ~$110 per car.
If you caught that Wanderlust bug and desire to travel across the country for a festival, The Gorge Amphitheatre is where you want to go: "Where Digital Meets Nature." It is a beautiful concert venue located above the Columbia River Gorge. Watch the sunset over gorgeous landscapes as you transcend into a night of lights and lasers. Sophomore at UMass Amherst, Alexa Enfield, has attended Paradiso twice and highly recommends this festival for a first-timer. "It's a very open-minded and fun group of people that attend, and they play a wide variety of genres. The Gorge is the best venue ever." If you put together a squad large enough, Alexa recommends upgrading to Gold Camping to split the price between everyone because it saves a 30-minute walk through the Valley to get to GA camping from the venue. 
When: June 13th – 16th, 2019
Where: Manchester, TN
Music: Multiple Genres– EDM, Rap, Pop, Alternative, Rock, etc.
Price: GA ~$340 for current tier. Payment Plans available. GA Camping ~$60 per car.
Post Malone, Odesza, Illenium, Childish Gambino, Cardi B– just a few of the many artists playing at this massive festival planted on a 700-acre farm in Tennessee. With over 150 artists of different genres performing on over ten different stages, Bonnaroo can appeal to anyone. Stay hydrated and have caffeine on deck because this festival lasts all night long. There's interactive art installations and multiple activities you can participate in, if– for some crazy reason– you get bored. But don't overdo it. UMass Amherst graduate Zack Maniak has attended Bonnaroo twice and understands how difficult it is to see everything. "Try to see as much as you can but know it's tough to see it all." Quality over quantity; do what you think is the most fun, even if that means separating from your group to wander the festival grounds alone. "Make friends! Talk to as many people as possible. Be goofy, don't be afraid to get out of your shell. Wear a funny shirt, dress up like a dog, use a banana as a phone." You are the most incontrol of your festival experience!
As mentioned before, music festivals are truly magical experiences. They are an escape from the stress and negativity of the real world. It doesn't make sense to attend a festival owned my a man that fuels that negativity. F*** your bad vibes, Philip Anschutz. These five festivals only scratch the surface of other options better than Coachella. Do research, plan accordingly, have fun, and stay safe this festival season.