Ok, hear me out. A board dedicated to cheese, meats, and delicious spreads? Sign me up! Charcuterie boards have been all the rage, especially during quarantine. They are masterfully designed cheese and meat boards that not only look beautiful but also taste delicious. To say I've been obsessed with charcuterie boards would be an understatement. I love thinking about them, making them, and of course, eating them. So here some of my tips to make your charcuterie board live up to the hype! 
The Cheese
So, what cheeses should you put on your board? I prefer to put 3-4 kinds of cheese on my boards, depending on the number of people eating. Trader Joe's has a fantastic selection of cheeses that are also affordable. My staples are brie, cheddar (I love the Unexpected Cheddar from Trader Joe's), and Boursin garlic and herb soft cheese. I also like trying out new cheeses, so I'll pick up a cranberry goat cheese or whatever looks interesting. My rule of thumb is to make sure you always have cheeses you know you love and will fill you up, and then add something new to expand your cheese horizons.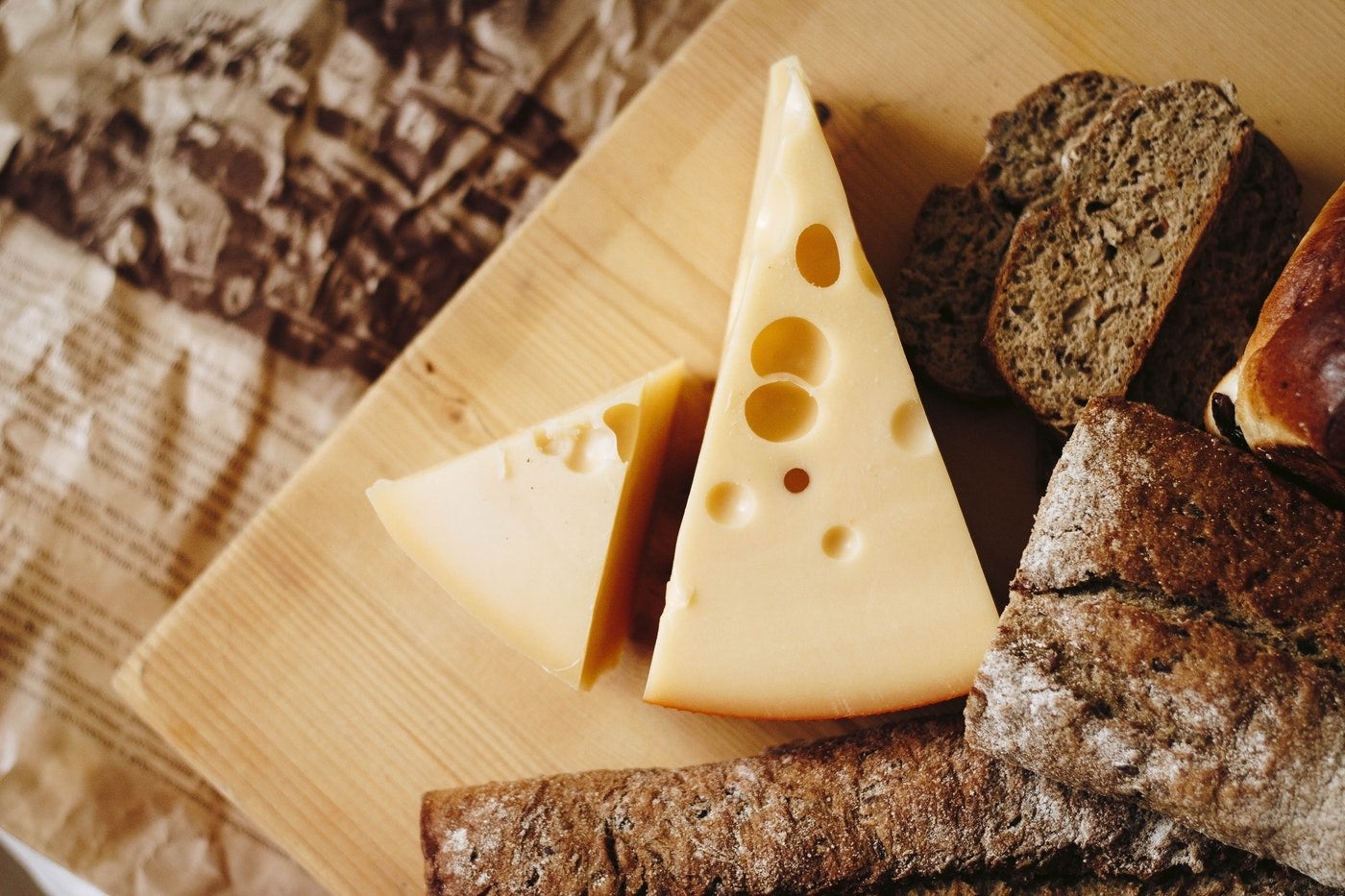 The Meats
For my meat-lovers or anyone who appreciates a good slice of deli meat, the options are endless. Salami, sweet soppressata, prosciutto, pepperoni, or other cured meats make great additions to your charcuterie board. My go-to's are prosciutto and mild salami. Check out your local deli section and see what they have. Some even have packs with three different types of meat, perfect for your charcuterie boards. 
The Fixings – Spreads, Fruits, Veggies, Crackers, and more!
Now that we have the cheeses and meats out of the way, it's time to start thinking about all the little fixings. Adding spreads, fruits, veggies, and crackers are a must to any charcuterie board. It adds color and fills up space to make the most delicious and aesthetically pleasing board. It's essential to have at least one good spread or jam. My all-time favorite is anything with fig. Trader Joe's does a delicious fig butter and most grocery stores have fig jam which truly elevates every bite. Next is fruits. Grapes are a classic to add to charcuterie boards. Get both green and red grapes and toss on some sliced strawberries to give some pop of color.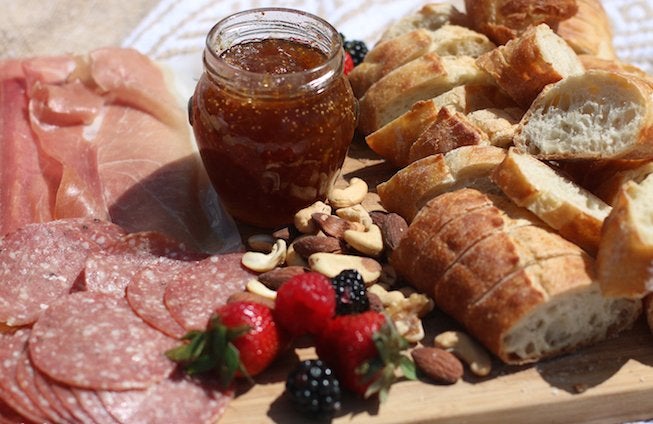 Crackers and other vessels for your cheeses are essential to your board! I always get a variety pack of crackers from the grocery store or the fig and olive crackers from Trader Joe's. In addition to crackers, you can slice up a baguette, which pairs perfectly with a creamy brie, or chop some veggies like cucumbers as secondary vessels. 
Finally, to fill in the extra space between your cheese, meats, and crackers, add some nuts or dried fruit. Adding almonds and walnuts provide a nice break from eating all the rich cheeses and meats while the dried apricots or fig add a new texture.  
How to Build a Board
If it seems daunting putting together an aesthetic cheese board, do not worry! It's a little tricky at first, but practice makes perfect. First, grab a wooden chopping board or platter (or any platter) to start your board. Place your cheeses and any dishes with spread down first. Then fold your meats, placing them strategically around the dishes. Maybe even make a salami river down the center of your board! Then add the crackers, fruits, and veggies around your board, varying their positions and designs. Finally, fill in the spaces with your nuts and dried fruits, and garnish with sprigs of fresh herbs like rosemary.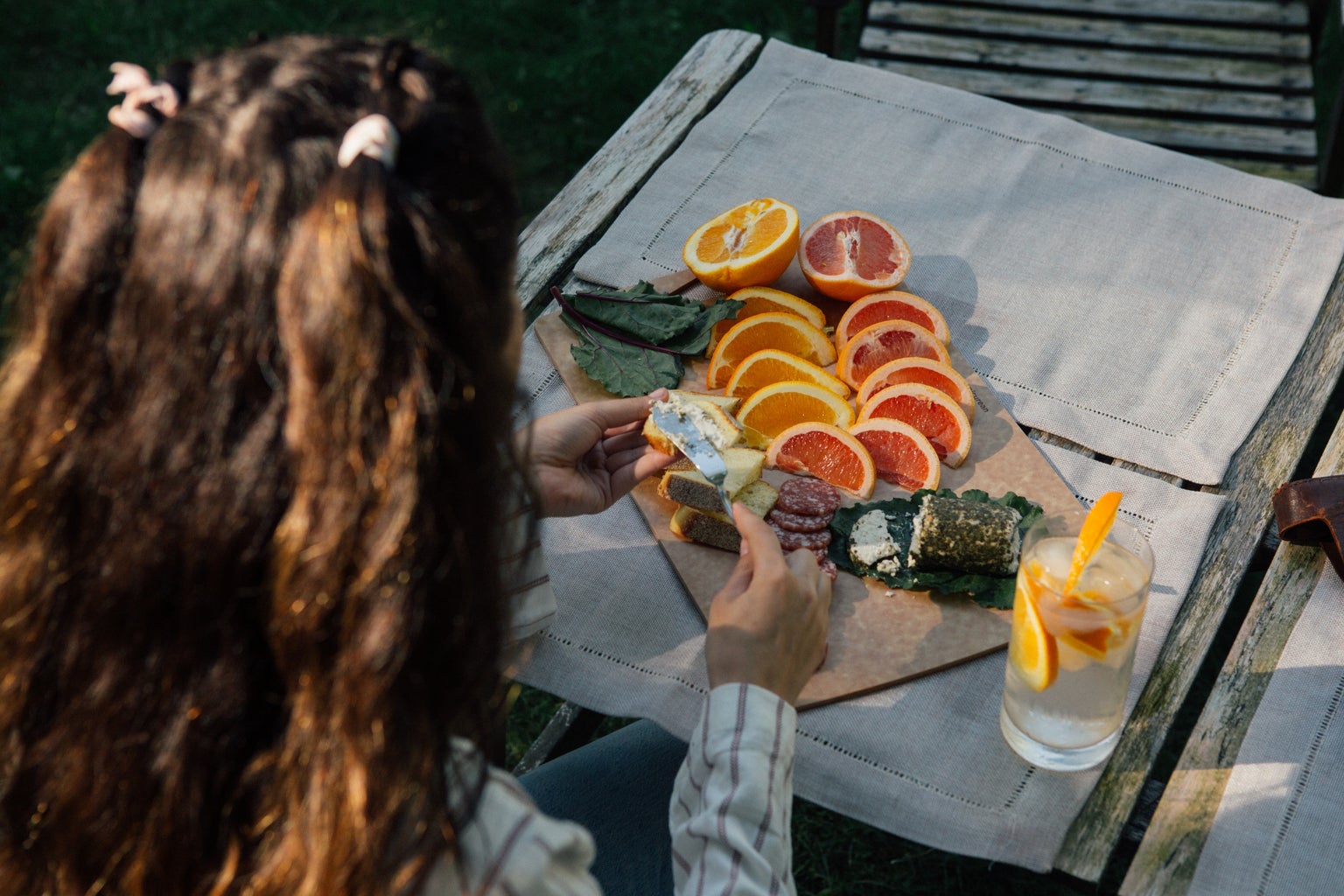 I highly recommend checking out Pinterest or this Instagram account for some charcuterie board inspo! Charcuterie boards are really worth the hype, time, and effort. You won't be disappointed. Don't forget to snap some pictures of your masterpiece and share it with your loved ones!