Arriving at college can be extremely stressful. There are classes to prepare for, a giant campus to navigate, and friends to make or see again for the first time since break. Sometimes, the last thing on your mind is the way your dorm looks. I've found that there are many reasons for lack of decorations in a dorm — it requires planning, time, money, and thought to carry out. These factors can make it easier to just leave the walls blank, but this is not the way to go! Decorating your space will make you feel more comfortable when you find yourself feeling homesick, not to mention it is fun! Below are five tips for getting started on dorm decor in the cheapest and easiest ways possible!
1. Plants, Plants, Plants
Plants are a very accessible piece of decor that can be found almost anywhere. They can be purchased at various stores with garden sections, including Home Depot, Lowes, Walmart, and more. Plants are relatively inexpensive, as well as easy to customize, with many varieties of pots and the numerous types of plants available. They can be both beautiful and calming, bringing a natural element to the sometimes sterile-feeling dorm rooms, and are an easy point of decor to be added to any space!
2. Thrifting!
Now, I know that thrift shopping is most commonly correlated with clothing, but many secondhand stores include sections with pieces that can be used for room decor. They tend to have sections for wall art, knickknacks, lamps, and kitchen items, all of which can be purchased for low prices and implemented masterfully into a dorm. My personal favorite buys are used funny or unique mugs for storing pencils, pens, or markers on a desk. Thrift stores in the Amherst area include Goodwill, Salvation Army, and many smaller consignment shops, especially in nearby Northampton, with to-be-discovered gems that would be sure to spice up any drab double.
3. DIY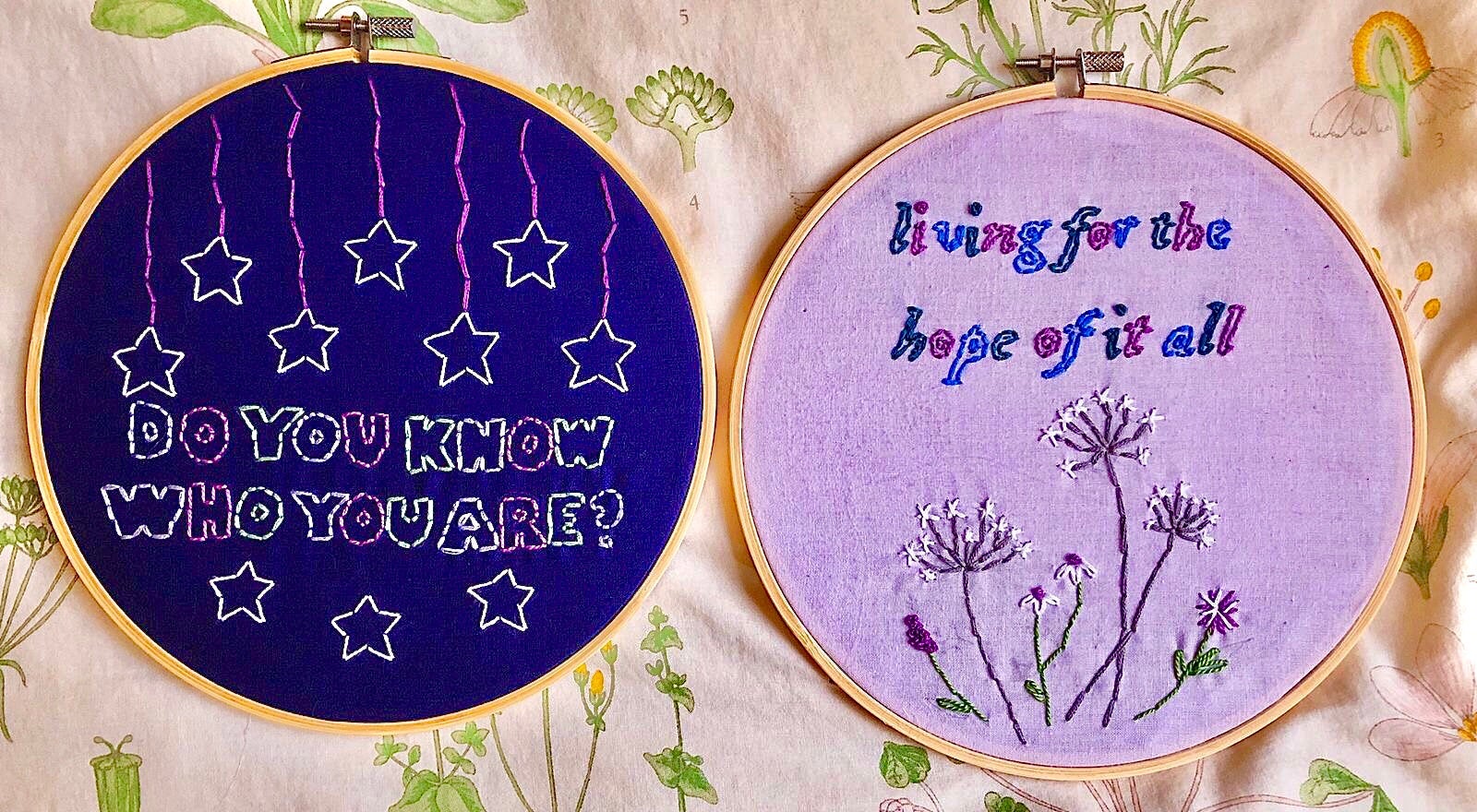 With ample time on my hands over quarantine last year, I decided to pick up embroidery as a hobby, and my walls have thanked me ever since! Learning a craft — such as embroidery, knitting, painting, drawing, quilting, crocheting, and others — can give you the tools to make whatever you want to put on your walls. With a little time and investment, you can customize your space completely to your liking, not to mention at a low price, as the raw materials required for most crafting activities are easy to locate and generally cheap. This could also be a great creative outlet to decrease stress, not to mention it gives you an effortless gift-giving method for all your loved ones all year round.
4. look online
Pinterest and other similar sites have a plethora of fun prints just waiting to be put up on your wall. There are examples of art in almost any area, like television shows, movies, musicians, fun patterns, animals, landscapes, quotes, and even more, many of which are free to use by the public. Print centers such as FedEx, Staples, and the UPS store offer inexpensive printing services for any and all designs that catch your eye, making it a great way to have truly anything on your wall!
5. Photos!
This one might be obvious, but the best way to make your dorm feel homier is by bringing your loved ones to it in the form of photos. You can print photos for about 7 cents each at Walmart in only an hour, as well as other locations, such as CVS and Walgreens, for similar prices and timeframes. Bringing in photos of your friends from home, family, pets, and important moments in your life can be a quick way to cover your walls and brighten up your space simultaneously.
Whether this busy semester may have pushed off your interior design plans until now or you have simply been waiting for inspiration to strike, these ideas are a great starting point to transform your place from boring and dull to happy and homey. All are simple, easy, and guaranteed to revamp a bland dorm into your home away from home.
Can't get enough of HC UMass Amherst? Be sure to follow us on Instagram, listen to us on Spotify, like us on Facebook, and read our latest Tweets!