For the last few years every Valentine's Day I have been able to rely on the "To All the Boys" films on Netflix for my annual dose of cheesy rom-com lovey-dovey-ness. With the final film now out, however, that tradition will sadly be coming to an end. Luckily, I was able to wrap it up in a super fun way, for I was one of many lucky fans to be on a Zoom call with Lana Condor and Noah Centineo! It was an amazing experience and they even took some fan questions. Want to hear some behind-the-scenes tea? Keep reading to find out! 

What Are Lana and Noah's Favorite Scenes?

I know if I were asked this question I wouldn't be able to answer, and Lana and Noah were no different. After joking that the question wasn't fair, Noah said that the scene at the bakery in NYC during the most recent film is his favorite. "It was a really cool moment for (Lana and I)" he stated, "Because (Lara Jean) was so afraid…and then it resolves nicely. You almost think we are going to get into a huge fight." 

Lana on the other hand kinda cheated and picked two scenes, one from the first and last film. "I think the contract scene in the first film (is a favorite of mine). It's just so true and pure…But in the third movie, I also love when Lara Jean comes back from Korea, and she's watching a movie with Peter and they are, like, cuddling. That felt very sweet to me."

I love both their picks so much, I think they are all super special moments throughout the trilogy!

Did Lara Jean and Peter Make It Through College Together?

At the end of the new movie, I thought it was implied that Lara Jean and Peter do make it through college together, but Lana feels otherwise! When she and Noah were asked where their characters would be in 10 years, she started by saying, "I see Lara Jean as an author or as a journalist or an editor. I see her working in literature in some form…and then running into Peter randomly in the streets of New York. I feel like they tried to make it work in college, but then they had to grow apart to be fully ready to be all in. Then they would run into each other at 25 or 30 as fully developed adults… and then I think they are happily ever after." 

Noah totally agreed, saying, "It's 'To All the Boys', how could they not end up together right?" Additionally, Noah thinks that in 10 years Peter would probably "Go on to play professional lacrosse, maybe even goes to the Olympic level, when he discovers a passion in history. So he actually goes to get his master's degree or PhD in history. And he starts to teach at a high school…" 

I believe both these storylines are super interesting! I especially love the idea that the two of them have to grow apart to really appreciate each other. Maybe they could run with that and make a reboot in 10 years? Honestly, I wouldn't mind that at all.

Lana Hid Behind a Pillar the Last Day of Shooting?

You might be reading the title of this section and raising a brow, but I'll provide some more clarity!

When asked what it was like to shoot the final scene of the film and knowing that they would be playing these characters for the last time, Noah blurted out, "Lana hid behind a pillar when it was, like, our last time together."

A little flushed, Lana continued saying, "Yeah, when it was Noah's day to wrap I avoided him at all costs because I knew if I saw him I would just burst into tears. And then when he shot his final scene, I was so emotional that I did what any normal person would do, and I hid behind a pillar and was hoping no one would find me, and Noah found me…it was very emotional and I didn't like it."

If I were in Lana's position, I would probably handle the situation in a very similar way. However, it's nice to know that she is just as attached to Lara Jean and the whole "To All the Boys" experience as all the fans are!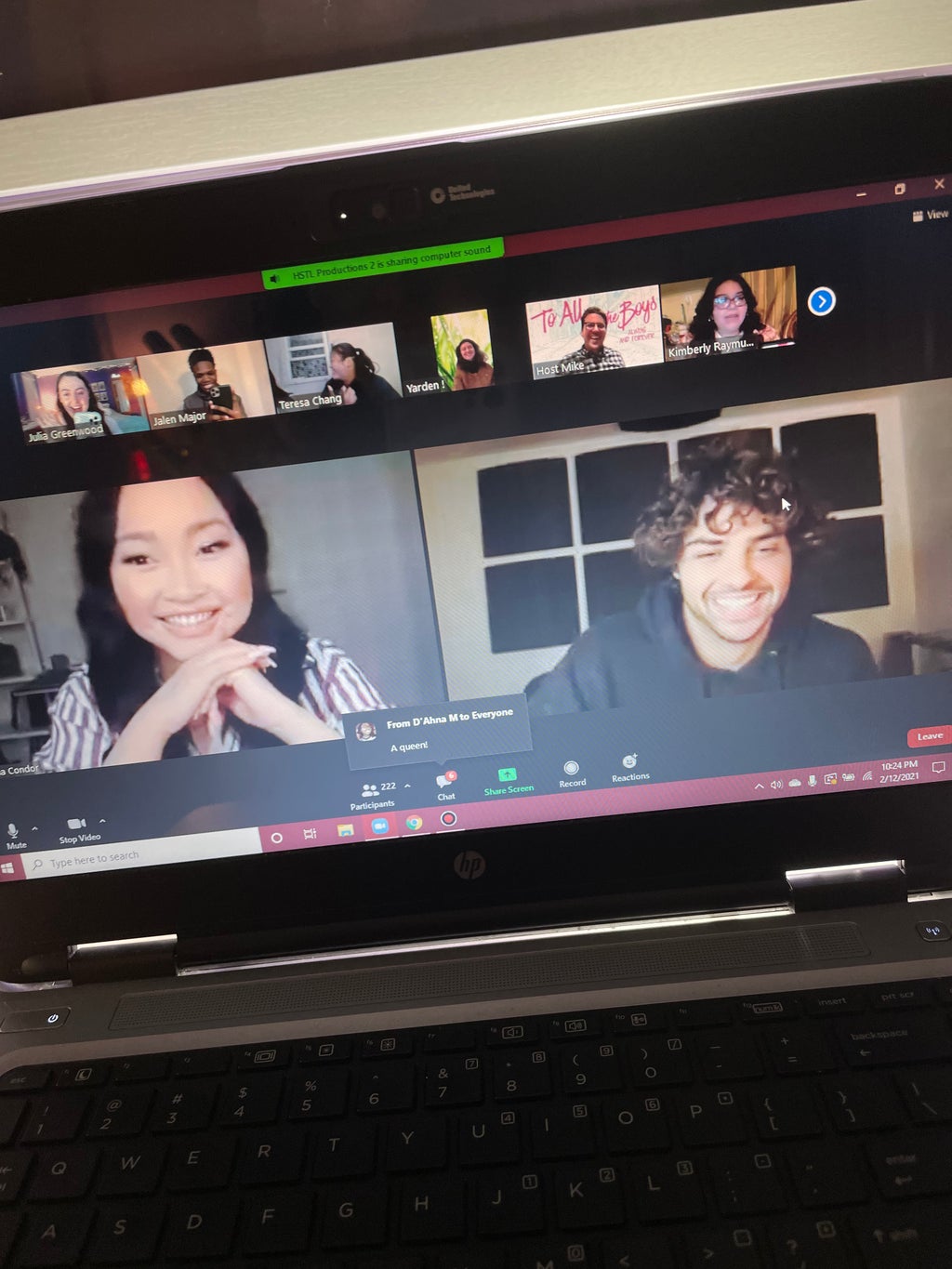 That was all the insider info from the "To All the Boys" fan Zoom Call! I truly am going to miss these movies so much and I know you probably will too. As Lana said at the end of the call, "We can all cry together!" So if you haven't already, grab some tissues and watch the final film in the "To All the Boys" series when you get the chance.