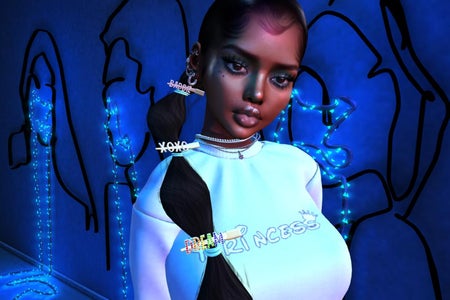 Shermarie Hyppolite / Second Life
3 Games To Play With Friends
*Disclaimer: I play all of these games on my MacBook Pro 2019, however PC games are made for gaming computers and do far better on computers that aren't Mac or a Chromebook. It's best to look up the PC requirements for these games because you don't want to end up pushing your computer past its limit! Of course, do what you feel is best!*
The pandemic has made it incredibly hard for people to truly connect in a physical setting. Due to the increase in COVID cases every day in the U.S., many people have been practicing social distancing and have been limiting how much human interaction they have. Being alone or around the same people everyday can get tiring and repetitive, and for many of us, our home lives have merged with our work lives creating a sense of repetition that is hard to break. This is a common feeling, and that is why so many people have turned to the creation that has made it possible to interact with people from the safety of your space: the internet! 
The internet is great for a lot of things like sharing social media posts, buying things you don't actually need off of Amazon, or taking a short five hour break on TikTok. One option that was often seen as a niche hobby, but has grown in popularity since the pandemic, is gaming!
According to World Economic Forum, COVID-19 has boosted engagement with video games and people in 2020 are more likely to spend hours on one or a few games rather than a short amount of time on many different games. Gaming is an at-home activity, but due to the pandemic, it has become a unifier, an activity that connects us to one another. If you are searching for virtual or video games to play, here are three that I think you will like!
Shermarie Hyppolite / Second Life

Second Life is a 3D virtual world where users can connect by meeting in virtual spaces, hosting parties, going on adventures, and so on! Users can also create content on Second Life that they can sell in-game. The money made in Second Life can then be transferred into real money! Second Life is known for being entirely user made, meaning everything you see has been made by a person who isn't associated with Linden Lab, the company that created Second Life. Just about anything you can think of is made possible, and if not, you can make it! Second Life is often seen as an upgraded version of IMVU, which is a virtual chat game, and Sims. I recently joined Second Life about one month ago because I was interested in the fashion aspect of it. I love playing dress-up and experimenting with makeup and interior design, and those are all things I get to explore online. I also love the social aspect. Since joining I've made friends who are from the Philippines, Spain, and Ohio! Here is a video that talks more about what Second Life is and why people join!

Sims is a highly popular game that has been around for 20 years! If you don't know, Sims is a life simulation video game that allows you to control the people, or sims, and choose what they do in their day, what their personality is like, and if they get married, have relationships or flings, or start families. Like any life simulation game, Sims series is mimicking real life, so your sims have the possibility of dying, or living very long lives (that is, if you don't stop their aging process). Creators have designed some amazing custom content (CC) that allows your sims to wear unique fashion, makeup, and hairstyles. People have also taken the time to create Mods, which create alternate adventures and worlds for your sims to experience, and creators, for the most part, do this for free! Over the years, the EA team has come out with four different Sims games, each containing multiple expansion packs. The latest Sims game is Sims 4, arguably the worst, but that's up for you to judge. Since there are four different Sims series to choose from, have fun deciding which Sims series to play! YouTube has an abundance of Sims gamers who have been playing for years, so if you want to try out the series, I recommend watching reviews first. If you want to laugh and get a real review, I recommend Carmen King (warning: her jokes can be very very sexual!). She often talks about the game while doing a gameplay, which is her just playing the game and creating fun and interesting storylines. You can download the game off of Origin. 

Among Us is an online multiplayer social game created by the indie company, InnerSloth. Among Us may have come late into 2020, but it has managed to establish a dedicated fanbase and gamers from all over the world! The game takes place in space, and the gamers are either crewmates or imposters. The goal of the crewmates is to complete tasks and find out who the imposter is so they can get rid of them. The imposters goal is to sabotage the crew and eliminate them before they are able to complete their tasks. The game is incredibly addicting, and to be honest, it's just as fun to watch! Just look at the queen AOC live streaming Among Us on Twitch in order to encourage voter turnout!