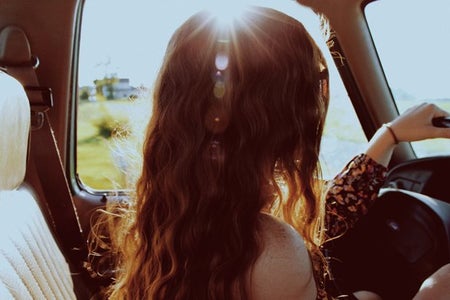 Amelia Kramer / Her Campus
Five Pros and Five Cons of Being a Commuter Student
My sophomore year I had a choice between living on campus in the dorms or living in an apartment - however, going with the latter meant that I had to find a place off-campus to live. When I was looking at options, I figured I could roll the dice and take my chances with random roommates at the many complexes of student housing available outside of the University of Maine (i.e. the Ave, Orchard Trails, the Reserve), try to find a one-bedroom in the Orono and Old Town area,  or I could go for the one-bedroom, one-bathroom apartment in Bangor that I had found. For that one, I filled out the application before I even saw the unit and after walking through both the unit and building with my father that summer, I was approved and the apartment was mine! 
I have lived there ever since, it is in a great location near downtown Bangor and it's exactly twenty minutes away from campus - which is definitely longer than a commute from the Ave or Orchard Trails Apartments but after nearly two years, I can say that every extra minute is worth it, for the most part. However as much as I love my apartment and don't mind the commute, with every pro to living off-campus and commuting, there is a con as well - so here's my list based on personal experience!
Pros of Being a Commuter Student
1.  The separation between school and home: This one might seem silly but having a bit of separation between where you go to school every day and your home can make all the difference. When I lived in the dorms, I felt as though I could never get a break from schoolwork, that I constantly ate, slept and studied in the same general square footage or I felt as though I was constantly around other people, so it's nice that whether it's during the twenty-minute drive home or just coming home and enjoying the solitude of my apartment, I can take a little bit of a breather!
2. Proximity to my internship: This one definitely doesn't apply to everybody, but right around the time I signed my lease for my apartment, I also was offered an intern position with Maine Volunteer Lawyers Project. I was interning in both Bangor and Ellsworth in the same year, so having my apartment located where it was enabled me to go back and forth easily especially because the Bangor office and in-person clinic are two minutes away, as opposed to having to drive an extra twenty minutes if I were to be living in Orono. Ellsworth is still quite a bit of a drive, but Bangor is a lot closer to the town than Orono, so it was only a plus that I could shave the trip by twenty minutes that way as well!
3. Getting to know another town and surrounding towns: Because I live in Bangor, I have been able to find some great spots in the Bangor and Brewer area that have become my local favorites. Whether it's places to eat such as Mason's and Fork & Spoon or activities like the Bog Walk or Goodwills in the area, I love that these places are as close as a block away or a less than a ten-minute drive away, because I felt as though the year I lived in Orono, I was able to get my fill on all it had to offer!
4. It feels a lot more adult: Now, I realize how that sounds but there is something about living in a city alone in your own apartment that makes you realize that you are truly responsible for taking care of yourself in every aspect. Because a lot of us go from our parents' or guardians' homes straight to the dorms and then onto student housing, a lot of students never get the chance to live alone and experience managing an apartment by themselves during their undergraduate, rather than switching off roles with roommates or sharing bathrooms with other students on their floor - if living in sophomore housing on campus. I feel as though living alone, I've learned to manage my time more productively as I have to schedule in laundry days (the laundry in my building is not in unit, it is coin-op in the basement) and I have to complete all my tasks (such as dishes, vacuuming, etc.) within the hours that are not labeled as quiet hours in my building, so this is my long way of saying, I have to hold myself to tasks that need to get completed since no one else is going to do them around here and I have to hold myself accountable for the state that my apartment is in -  whether that's clean or messy.
5. Friends and family visiting: I never had friends of mine visit me while I was residing in the dorms, however, I had a roommate who did and plenty of friends who have and I can definitively say that it is significantly easier for friends and family to visit me now that I have my own apartment. When friends come and visit, we don't have to figure out who is taking the twin bed and who's sleeping on the makeshift mattress on the floor - or worse, one of us takes the box spring and one takes the mattress pad. Because my apartment did not come furnished, I was able to find my own furniture through Craigslist and other popular websites, so here, I have a queen bed available or a chaise lounge couch that comfortably fits two, so whether it's my best friend from Massachusetts visiting or my dad coming up for a couple of weeks, I don't have to worry about figuring out sleeping arrangements!
Cons of Being a Commuter Student
1. You can't do anything last minute: This one is kind of obvious but if your friends in Orono want to do something last minute or spontaneous, you need at least a thirty minute warning between getting ready and driving there, unless you are a bit closer. However usually, if you aren't in the town, you do need a little bit of a heads up beyond five or ten minutes - I can't tell you how many times I've passed on invites just because timewise it was impossible to be at the event or restaurant at the same time as my friends who live in Orono were!
2. All my friends live in Orono: This also might not be applicable to everybody but all of my friends live in Orono or Old Town, for the most part, so sometimes it can feel as though you're missing out by not being in such close proximity to everybody. Especially when those friends move in with one another or start making plans to do so the following year. Thankfully, most of my friends are more than happy to come out to my apartment pretty frequently so this hasn't really ever been an issue!
3. If you have to go back and forth for whatever reason, it can get old: There have been plenty of days where I've had to drive up to school two or three times in a day, and let me tell you - that forty-minute round trip can get old... fast. However, most days I only drive up once or twice which is about the average so it's only on the off chance I change my mind and decide to go to the gym or offer to pick up a friend for dinner where I end up making that third roundtrip!
4. Sometimes you get stuck on campus: When making your schedule, you have to factor in transportation time, but at the same time, you have to figure out what you are going to do during those just-long-enough-to-get-lunch-and-sit-somewhere-but-not-long-enough-to-go-home breaks in between classes. What I mean by this is when you have an hour and a half break in between your two classes of the day and by the time you get to your car and out of the University of Maine parking lot (that usually takes about ten to fifteen minutes), you are already at an hour and fifteen minutes left of your break. After the twenty-minute drive home, you have about fifty-five minutes, but then you'll want to leave early in time to find parking prior to your next class - so you spend more time driving than you do at home - which ultimately just forces you to stay on campus and kill the time somehow.
5. Parking situations off-campus and on-campus:  Parking can be one of the biggest turn-offs of being a commuter student because more likely than not, with most apartments in the area I'm in - you have to pay for parking in your apartment buildings' lot or in the nearby garage and on top of that, up at campus, it can be a hassle because of the black lots and the continuous mess that is the parking situation up at campus. Whether it's because people don't know how to park correctly (don't at me, I understand it can get hard to see the lines when it snows.. but I find it hard to believe we don't know all of those widely known parking lots by heart by now, especially since it's the second semester of the year). That's really all I have to say about that.
So there you have it, five pros and five cons to living off-campus and being a commuter student. Obviously commuting can be different for everyone based on where you live, be it Orono, Old Town, Bangor or Brewer since depending on the location, you can be either five minutes, ten minutes, or twenty-plus minutes away, but I tried to be as general as I could in my list so that it applies to most! I know that a lot of people are signing leases right now and/or trying to figure out living situations for next year, so hopefully, this helps if you're considering being a commuter student yourself!