Thanks For Taking Me to The Moon, Moon Pie: How Waitress Changed My Life
If you did not get the chance to get acquainted with Waitress when it was on Broadway, you missed a life-altering experience. Waitress was first introduced to me on a high school choir trip. One in which I was not in the choir, and just graduated from my alma mater. A friend of mine had an extra ticket for their choir trip, and I couldn't say no to Broadway, a day in New York, and quality time with my friend and his choir. 
Waitress the Musical opened up shop on April 24, 2016. The musical made history with its run, having four women in major roles of the production. Sara Bareilles composed the music, Jessie Nelson wrote the book the show originated from, Diane Paulus directed, and choreography was done by Lorin Lataro. To top off this wonderfully girl-powered show, the musical was based on a movie made by Adrienne Shelley in 2007. 
Since that choir trip, I have seen Waitress two more times. Each time I saw the show, I was at a very different time in my life. The first time, I was pretty newly out of high school and begrudgingly attending a community college. The second was this past summer, between semesters when a friend from Iowa came to experience my little slice of the country. The last time was over Christmas break. The day after I arrived home, my mom took a friend and me into the city. It was the first time I drank a Martini in New York City, and the last time I'd get to see Waitress before they closed up shop on January 5th, 2020. 
Waitress tells the story of Jenna, a waitress at a pie diner in a small town. She feels trapped in her abusive marriage with Earl, and in the small town. She bakes the pies each morning for the diner as her mother taught her to. She's accompanied at the diner by her friends, Dawn and Becky. The storyline picks up when Jenna learns she is pregnant, goes to the OBGYN, and learns her doctor has retired. She's to be cared for by Dr. Pomatter. As the show continues, the audience watches as Jenna falls in love with Dr. Pomatter, is more and more terrified of having a child of her own, and navigates her rocky marriage. Dr. Pomatter comes into Jenna's life at a pivotal point. He makes her feel seen, appreciated, and like she matters. (Cue "You Matter to Me", which will make you cry every time).
The storyline of anxious Dawn learning to navigate love, and stubborn Becky having an affair with her boss due to a loveless marriage are played out through the show as well. Jenna saves up money for a pie contest in Illinois, where she could win the money she needs to leave Earl after the baby's born. Earl finds the money she'd hidden around the house, and she doesn't make it to the contest. (Cue "She Used To Be Mine", which will also make you cry). After the baby is born, and Jenna ends the affair with Dr. Pomatter, Earl enters the hospital room.
Jenna gives a frankly kick-ass speech about how she's done with him, and if he doesn't leave, she'll make him leave. The show ends with Jenna opening a diner of her own, given to her by the previous owner of the diner she worked at. While the rundown I've just given you is shoddy, the musical tells the story beautifully through song and humor. 
I was immensely privileged to see this show at all, and especially more than once. Waitress has resonated with me for the last two years of my life for a plethora of reasons. First of all, I've been listening to the soundtrack at least once daily for that span of time. Second of all, the characters are each so intricate in their own nature. I found myself in Jenna, in Dawn, and in Becky. Sometimes, I even found pieces of myself in Dr. Pomatter. The musical is full of wholesomeness and wraps you in warmth as you're engulfed in the story and music. Not to mention, it's witty and hilarious to comfort you through the emotional moments.
The show carries themes of every kind of love throughout. Whether it's love between friends, romantic love, or family love. Waitress proves that you can find love in the most unexpected places, and you can come to terms with loving yourself in the most unexpected ways. It also carries the theme of empowerment. Jenna broke free of what she felt trapped in and started a new life even in the same place, when she opens Lulu's Pies, after her daughter. I felt trapped in my small town, and in some of the relationships that were born there.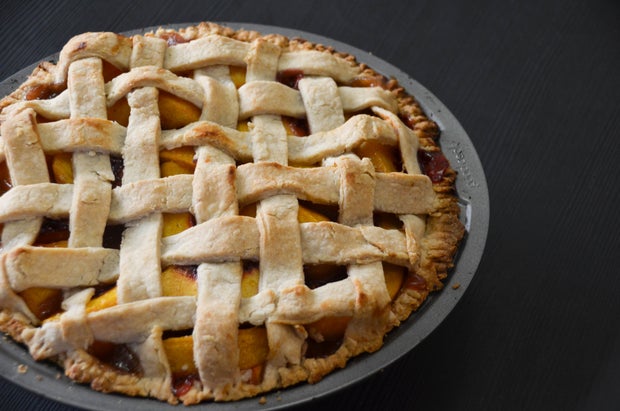 Jocelyn Hsu / Spoon
In each time I saw Waitress, I grew from the experience. I found a strength within myself I had allowed to sleep for too long, because of Waitress. I am a kinder, full of love, braver, and more powerful person because of Waitress. Thank you for taking me to the moon, and for changing my life. I'm forever grateful.