Remembering RBG: A Revolutionary Supreme Court Justice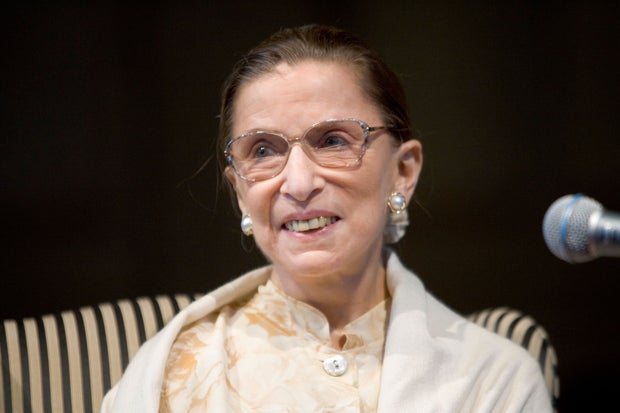 Photo by Wake Forest University School of Law distributed under a CC BY-NC-ND 2.0 license
The recent passing of Ruth Bader Ginsburg (RBG) came as a shock to everyone. In her years as a Justice, she brought so much good to the world. She made a vast amount of people in America hopeful for their futures. It's typical for many people to move on from a death in politics, but this is one we should not stray away from. We need to remember Justice Ginsburg and all the amazing things she has done not only for other people, but accomplishments she has made for herself:
SCHOOLING
Ruth Bader Ginsburg earned her bachelor's degree at Cornell University and after decided to go to law school at Harvard. She was one of nine women in a class of 500. She later transferred to Columbia Law School to be with her husband, Martin who got a job in New York. She became the first woman to be on two major law reviews: The Harvard Review and the Columbia Law Review. She graduated top of her class in 1959.
EARLY CAREER
Ginsburg started off her law career working as a professor at Rutgers Law School. There, she recognized that her male colleagues were being paid more than she and other female professors were. She fought tirelessly for equal pay for her and her female colleagues. RBG taught there from 1963 to 1972 and received tenure in 1969.
The same year she left Rutgers, Ginsburg went to teach at Columbia Law until 1980. She also received tenure from Columbia, making her the first tenured woman at that university. 
ACLU
RBG co-founded the Women's Rights Project at the American Civil Liberties Union in 1972. One year later she became the general counsel for the project. During her years on the Women's Rights Project, Ginsburg worked on over 300 gender discrimination cases, six of which were brought to the Supreme Court. Of the six SCOTUS cases, she won five. 
U.S COURT OF APPEALS & SUPREME COURT
In April of 1980, RBG was appointed to the DC Court of Appeals by President Jimmy Carter. A few months later she was approved by the United States and she received her commission later that day. She served the DC Court for 13 years before being appointed to the Supreme Court. In 1993, Ruth Bader Ginsburg was nominated by President Clinton as an Associate Justice of the Supreme Court. She replaced Judge Byron White, who had retired. Ginsburg was the first Jewish woman, and the second woman ever to be a Supreme Court Justice. 
CASES WORKED ON
RBG worked on many cases during her time as a Justice on the Supreme Court. Listed are just a few:
United States v. Virginia: recognized the Virginia Military Institute's male-only policy as violating a part of the 14th Amendment.

Ledbetter v. Goodyear: unequal pay in the plaintiff's place of employment. Unfortunately, the majority recognized the statute of limitations, and the case closed. Ginsburg saw this result as unfair and fought to have Congress amend the court's decision. After the election of President Obama, the Lilly Ledbetter Fair Pay Act was initiated. It was highly inspired by the case and Justice Ginsburg.

Olmstead v. L.C.: ruled that mental illnesses are considered a type of disability under the ADA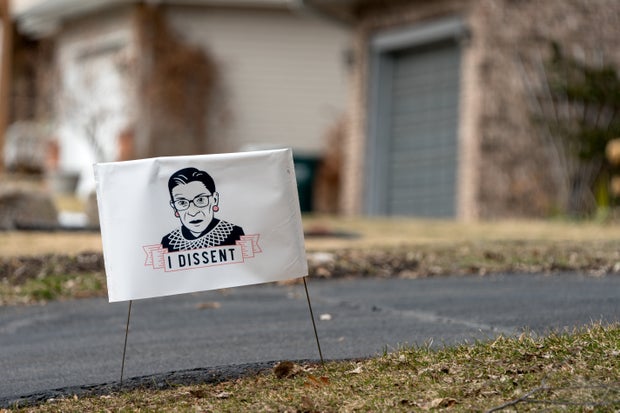 Photo by Lorie Shaull distributed under a CC BY-SA 2.0 license
There is so much more that Justice Ginsburg did for so many different people in the United States. Her death is a tragedy to me and a huge amount of people in this country. As a woman, she gave me rights that I wouldn't have had otherwise in this country, and she fought until the very end, and for that I will always be thankful to Ruth. Instead of being scared (which we all have the right to be), I want to fight to keep improving our country in the name of equality and a better life, and I encourage you all to do the same. And let's all do it while remembering what a badass Justice Ginsburg was.
Citations:
Acosta, Lucas. "HRC Remembers U.S. Supreme Court Justice Ruth Bader Ginsburg." HRC, 18 Sept. 2020, www.hrc.org/press-releases/human-rights-campaign-remembers-u-s-supreme-c...
Bourque, Katie. "Ruth Bader Ginsburg's Fight for Equal Rights Began Long Before She Was a Supreme Court Justice." Good Housekeeping, Good Housekeeping, 23 Sept. 2020, www.goodhousekeeping.com/life/g34111816/ruth-bader-ginsburg-accomplishme...
Donvito, Tina. "15 Ways Justice Ruth Bader Ginsburg Has Made History." Reader's Digest, Reader's Digest, 19 Sept. 2020, www.rd.com/article/ruth-bader-ginsburg/. 
History.com Editors. "Ruth Bader Ginsburg." History.com, A&E Television Networks, 9 Nov. 2009, www.history.com/topics/womens-history/ruth-bader-ginsburg. 
Updated on September 21, 2020
"Ruth Bader Ginsburg." Wikipedia, Wikimedia Foundation, 1 Oct. 2020, en.wikipedia.org/wiki/Ruth_Bader_Ginsburg.