How To Be Cute and Comfy This Thanksgiving
Thanksgiving can be a stressful time for college students. Seeing your family almost always leads to dozens of questions about school, your future, and even your relationship status. The last thing you want to worry about is your outfit. Yet, every year at Thanksgiving, I fight the internal battle between dressing cute and having to unbuckle my jeans when post-feast food baby hits, or just throwing on a pair of leggings and a sweatshirt and avoiding the discomfort of suddenly gaining five pounds in tight pants. Usually, I look cute for the first three hours of Thanksgiving, and then as soon as I am finished eating, I change into sweatpants. But this year, I'm determined to dress nice the entire time, and not look like a bum. Finding a happy medium between fashion and comfort was a little difficult, but I think I finally have it down. Here are the best articles of clothing to wear to your Thanksgiving this year:
1. Sweater
Paired with a pair of leggings and some cute booties, sweaters are a perfect way to hide post-feast bloat. You can dress it up with jeans, or even a cute skirt. Adding accessories like jewelry or a scarf can make your outfit fit-in even more with fall fashion. Plus, wearing a sweater almost guarantees that you will be comfortable all night, perfect for a post-dinner nap.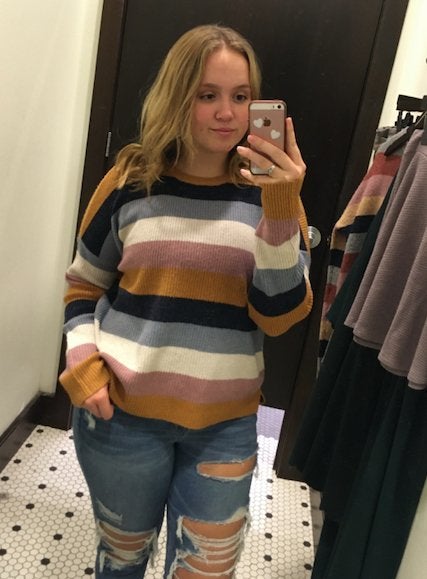 2. Skirt
Skirts are the staple of cute fall fashion. Skirts paired with a sweater, a bodysuit, or just a t-shirt ensure that you will be comfortable and cute for Thanksgiving. Ultimately, they are the most versatile piece of clothing to have in your closet. You can wear a skirt with a sweater and a cute scarf, and be super cozy, or just wear a black shirt like me with some jewelry, and have a more casual look. Plus, wearing a skirt with stretchy material pretty much guarantees all-night comfort, and is perfect for however you celebrate! The stretchy material is definitely key here!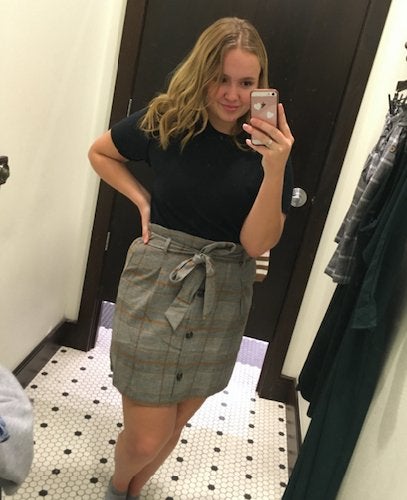 3. Dress
If you're looking to get a little more dressed up this year, then dresses can be the perfect option. If you know you're going to eat a ton of mashed potatoes, like me, you can go for stretchy fabric, like cotton, which will help you stay comfortable the entire night. Plus, you can easily make the dress look less fancy by pairing it with your favorite scarf or cardigan. If you do prefer to keep the dress fancy, adding jewelry and a cute pair of heels is the way to go. Ultimately, with a cute simple dress, you really can't go wrong!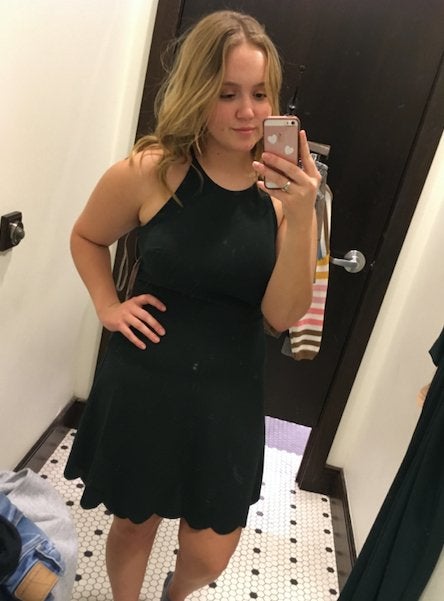 4. Jumpsuit
If you're debating between being dressed-up or just wearing a pair of pants and a cute shirt, may I present the jumpsuit. Jumpsuits are a fashion-forward option that are simple enough that you don't have to put much thought into your outfit. You don't have to spend an hour mixing and matching different shirts and pants. Just add some jewelry to your look, and your outfit is complete. If you're worried about bloating, you can always wear a black jumpsuit, which will help hide any food-baby situations.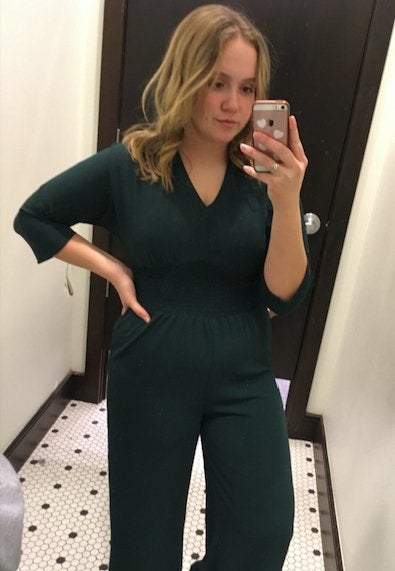 With any of these fall-fashion outfits, being cute and cozy all Thanksgiving is inevitable. However you choose to dress this holiday, wearing something that you feel comfortable in, and makes you feel good about yourself, is key. Be true to yourself, follow your heart, and the perfect outfit is sure to follow. And even if it doesn't, there's always next year! 
All images by author