Football's Back! But What Do I Wear?
Break out your bibs, bleach-dyed sweatshirts, bandanas, and Hawkeye face masks, the wait is ~almost~ over – Iowa Football will be back October 24.
Usually we get to welcome in college football season in near 100 degree heat, but this year your cheer skirts and crop tops will have to stay at home (unless you don't get cold – I respect that). The delayed football season means cold fall weather during all of your tailgating and football-watching antics. It brings the question: what the heck do we wear?
As a big Hawkeye football enthusiast, I'm no stranger to a favorite game-day outfit or two. Game-day picks? Can't beat them. But this unexpected football season hindered my preparedness to rock on-trend fits in a few weeks.
This year's top styles aren't too different from what was popular last year – think bulky sweatshirts, biker shorts, tight-fitted turtlenecks with a cute graphic tee, and Doc Martins.
Of course, we want to keep in mind the social limitations of our current situation – so, if you plan on rocking any of these looks, make sure you are doing it within a small group of people and sporting a mask.
Outfit 1: The "there's a football game today? I didn't know" girl
She's the cool girl on campus: picture a tight black turtleneck, oversized bleach-dyed tee, biker shorts, Nike Air Force 1's, gold jewelry, and statement sunglasses. Pair it with an all-black mask and you're sure to have the most effortless – but I actually put a lot of effort in – outfit at tailgate.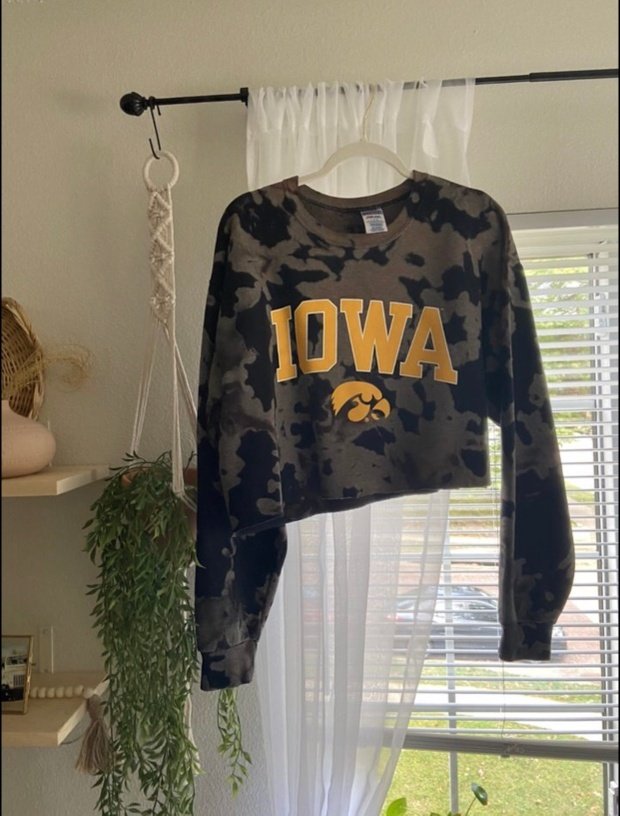 Original photo by Rachel Arndt
Outfit 2: "G'awks!"
This girl has been PRAYING for football since January. It's not about the outfit, it's about the game: but she still wants to look enviably good. Pair an oversized sweatshirt with black leggings, a gold bandana, and a Hawkeye face mask to complete the look. You are sure to stay warm – and fashionable – until Kirk exits the field.
If there's one thing we can say about quarantine, it's that it gave us some great opportunities to DIY. So, if you're in need of some quick on-trend items, pull out your bleach and paint to make some pieces that are sure to catch everyone's attention.
Outfit 3: "I couldn't wait for football to start all of quarantine"
Did you paint an entire Hawkeye football tailgate outfit over quarantine? Because I definitely did not. BUT, I have some extremely talented friends that did (shoutout U of I senior Maddee Whitehead). If you want the look, pick up some stencils, paint, and old jeans (Goodwill and Salvation Army are great options if you're not looking to get crafty with your favorite pair of jeans) and get ready to upcycle the -ish out of them. Still looking for another project? Try a tie-dye mask!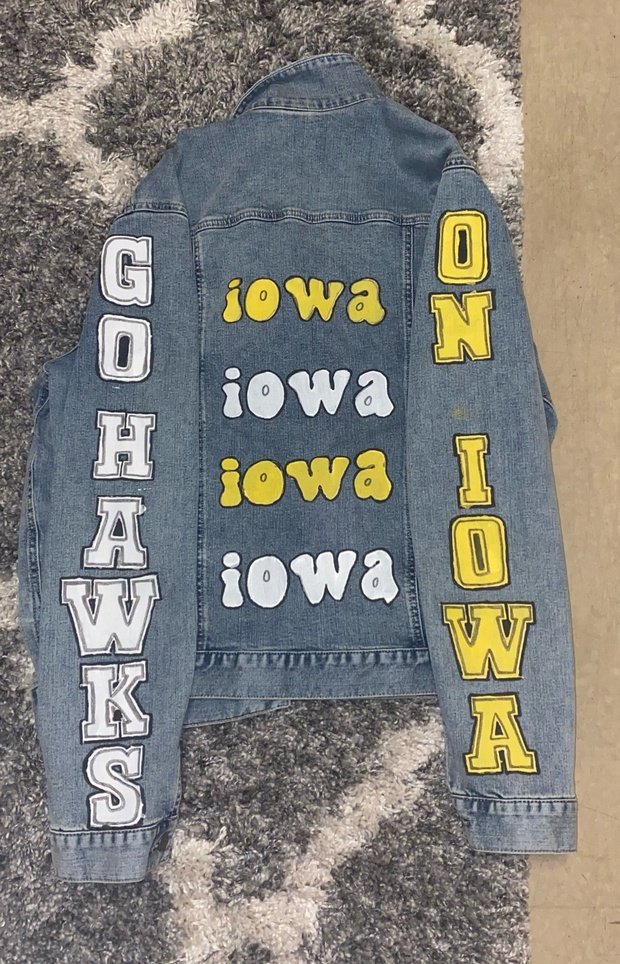 Original photo by Maddee Whitehead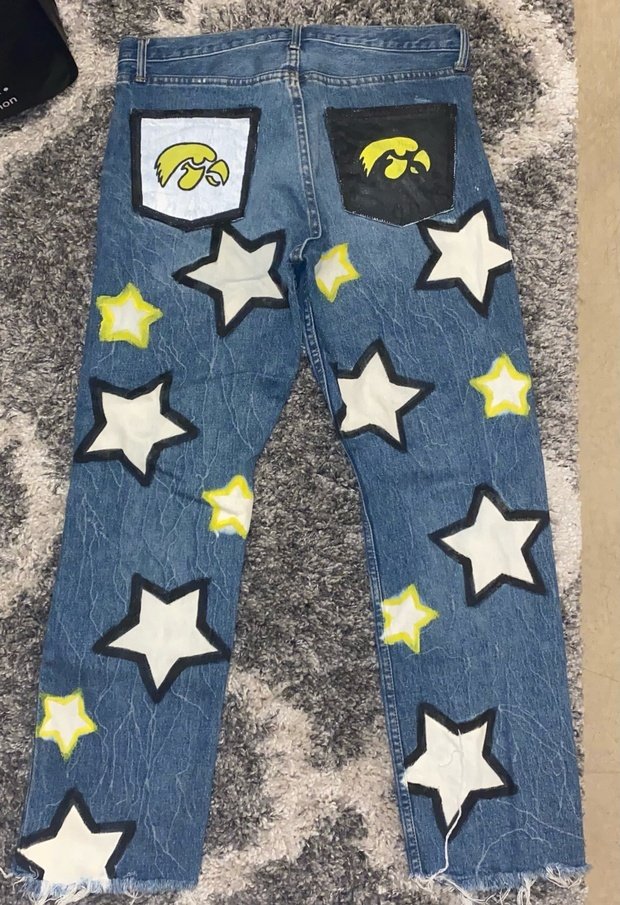 Original photo by Maddee Whitehead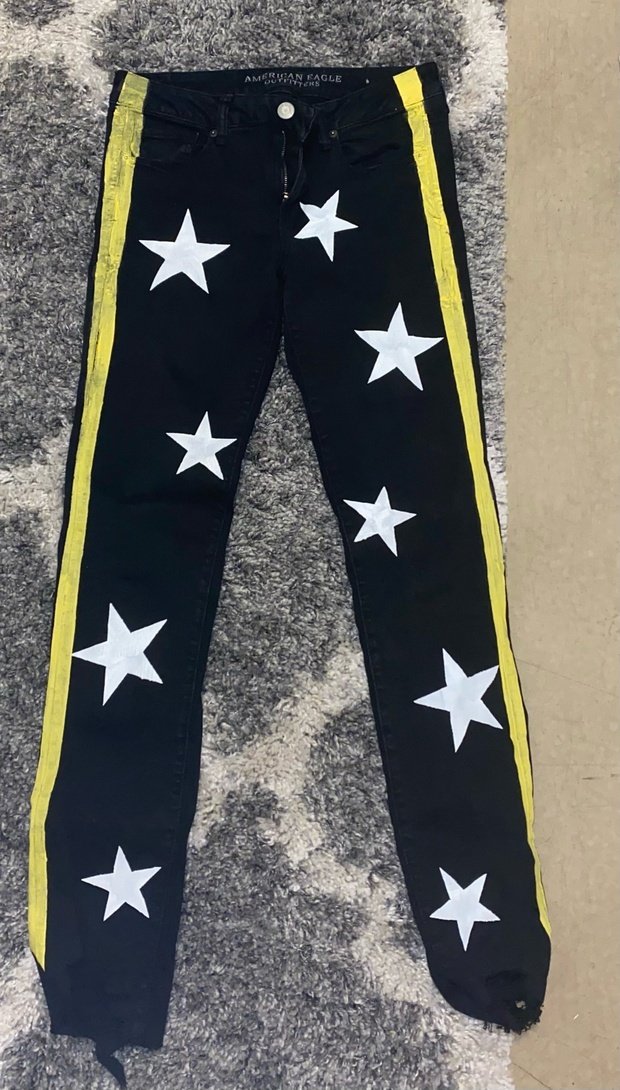 Original photo by Maddee Whitehead The great thing about all of these looks is that they're basic essentials for the standard Iowa Hawkeye. All you have to do is find those key pieces in your closet – maybe it's that old OnIowa! T-shirt you've kept to DIY – and create a unique look that captures not only everyone's attention, but your unique style. Looking for that perfect piece to complete your outfit? Check out PINK's college apparel, your local Goodwill or Salvation Army, and local artists/boutiques like Catherine's.
Do you have any great game-day looks inspired by this article? Make sure you tag @hercampusiowa in your posts!