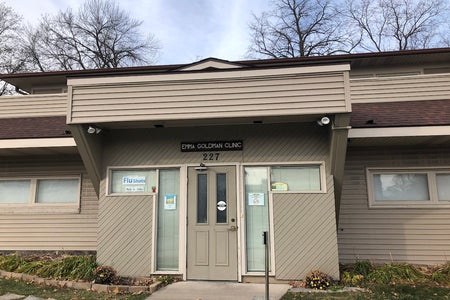 The Emma Goldman Clinic: Challenging Social Norms in the Name of Health Care
The Emma Goldman Clinic has been open since September after the Roe v. Wade decision, which was in January of 1973. The clinic has been running for almost 47 years. It's moved locations just once, from N. Dodge to its current home at 227 N. Dubuque St. The clinic has eight full-time staff members and five part-time staff members. Jobs are rotated in the clinic, a concept that stems from the Emma Goldman Clinic's beginning as a collective in the 70s. The clinic saw about 1,700 visits this fiscal year, ending on September 30th. Approximately 600 of those visits were for abortion services. People from all over the surrounding states like western Illinois and Missouri come to the clinic for care, since there are fewer providers to be seen. 
On November 8th, after a brief hang out listening to jazz in the lobby of the Emma Goldman Clinic, I got the opportunity to sit down with the Executive Director Francine Thompson to discuss all things about the clinic, including and not limited to why the Emma Goldman Clinic is not just a women's clinic. The Emma Goldman Clinic is a reproductive health clinic for all genders and identities.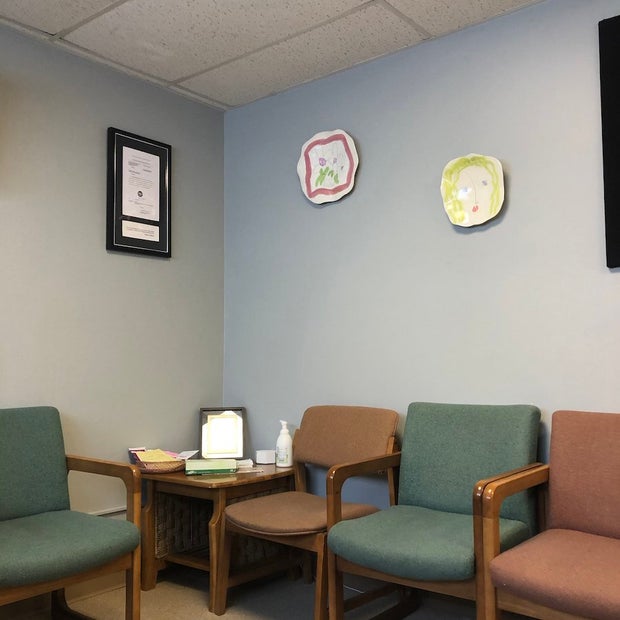 Q. What services are provided here at the clinic?
A. We're most well known for our abortion services. We provide first and second-trimester abortion services. Our first trimester services include surgical and non-surgical procedures, so medication abortion. We also provide a full range of reproductive and contraceptive options for folks needing those services. That includes more common birth control pills, hormonal contraception, long-acting reversible contraception like implants and IUDs. We provide STI screening and testing and gender health care including the ability to prescribe hormones for folks that are transitioning. In our walk-in service, we offer some things that aren't often seen as reproductive health care like strep tests and flu shots, UTI screening and treatment.
Q. Can you tell me about the Emma Goldman Clinic Access Project? What does that entail?
A. The Access Fund is named for a U of I physician who was integral in starting the abortion services at the University of Iowa in the 1970s. He also worked with and supported the Emma Goldman Clinic. That fund was set up to help folks living on lower incomes have access to reproductive health care. Last year we subsidized approximately $98,000 for folks who were needing some help with services. We really see a number of people who just based on the current economy, the price of healthcare, the insurance coverage for reproductive services including abortion — or lack of. About 70% of the clients that we see use some form of a subsidy.
Q. How does the clinic deal with protestors?
A. We certainly respect a person's right to protest and their first amendment rights as long as they are complying with the law. In terms of our interaction with protestors, we really don't do a lot. We encourage our staff and supporters to not engage. We want the staff and the clients who come in to be safe. We recognize that there has been violence associated with protestors in front of clinics that provide abortions, so we have a kind of heightened awareness. With every staff member and volunteer, we do security training so that they're aware of the parameters of the law. They know what the protestors are able to do and aren't able to do. We inform our clients that there is a potential for protesters when they come for a visit.
The good thing we do is that we offer the option for supporters to use the protestors as a benefit to the clinic. We have a program called Pledge a Picketer so that folks are able to make a dollar amount pledge based on the number of protesters that happen over the course of the month. This way, supporters also get information about the protestors at the clinic and if there's any unusual activity.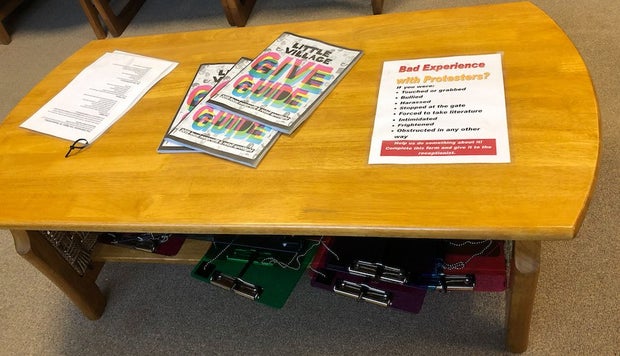 Q. Have you dealt with harassment from protestors or has it been more of a peaceful disagreement situation?
A. What's the legal term for harassment? We've certainly had clients who have felt harassed and like their privacy has been invaded. We have a couple of protestors that wear GoPro cameras and who immediately, as someone is getting out of the car, have conversations with them — yelling at them. Saying things like, don't kill your baby, we'll take care of you! Does that fit the legal definition of harassment? I'm not sure that's true, but I would say that those folks who have to deal with that certainly feel harassed and their privacy is invaded. It's not just the clients who experience that, it's folks who are just walking down Dubuque. They try to engage those folks as well. They've identified themselves as Sidewalk Evangelists, trying to spread their message to every person they interact with.
Q. How did the clinic handle the proposed Heartbeat law?
A. We were actually one of the plaintiffs in the lawsuit, along with Planned Parenthood of the Heartland and Iowa ACLU, the Emma Goldman Clinic also joined forces with those organizations. We were very involved in the six-week ban and very excited that it was ruled unconstitutional.
Q. Can you tell me about the Trans Health Initiative and how the process of learning to care for those who identify differently than the "societal norm"? 
A. [The Trans Health service] is continually evolving because that service is continually evolving. Over time, the terms have changed. It's been a continuing education process. We try to stay really informed and open to whatever new is going on. We provide care for both folks who are transitioning FTM (female to male), MTF (male to female), and hormones if that's wanted and requested. We also give referrals for any care they might want to get that's beyond our scope.
It's really interesting, it's one of our fastest-growing services. Even though there's a very large and very excellent facility in the community associated with Iowa River Landing and two prominent providers there, we see a lot of rural people who don't want to go through the huge university system. They also have a really long wait to be seen. We're really seen as that smaller, more personable option for folks who sometimes have not had the most positive experiences with health care in a larger setting where their individual needs may have been ignored, or just not noticed. Not ignored necessarily intentionally, but just not noticed. We really just try to stay on top of the changing protocols, the language, whatever's out there. It's ever-changing.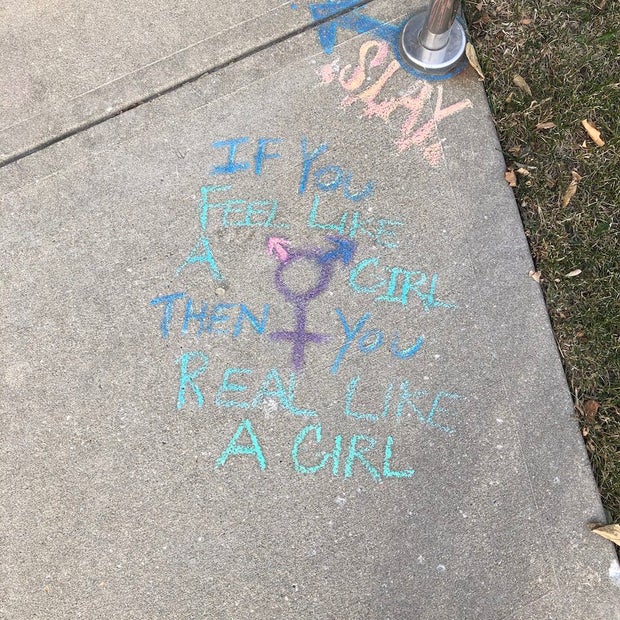 Q. Do you have a lot of male patients? Do you find these patients receive negative feedback from the people in their lives for coming to what's considered a "women's clinic"?
A. I haven't heard that. We do have a significant number of clients that identify as male. We primarily see them for wellness visits, for sports or work physicals, STI treatment. I think that we have been really working hard to identify and market the clinic as a reproductive health care clinic in comprehensively that we see women, men, and all folks who fall in the spectrum of identities so that we're not just a women's health care clinic. That's a long-standing marketing trill that we need to travel because when you think about abortion, that's just women. Women get pregnant but we know that folks who don't identify as women also get pregnant and decide not to continue the pregnancy. People who would make decisions about where they're going to be seen as serving primarily women and although that's true, I don't think that's our mission. We just continue to challenge that thought, that we see everybody for reproductive health care.
When we first started seeing men, we actually started with sports physicals. We were marketing to the sons of the women who were being seen here. What better place we could talk about aggression, we could talk about consent, we could talk about risk-taking. It was the perfect place for a young male to get a sports physical and get those extra conversations besides clinically what would happen. We were making an effort to have men included in the health care process not just through the problems that they create for women, but sometimes as fathers, sons, uncles, partners. We want to continue to put out there that we're a reproductive clinic that provides care for all genders and identities.
Q. What's the importance of independent clinics? 
A. I wanted to mention this because there are some changes going on. We are an independent, non-profit clinic. We identify as feminist and there are not a lot of us around in the U.S. anymore. The importance is that with Trump's gag rule, there's going to be even less unbiased options for people seeking reproductive health care. As some of those places that were getting Title X funds make decisions to not get those funds, we're already seeing that crisis pregnancy centers are trying to fill that gap. We know that they are not unbiased, their primary mission is to end abortion. It's really important that independent clinics stay around. Independent clinics are not Planned Parenthoods, not University hospitals or physician offices. They provide the majority of abortions in the U.S. even though there are less of them. They provide over 75% of the abortions that are performed beyond 18 weeks. When independent clinics close, options for abortion services close and access becomes even more restricted. Sadly, they're closing at an alarming rate. In 2010, there were 510. In 2018, there were only 370 or so. They've closed about 28% of the clinics since 2012. Some of that is because they're usually freestanding clinics, like Emma, we don't have a national body. We don't have 6 clinics throughout the state. When access becomes harder, and there are more restrictions that often translate into operational cost, when you need to do X, Y and Z, a clinic has to purchase X, Y and Z or the staff has to do X, Y and Z. So, it impacts the ability of clinics to stay open and deliver care.
Independent clinics see the majority of folks living on lower incomes and have those subsidies. As I mentioned earlier, $98,000 in subsidies is a huge amount for a clinic this size. What does that mean when we think about salaries, raises, upkeep, renovation?  I don't mean foofoo, I just mean upkeep. Those are the clinics that see the majority of women living on lower incomes and that's also one of the reasons that some of those facilities are closing. ...unless you're funded by somebody — the government or something, it's really hard to run a free clinic. A free clinic is not a free clinic, or even a low-income clinic is low income in terms of the people that you see, but you still have to run and manage the clinic. 70% is a pretty high number for us to have that many folks who are using the subsidy.  At some point, we have to have folks that are paying the full amount of the fee in order to cover the cost for us to be able to provide the service. Independent clinics are really important.
The Emma Goldman Clinic is not just for women, and it's immensely important. Thank you to Francine Thompson for sitting down with me and teaching me about the clinic and all they do, I'm so grateful. You can find out more about it at https://www.emmagoldman.com/.