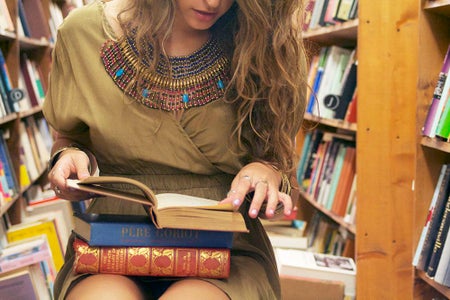 The Top 5 Best Literary Adaptations on YouTube
We all know the feeling we get when a teacher asks us to read something we don't want to and let's be honest, some of the older books are like watching paint dry. Luckily, there are people out there who have read those exact books for us and have done a visual Sparknotes. 
Giphy
Listen, I have to be honest here. Pride and Prejudice is one of my favorite books and everyone should read it at least once. However, the language can be hard to navigate and it can be dry at times. It's enough to make you want to put down the book and never pick it back up. Thankfully, we have our friends over at Pemberley Digital who decided to adapt an iconic book into an easy to understand web series. Told over the span of a hundred episodes, the series follows the highs and lows of Elizabeth (Lizzie) Bennet. It shows Lizzie as a modern-day grad student dealing with the very real monstrosity of student loans, her meddling mother, and the love lives of herself and her sisters (Only Lydia and Jane are featured, but Mary takes the form of a cousin and Kitty is Lydia's cat). And while this version doesn't feature a romantic proposal in the rain or a Darcy with a wet shirt, it does boast the most realistic Darcy to boot. 

Another iconic Jane Austen novel hits our computer screens in the form of Emma Approved, a modern-day retelling of Emma. As with any novel published before the 20th century, it can be very hard to understand, but luckily, Pemberly Digital is at it again. They have taken a classic heroine and adapted her into a gutsy young entrepreneur who co-runs her own event planning company with lifelong friend, Alex Knightly (If you know how the book ends, you know where this is going). The series runs for seventy-two episodes, considerably shorter than it's sister, The Lizzie Bennet Diaries, but it is enough to thoroughly get the storyline across. Throughout the series, key characters are introduced in a seamless way that makes sense in the overall storyline and goes along with the business vibe that is set at the beginning. While Emam Woodhouse is definitely one of Austen's harder heroines to take a liking to, you'll feel an attachment to her by the third episode. 

 

This is a step away from the traditional literary retelling of one book. Instead, it tells the story of many books. Also, even though it was bought by Amazon, it started as an amazing web series. Classic Alice tells the story of Alice Rackham, a well-off college student at a fictional Ivy-League school, Valeton University. After receiving a "failing" (It was a B-) grade on an essay, the aspiring writer decides to live her life based on the decisions of characters in classic novels. Throughout the show, Alice explores many books that may come up on required reading lists, from Crime and Punishment to Dracula. It is an interesting spin on learning about different books and will inspire you to maybe pick up a novel you haven't read before! 

 

4.

The New Adventures of Peter and Wendy 

As you can probably tell from the title, The New Adventures of Peter and Wendy is a modern retelling of Peter Pan. However, this isn't the sensationalized Disney version we all know, but rather, J.M. Barrie's original novel, Peter Pan. The show follows a 27-year-old Wendy Darling, who lives in Neverland, Ohio, with her family. She opens up the series with advice on growing up, but only has time to read one review before being interrupted by her best friend, Peter Pan. How does he do this? Well, you guessed it, he climbs through the window. Peter quickly drops a spiel about how they're going to party at Neverland's founding festival (that is in honor of J.M. Barrie :)) and they are joined by Wendy's brothers, Michael and John. However, based on the ending, Peter wants to be more than "just friends" with Wendy. But for now, he's stuck in the friend zone. If the suspense doesn't make you want to keep watching, the silly, beautiful retelling surely will. 

 

5.

The Autobiography of Jane Eyre 

This gorgeous retelling of Charlotte Bronte's classic novel is a fantastic way to help readers get through Jane Eyre, or just to understand it better. The series follows Jane, a twenty-one-year-old recent nursing graduate, who is pretty introverted. It follows the route of the book pretty closely, however, Jane moves directly to working as a live-in-tutor for the Rochester family. But the ending of the series is dramatically different from the book, and Jane really finds herself. 
Now whether you're bored or looking for your next great read, these series are ALL more than worth your time. So go forth into your newfound obsession! 
Giphy