Going to a school with 18,000+ undergraduate students can be overwhelming. However, there are plenty of ways to make this big university feel just a little bit smaller. Here are a few ways you can get to know more students, who may have similar interests and goals that you do: 
1. actually go to club fairs
Yes, it may be extremely scary to walk up to a table of students and ask them about their club and why they like it. It's important to know that they want to have people like you take those risks because they were in the same boat before you. Without doing this, you could miss out on a great opportunity to get involved. A tip I have for an event like this is to research organizations that spark your interest ahead of time, so you aren't overwhelmed with a bunch of tables and people scattered through Fairfield Way. 
Check out UConntact to view and search all clubs UConn has to offer!
2. Support UConn Athletics!
Some of my best memories at school thus far have been attending basketball games. If you live in a dorm, ask your roommate, or a floormate to go to a game with you! The student section at any sporting event is so much fun, and there is so much spirit while everyone is watching and cheering on UConn together. There is high energy, and there are so many opportunities to get to know people you may not see on a regular basis. The best part is that tickets are free for students so there really is no excuse to not be there!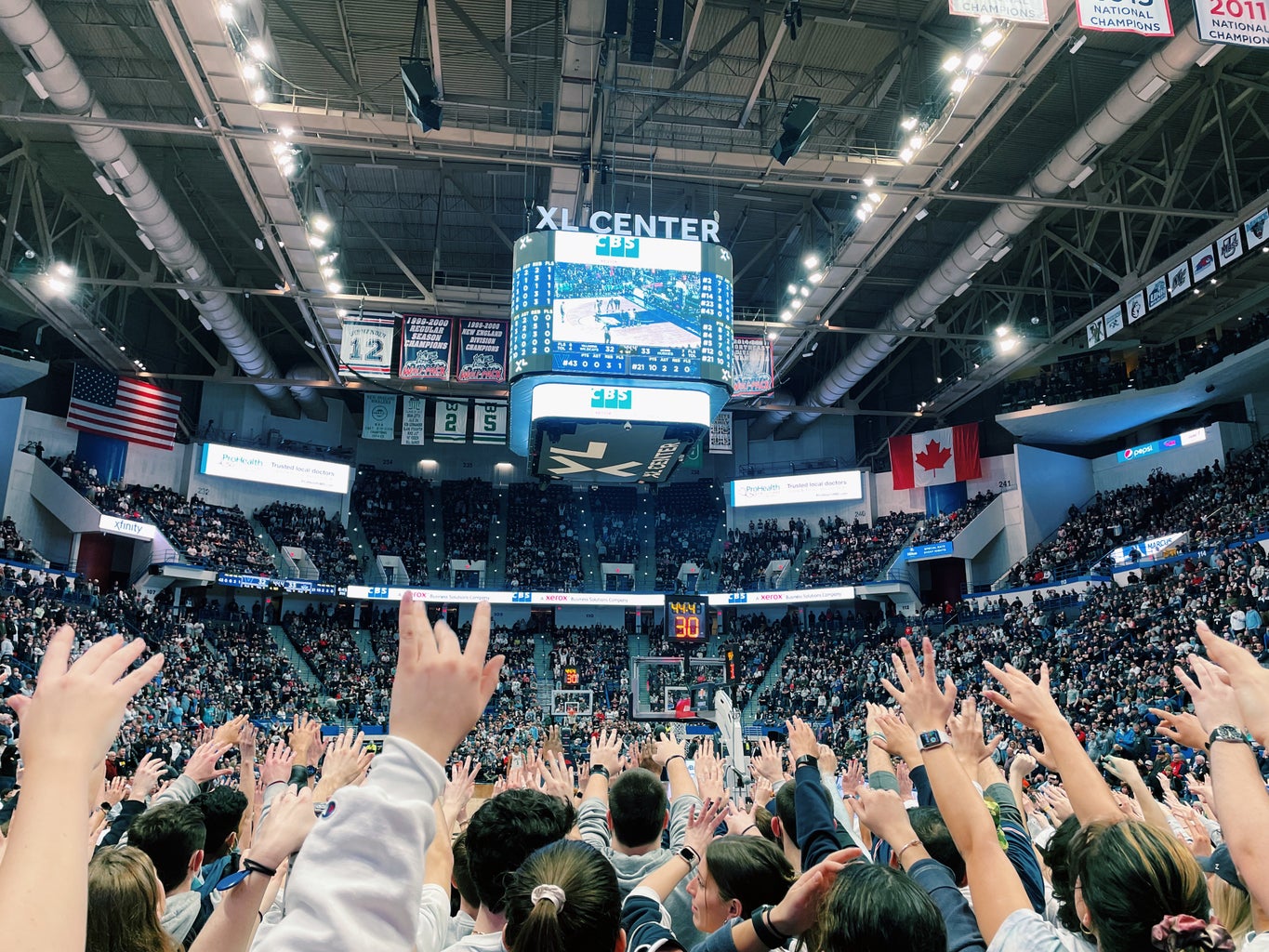 Check out UConn sports tickets here.
3. stay on campus as much as possible
If you're tucked away in your room and only really out and about to go to class, you should try to spend a little bit more time on campus during the day. It doesn't need to be every single day, but small steps are better than nothing. Hang out in the library, eat lunch at the Union, or even attend a workout class at the Rec. This will not only allow you to have more social interaction, but it will also improve your mental health and give your day more structure. And who knows, you could meet a new friend in any of these places!
4. introduce yourself to someone sitting next to you in class, or compliment someone
It may feel a little awkward to talk to someone you don't really know, but it's important to feel comfortable in a class setting, and it may make you feel more connected to the community. You could start with something small, like asking someone a question if you have one, or telling them you like their sweatshirt. You never know where small interactions like this one can lead.
5. be yourself and be open to new experiences
It's important to always remember that we are all in the same boat. No one has this life thing all figured out, and that is completely okay. We are here to try new things, figure out what our goals and values are, and have fun while doing it. Be yourself and be open to trying new things as long as you are comfortable with doing so, and everything will fall into place!