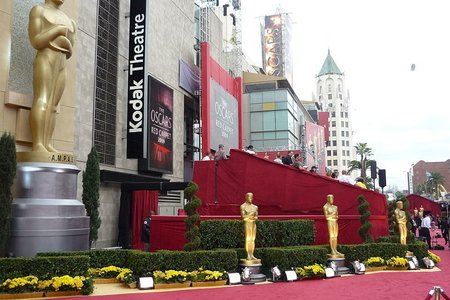 A Recap of the 92nd Oscars
This past Sunday, February 9th, the 92nd Academy Awards took place at the Dolby Theatre in Los Angeles. If you didn't get a chance to watch, here's what you missed.
Best Picture
Nominees: Ford v. Ferrari, The Irishman, JoJo Rabbit, Joker, Little Women, Marriage Story, 1917, Once Upon a Time...in Hollywood, Parasite
Winner: Parasite
Parasite is the first foreign language film to be nominated for and to win an Oscar. The international film dominated the awards ceremony, taking home six Oscars. Parasite is a dark comedy-thriller that comments on social class. The film follows a poor family who schemes their way into becoming employed by a rich family. Hired as tutors, the poor family members pretend to be well-educated and qualified. The New York Times calls the film "brilliant and deeply unsettling." During the acceptance speech, Kwak Sin-ae, one of the film's producers, stated "a very opportune moment in history is happening right now."  
Actress in a Leading Role
Nominees: Cynthia Erivo (Harriet), Scarlett Johansson (Marriage Story), Saoirse Ronan (Little Women), Charlize Theron (Bombshell), Renée Zellweger (Judy)
Winner: Renée Zellweger 
This is the second Oscar win for Renée Zellweger for her role as Judy Garland in Judy. Judy is a tribute to the legendary Judy Garland. The film follows her career, from being exploited as a young actress in The Wizard of Oz, to singing in London later in life and her struggle with addiction.
Actor in a Leading Role
Nominees: Antonio Banderas (Pain and Glory), Leonardo DiCaprio (Once Upon a Time...in Hollywood), Adam Driver (Marriage Story), Joaquin Phoenix (Joker), Jonathan Pryce (The Two Popes)
Winner: Joaquin Phoenix
This is the fourth nomination and first win for Joaquin Phoenix. In Joker, Phoenix plays failed comedian Arthur Fleck. As the film continues, Fleck evolves into the criminal mastermind known as the Joker. Known for his unusual speeches, Phoenix did not let the audience down on Sunday night. The actor spoke out about injustices like racism, gender inequality, and stealing the offspring and milk from cows (memorable as always).
Actress in a Supporting Role
Nominees: Kathy Bates (Richard Jewell), Laura Dern (Marriage Story), Scarlett Johansson (JoJo Rabbit), Florence Pugh (Little Women), Margot Robbie (Bombshell)
Winner: Laura Dern
In Marriage Story, Laura Dern plays a fiesty divorce lawyer representing Nicole, played by Scarlett Johansson. This is Laura Dern's first win and third Oscar nomination. Dern, whose birthday is February 10th, stated in her speech that this was "the best birthday present ever."
Actor in a Supporting Role 
Nominees: Tom Hanks (A Beautiful Day in the Neighborhood), Anthony Hopkins (The Two Popes), Al Pacino (The Irishman), Joe Pesci (The Irishman), Brad Pitt (Once Upon a Time...in Hollywood)
Winner: Brad Pitt
In Once Upon a Time...in Hollywood, Pitt plays Cliff Booth, best friend and stunt double to actor Rick Dalton, played by Leonardo DiCaprio. Brad Pitt gave an emotional, heart-felt speech, thanking co-star, Leonardo DiCaprio and director, Quentin Tarantino. This is Pitt's first Oscar for acting, he won an Oscar for producing 12 Years a Slave in 2014.
Best Director
Nominees: The Irishman (Martin Scorsese), Joker (Todd Phillips), 1917 (Sam Mendes), Once Upon a Time...in Hollywood (Quentin Tarantino), Parasite (Bong Joon Ho)
Winner: Parasite (Bong Joon Ho)
Bong Joon Ho is the first director of an international film to win the award for best director. In his speech, Bong Joon Ho gave shout-outs to his fellow nominees, in particular Martin Scorsese and Quentin Tarantino. He acknowledged his cast and crew members, none of whom were nominated for an award, despite the film going on to win best picture. In conclusion, Ho said he would "drink till tomorrow morning" to celebrate. 
Other Notable Moments
Janelle Monae led the opening number, a version of her song "Come Alive." In the lyrics, Monae called out the lack of women directors nominated. She also gave a shout-out to black and queer storytelling, both of which are underrepresented at the Oscars. The performance featured dancers dressed up from different movies, many of which were snubbed, like Queen and Slim, Dolemite is My Name, and Midsommar. Billy Porter also made a cameo in the performance.
Like last year's, the 92nd Oscars did not have a host. Instead, Chris Rock and Steve Martin kicked off the ceremony after Monae's performance. The typical jokes were made about those in the audience including CEO of Amazon, Jeff Bezos, Brad Pitt, Mahershala Ali, and Cynthia Erivo. The comedians also commented on diversity, specifically calling out a lack of female directors and African-American actors. 
There were several musical performances throughout the ceremony. One of the most memorable was that of Eminem, performing "Lose Yourself" from his 2002 movie 8 Mile to demonstrate the strong connection between movies and their original songs. In addition, Idina Menzel as well as other "international Elsas" sung "Into the Unknown" from Frozen 2, one of the songs nominated for best original song. Lastly, for the "In Memoriam" performance, Billie Eillish and her brother Finneas covered The Beatles' "Yesterday." Some of those commemorated included Kobe Bryant, Kirk Douglas, and Danny Aiello.