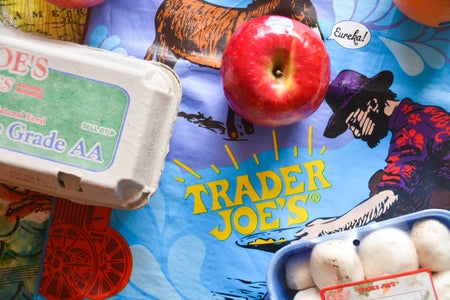 The "It Girls" of Trader Joe's
With TikTok's famous songs and dances, trends are always evolving! Recently, a new song featuring the seven "It Girls" has been sweeping across people's FYP. Whether you're a Heather, Jolene, or a Deliah, there's a snack for you! Every grocery store has those items that keep people coming back for more. Trader Joe's is no stranger to unique items with super fans across the United States. So, here are the "It Girls" of Trader Joe's!
1.

Michelle as Everything But The Bagel Seasoning 

As Michelle is a monster from Hell, this seasoning is devilishly delicious. It adds flavor and texture to any meal, turning those morning eggs into a culinary masterpiece. Try mixing this with Trader Joe's smoked salmon and everything ciabatta rolls for a lunch that'll have heads turning! 

2.

Ophelia as Speculoos Cookie Butter

Oh, Oh, Ophelia would be eating this cookie butter right out of the jar! This butter is sweet, smooth, and will have you coming back for more. Try dipping baby carrots into it for a snack fit for royalty. 

3.

Deliah as Cinnamon Bun Spread

Anna Schultz / Her Campus

Hey there, cinnamon bun spread lovers! This delightful spread is perfect for people craving the nostalgia of sugar, spice, and everything nice. Slather this spread onto warm sourdough bread and eat it with a Trader Joe's cold brew for a breakfast that'll sweeten your day. 

4.

Sweet Caroline as Hatch Chile Mac & Cheese

Sweet Caroline would be having this Mac & Cheese at every summer get-together. This meal is spicy, smokey, and mouth-wateringly delicious. Like Caroline, this dish is reliable and lovable. Serve this with cornbread and you'll be the life of the party in no time. 

5.

Jolene as Organic Dark Chocolate PB&J Minis

Like Jolene, these minis will steal your lover's heart in an instant! What's not to love about decadent dark chocolate filled with the classic PB&J combo? Portable, snackable, and perfect for a treat, these chocolates will take your man or woman.

6.

Heather as Cold Brew Latte Dessert Bars

We all wish we were Heather, and other ice creams wish they were the Cold Brew Latte Dessert Bars! This icy treat is the perfect mix of sweet and sophisticated. With delicious cold brew coffee and a sweet latte finish, these bars are the ultimate dessert. 

7.

Jessie's Girl as Cauliflower Gnocchi

Jessie's Girl is irresistible and the sweetheart of our dreams. That's why cauliflower gnocchi is the perfect match for this iconic song. This pasta is classic, timeless, and is perfect all on its own. However, pair it with your favorite sauce for a match that'll make everyone jealous.