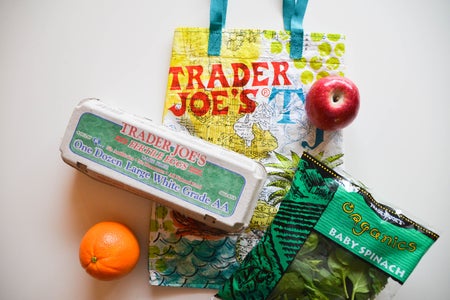 If You Only Try 5 Items from Trader Joes...TRY THESE!
I am lucky enough to only live about 5 minutes from a Trader Joes. Sometimes I go in with a list, and sometimes I just go in because I'm having a bad day and I know Trader Joes will make me happier. It's an experience like no other, and they have such fun food that you need to try!
1. Vegan Kale Pesto
This is a staple in my fridge. To me, it tastes just as good as a cheesy basil pesto. I love to use this on my avocado toast, on the cauliflower/kale gnocchi, or on pizza!  It has a good consistency, not too liquidy but not too thick and is very spreadable. If you have never tried pesto, this is your sign!
2. Chili Chicken Lime Burgers
I love this product. These frozen burgers are the perfect lunch, or easy dinner meal. Adding them to a salad or just eating it as a sandwich is delicious. The chili lime flavor is subtle but tasty. These are a go-to meal, perfect for college students. To cook them I just pan fry on the stove, only taking like 10 minutes! You can definitely air fry them for a more crispy burger.
3. Speculoos Cookie Butter
It is honestly upsetting to me that I have lived in a world without cookie butter for 19 years. I discovered cookie butter in June and I will never not have a jar on hand. Heat some up in the microwave and pour over ice cream, apples, on a rice cake/toast, or just by the spoonful. The crunchy speculoos cookie butter is even better than the creamy kind!
4. Organic Jalapeño Seasoned Corn & Rice Puffs
This is a newer product from Trader Joes, and I am obsessed! These are so good and I will eat the whole bag in one sitting. Think of Pirates Booty, less cheesy, more spicy. I love spice, but have some water on hand when you eat them (the spice is mild, but just be prepared, every ones different). This snack makes my taste buds DANCE! I can't say much more about them, 10/10 review from me. 
5. Pumpkin Cream Cheese
On a more seasonal note, this is a MUST for the fall. But honestly, I will and could eat this all 12 months of the year. Eating this with the Pumpkin Cranberry Crisps, crackers, on toast, or once again, by the spoonful is a delight. I love this spread and it would be amazing on some of the pumpkin bagels from Trader Joes. Next time I'm at TJ, I will be picking this up before it leaves the stores for the season!
Honorable Mentions Include: Buffalo Style Chicken Dip, Mini Hold the Cone Ice Cream Cones, Cauliflower/Kale Gnocchi, the Scandanavian Swimmers, and the Spicy Italian Chicken Sausage