So You Wanna Start A Skincare Routine…
Picture this: You wake up in the morning, pour yourself a nice hot cup of coffee or tea, tie your hair back, and begin the refreshing process of taking care of your skin. Or maybe it's time to settle in for the night and you press play on your favorite Netflix show to keep you company as you slather creams, cleansers, and oils all over your newly supple skin. Sounds blissful, right? But where do you start? What products do you use? And how on Earth do you know which order to apply them in? Well, as an avid consumer of all things skincare and beauty, I am more than unprofessionally qualified to help you figure out what's what about your skin. If a new night routine or a quick morning refresh is what your skin has been needing, look no further!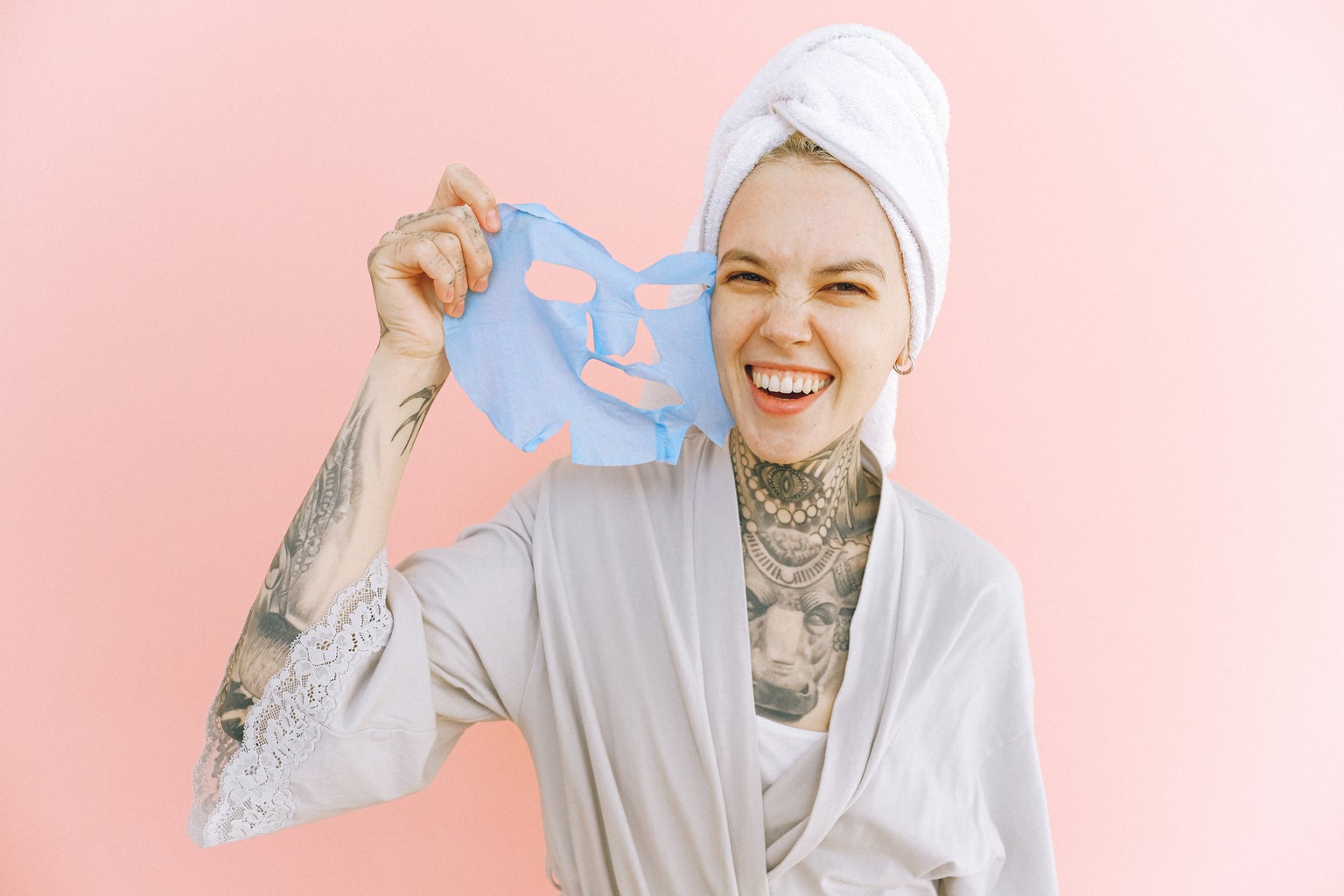 Night Routine 
Okay, it might seem kinda strange for me to start this with the night routine, but at night your skin replenishes itself, so it's the best time to apply active ingredients and go the whole nine with your skincare. In the morning, you just brush up on the work you did the night before, so it's not nearly as extensive. 
Oil Cleanse 
The double-cleanse is something that was made popular by the Korean skincare system, but it works and has been adopted by many western influencers and dermatologists. 
To double cleanse, you can use a cleansing oil or balm. Massage the cleansing oil on your skin for at least one full minute in order to break down makeup, sweat, SPF, dirt, and other debris sitting on top of your skin. Since oil attracts oil, if you oil cleanse for long enough, oil plugs and blackheads will start coming free from your skin and you'll be able to see them in your hands! So satisfying yet so gross.
Water-based Cleanse 
Now is the time to use a traditional, water-based cleanser. The properties of this cleanser are based on your skin's needs, so there isn't a one size fits all. If you struggle with dry skin, you may opt for a hydrating cleanser. Those with acne or oily skin may use a salicylic acid cleanser to control oil production and unclog pores. If you struggle with cystic acne, a benzoyl peroxide cleanser may be more beneficial for you. 
Regardless of the cleanser you choose to use, a water-based one will remove the oils from the previous step. It is important to cleanse for at least one full minute in each cleansing step to reap the benefits of your cleanser. 
Tone
This step can tread a thin line between necessary and harmful, so proceed at your discretion. A hydrating toner will never do you any harm. For example, after I cleanse I like to spray my face with a rosewater toner formulated with glycerine and hyaluronic acid for extra hydration. This will also help actives absorb into the skin in later steps. So, as a general rule of thumb, you can never go wrong with a hydrating toner. 
Acid toners are a bit more finicky. AHAs and BHAs are exfoliating acids that are commonly used during the toning step of a skincare routine. If you've never chemically exfoliated, I suggest using a gentler AHA such as lactic acid twice a week until your skin gets used to it. For old pros, a stronger AHA like glycolic acid may be more beneficial. 
Actives/Serums
Our AHA and BHA friends can definitely fall into the actives category if they're in serum form, so keep that in mind as you build your routine. 
Serums are really fun and this is the part where you can customize your routine to target any skin ailments you're dealing with. Currently, I use a hyaluronic acid serum, alpha arbutin serum, vitamin C serum, and niacinamide serum. Some serums, such as vitamin C are more effective during the day, though, so be aware of what works best at which time- morning or night. 
Moisturize 
So you've cleansed, toned, and applied your actives- good job! But before you can tuck yourself in for the night, you have to lock in all that hard work with a good moisturizer. 
If you want to use an eye cream, now would be the time to gently apply that around the skin under your eyes and around your eyelids. After that, apply either a thick night cream or a liberal amount of a lighter moisturizer to keep your skin soft and dewy throughout the night. 
Oil 
This step isn't entirely necessary, but I like to apply either a facial oil or a not-necessarily-marketed-for-your-face oil such as pumpkin seed oil to seal in my moisturizer and all the other products I've used. During this step, I also like to apply a thick lip mask or ointment to prevent chapping during the night. 
Morning Routine 
Rise and shine my dewy-faced friends! Look at that glow from last night! Now we don't want to scrub it off and waste all of that product, especially when we took such good care of our skin only a few hours ago. That's the beauty of the morning routine- it's short, sweet, and keeps redundancy to a minimum. 
Light Cleanse
You don't need a strong, foamy cleanser to wash away last night's actives and moisture. Micellar water or even a few splashes of water from the sink will do the trick to rid your face of the eye crust and drool marks. 
Tone 
The morning should only consist of a hydrating toner since acids can make the skin photosensitive and cause breakouts when exposed to direct sunlight during the day.
Serums
Now is the time to use the serums that work best during the day, such as vitamin C. Hydrating serums such as hyaluronic acid can be used day or night, so feel free to apply those versatile products now as well.
Moisturize
A light moisturizer will do the trick to keep the skin soft and moisturized throughout the day. Since we're busy producing our own oils, we don't need a heavy cream for the daytime. 
SPF 
This is the single most important step in either skincare routine. APPLY SUNSCREEN!!!! Skin cancer and sunspots are very, very real and the best way to keep your skin young and healthy is to use SPF 30 or higher every single day, rain or shine. In recent studies, it's been proven that even blue-light from our phones and computers can cause skin damage, so please protect yourself with SPF! 
Disclaimer: I am not a medical professional, just a gal that loves all things skin and beauty :)