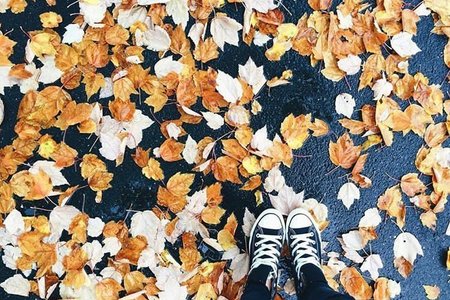 Fun Activities to do at UConn this Fall
Summer is officially over, the leaves are changing and everyone is getting ready to bundle up for the winter ahead. One of the best things about the East Coast is the fact that we get to experience fall and everything that comes with it. Here are just a few things to do around chilly Storrs to get you in the fall mood. 
Visit Horsebarn Hill 
I know, I know, this is one of the most basic things to do at UConn during the fall… but for a reason! Who doesn't love to look out into the beautiful mountains that are all multicolored? It's the perfect place to take a walk or spend some time outside, while being able to appreciate the changing of seasons. Plus, you can pet the adorable cows while you're at it too! 
Grab a Spiced Pumpkin Latte 
One of my favorite parts of fall is all the delicious drinks and foods that come out around this time of year. Starbucks Pumpkin Spice Latte is both nostalgic and delicious. The hint of pumpkin flavor and sipping the warm coffee always makes me want to light a candle, snuggle by a window and open up a classic read. 
Go apple picking
If you're in the mood to do something with friends that is both fun and edible, apple picking is the perfect fit. Not only is it delicious, but you can make so many different things out of just a handful of apples: apple sauce, apple pie, cinnamon & apples and so much more. If you have access to a car, Horse Listeners Orchard is only 13 minutes away. If not, I hear the trees that are by Horsebarn Hill have delicious apples too! 
Have a picnic 
Mirror Lake is the perfect spot to lay out a blanket, grab some food and chit chat with friends. Not only is it a beautiful view right in the heart of campus, but there's plenty of space to spread out so that it can be socially distant. If you get lucky, maybe there will be some adorable puppies that you can pet too!