Courtesy; designed by Kristina Stapelfeld
A College Students Take on Olivia Jade's Red Table Talk
During my routine daily scroll of instagram last week, I was shocked when I saw Olivia Jade had posted promoting her upcoming Red Table Talk interview with Jada Pinkett Smith, Adrienne Banfield Jones and Willow Smith set to premiere the very next day. Not only was I shocked to see Olivia acknowledge the scandal (finally), I was more surprised to see that she was going to speak openly about it. 
Before the college admissions scandal in 2019, I had been a subscriber of Olivia Jade on YouTube, and followed her on pretty much all social media platforms. It was no secret that she lived a life much different then most, and enjoyed many luxuries that many would only dream of. That being said, when it was revealed that alongside her family, Olivia had cheated her way into the prestigious University of Southern California, I still, well, couldn't really believe it. 
Sitting with my roommates, who were all just as eager as I was to hear what Olivia had to say, we set a reminder for 11:50 A.M the next morning, and went onto Facebook, where we watched the interview from beginning to end. 
By the end, it was pretty unanimous throughout my apartment that Olivia did seem genuinely apologetic, regretful and aware of the depth behind everything she and her family had done.. Across the Red Table, it's pretty safe to say that Adrienne Banfield Jones did not hold back, and any previous concerns I had that the interview would be scripted or a PR stunt, went away.
 In case you missed it or did something more productive with your time (can't relate), here's a quick breakdown of Olivia Jade Giannulli's Red Table Talk. 
Before she sat down at the table, Adrienne Banfield Jones expressed her disappointment and disinterest about having Olivia on the show. She felt that at the end of the day Olivia was going to be fine, taken care of and ultimately her life will go on, why bring attention to her when there are so many other more important things to talk about, basically. Olivia entered in a pink satin two piece outfit, in full glam, that was literally to die for. She explained that growing up how she did, and where she did, using a college counselor and other advantages to get into your university of choice was just normal. When the details of the scandal were released, she was with her USC friends on spring break (ironic) and knew that soon all of her peers standing around her right then and there would know. 
Awkward. 
T.Kyle
Olivia admitted that it took her some time to actually understand what was wrong with what she and her family had done, because cheating your way into things with money and influence where she lived was really the norm. She talked about how she felt with her parents serving jail time, and what she had been up to since the scandal, mentioning that the love she has for her parents never waivered. She spoke about educating herself on privilege, and how it has taken time to understand her own. Ultimately, she had an answer for every question that they asked, and was well spoken. 
Caught up yet? 
Once I shut the tv off, sat back and thought about what I had just watched, I had some opinions about it all (duh). Initially, I felt like she was pretty open throughout the interview, but soon I realized that there were several missing pieces of the story that she either avoided completely or talked around. It had been revealed that Olivia's college application featured a picture of her on a rowing machine, as a prospective student athlete for the USC Crew Team (although she had never been on crew team prior). How involved Olivia was, and how much she really knew throughout her college application process was relatively unclear. She never really addressed exactly where she participated, and owned up to it all in a way I think many people would have liked to see. 
All in all, the red table could have grilled her a little more than they did. It began to feel like they were just saying a long "yesssss"  or "oh yeah definitely",  to every point she made. I think it's interesting coming from another family who has the same, if not more, wealth than the Giannulli family. On one hand, it's not completely outlandish to say that Will & Jada could have done just the same for their kids, if they had wanted to. I don't doubt that what happened in the college admissions scandal, isn't something they hadn't seen or heard of before, being an A list celebrity in L.A, right? In some ways, Olivia could have just as easily said what she wanted through a YouTube video, which may have been more on brand for her. 
However, points were made. The bottom line is with or without this interview Olivia is going to be more than ok. Her life may have changed, but she will still be able to carry on with her day to day as she did before. Her parents will get out of jail and they will be ok, too. Really, by doing this interview, Olivia had nothing much to lose or gain, which made what she said feel more genuine. There are undoubtedly more important topics that could have gotten the screen time, especially in 2020.
But don't get me wrong, I loved hearing all the tea.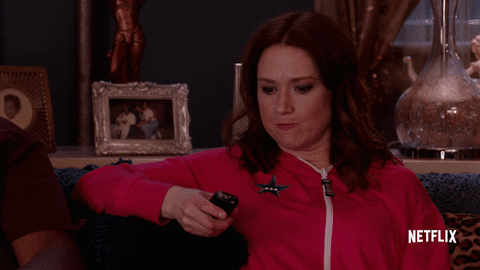 Netflix / Giphy