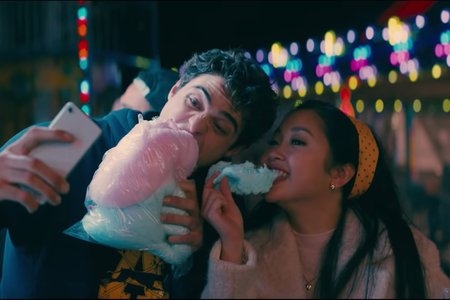 To All The Boys I've Loved Before 2 Movie Review
Unlike many of my friends, I'd never been a big fan of rom coms. Not because of any sort of "I'm not like other girls" sentiment leftover from middle school, but because the second hand embarrassment derived from the "quirky girl" trope often creates situations where the protagonist is humiliated in front of a crowd (either in a crowded cafeteria or on prom night, pick your poison).
To All the Boys I've Loved Before was a sweet spot for me. With the added bonus of featuring an Asian protagonist that I can relate to (that Yakult scene was my favorite cinematic moment to date), there is also something so endearing about Lara Jean's romantic and nostalgic fascination with the 80's era of John Hughes movies.
While I understand that love triangles are integral to the rom com genre, I also understand why some people found Lara Jean's plight in this movie more frustrating than in the first one. In rom coms, when the main couple finally gets together, we expect and hope for them to stay together. But however frustrating their fights may be, I found Peter and Lara Jean's issues to be very realistic. After all, they are still sixteen year olds in high school. From Lara Jean struggling with insecurities about Peter's past romantic and sexual experience with Gen and her lack thereof, while also coming to terms with the fact that real life is nothing like the movies, it's the classic coming of age story that this time features a romantic young girl who lives most of her life in her head.
In Lara Jean I see a lot of myself; I too can sometimes be insecure, a bit neurotic, and awkward. But like Lara Jean, with time comes a greater sense of self that allows me to become more confident, and opens the both of us up to unexpected adventures that create memories that last a lifetime.
One of the most touching parts about this film was Lara Jean's father's dedication to preserving their Korean heritage despite their mothers' passing. Also, while John Ambrose McClaren poses a potential and very real threat to Lara Jean and Peter's romantic bliss, his shy yet charming personality and incredible piano playing skills make him difficult to resist. (Also, my man Jordan Fischer is incredibly swoon-worthy).
However one of my most favorite parts of the film was when Lara Jean and Gen were able to put their bad blood behind them, and move forward as friends. With Dr. Covey also able to move on with their neighbor, Mrs. Rothschild, To All the Boys 2 seemed to have an overarching feeling of moving on, and growing up.
Keep your eyes peeled for the end of this year when To All the Boys 3 is slated to debut on Netflix.