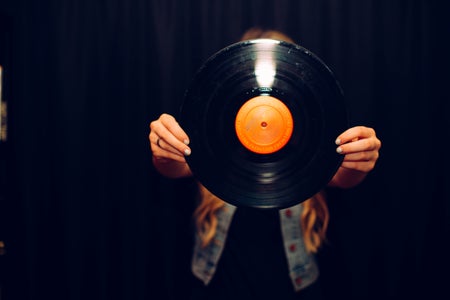 Breanna Coon / Her Campus
5 Albums You Should Be Listening to Right Now
2020 is off to a great start for music. No matter what type you're into, these new releases from both familiar and new artists are definitely worth checking out. 
1. Selena Gomez - Rare
Her first album release in over 5 years, Rare is a strong comeback from the 27-year-old singer-songwriter. After receiving a kidney transplant due to a lupus diagnosis and entering a mental health facility for her struggles with depression and anxiety, Selena is back and better than ever. The 13 track lineup consists of mostly dance-pop, preceded by the success of the emotional ballad "Lose You To Love Me." This album represents a new side of Selena, a revival. After battling with her physical and emotional health for years, her strength and self-acceptance emanates through her music. The multi-talented producer, activist, actress, and artist clearly put her heart and soul into Rare, and that really translates to the listener.
Favorite Tracks: "Rare" "Dance Again" "Lose You To Love Me" "Ring"
2. Halsey - Manic
After tremendous success with her singles "Without Me" and "Graveyard," Halsey's third album Manic has been highly anticipated. However, this album is different from her previous projects Badlands and Hopeless Fountain Kingdom. She describes Manic as being the first album not under the fictional structure of her alter ego, but written as herself, Ashley Frangipane. The first track of the album, "Ashley" introduces the listener into the new era of the authentic, open, and vulnerable Ashley herself. Through each track, Halsey shows the world her journey of self-discovery; she examines navigating relationships, finding oneself, and the unique experience of being a woman in society today. Halsey has always been open about her struggles with mental illness, sexual assault, and dealing with fame and the music industry. But, she's a survivor, and as she says in her 15th track, "I'm still learning to love myself." Manic is Halsey's most personal work yet, and not only is the music itself an incredible listening experience, her struggles, and self-actualization is something we can all relate to. 
Favorite Tracks: "3am" "clementine" "Finally // beautiful stranger"
3. Mac Miller - Circles
Mac Miller's posthumous album Circles was completed by producer Jon Brion based on work and conversations with Mac. Nearly a year and a half ago, Mac Miller died due to an accidental overdose just one month after the release of Swimming. The tragic circumstances of Mac's death and struggles with addiction makes his words in Circles piercingly relevant. His earlier work expressed more of a fixation on dark times and death: in "Brand Name" he said, "To everyone who sell me drugs / Don't mix it with that bullshit, I'm hopin' not to join the 27 club." Now, these lyrics are haunting, considering Mac's overdose was just months before his 27th birthday and due to laced oxycodone. However, Circles shows a turning point for Miller; a more honest and optimistic outlook demonstrating his journey as an artist and a person. Unlike his other work, Circles diverges from traditional rap, allowing Mac to experiment with his voice and blend genres. While he was still battling with mental illness and addiction at the time, through his lyrics, it is clear that he was working to get better. Circles is honest; it's about finding joy and beauty even in dark times. Mac was clearly struggling at the time, but looking for a way to break the cycle. While the album leaves fans wanting more of some of Miller's best work, it also gives closure - an epilogue of the life of a talented, troubled, and inspiring artist. 
Favorite Tracks: "Complicated" "Good News" "Hand Me Downs"
4. Eminem - Music To Be Murdered By
Eminem's surprise release of his 11th studio album, Music To Be Murdered By, made news headlines for a variety of reasons. First of all, the notorious rapper beat his own Guinness World Record for the fastest rap song ever in "Godzilla" ft. Juice WRLD. In the third verse of the track, Eminem spits 229 words in 30 seconds - a whopping 7.6 words a second. A more controversial aspect of the album was his use of recent tragedies in his songs: in "Darkness," he portrays the Las Vegas Shooting through the eyes of the killer. Additionally, in "Unaccommodating," he describes the Manchester Ariana Grande concert bombing where 22 were killed through the eyes of the suicide bomber. He even included explosion sound effects with screams, eliciting major backlash worldwide. In his Twitter response, he writes "These bars were only meant for the sharpest knives in the drawer. For the victims of this album, may you rest peacefully." He claims his intended purpose was political, hoping to incite "positive action" through a shock to the conscience. In typical Marshall Mathers fashion, he also disses Machine Gun Kelly, Rolling Stone Magazine, Macklemore, his stepdad, and more. Whatever your opinion on the more controversial aspects of the album, once again, Eminem has showcased his talent and Music To Be Murdered By will be an album to remember. 
Favorite Tracks: "Godzilla" (feat Juice WRLD) "Those Kinda Nights" (feat Ed Sheeran) "Darkness" "Leaving Heaven" (feat Skylar Grey)
5. Chelsea Cutler - How to be Human
Chelsea Cutler has been making waves in the music industry for a couple years now, most prominently through accompanying Quinn XCII on tour, a Kygo collaboration, and a duet album with Jeremy Zucker. Her debut album, How To Be Human, is no disappointment. The 22-year-old Connecticut native's piercing soft pop vocals are a refreshing divergence from traditional pop, and her powerful and honest lyrics portray the coming of age experience we can all relate to. For a debut album, How To Be Human is experimental as well; notably, "New Recording 28 - Lions" was taken straight from her iPhone voice memos. This album is a well-done work of art, and I, along with many others, can't wait to see what Cutler does next. 
Favorite Tracks: "Sad Tonight" "Lucky" (feat Alexander 23) "You Are Losing Me" "How to Be Human"